 News
Ramones / It's Alive 40th anniversary
4CD+2LP 40th anniversary set of 1979 live album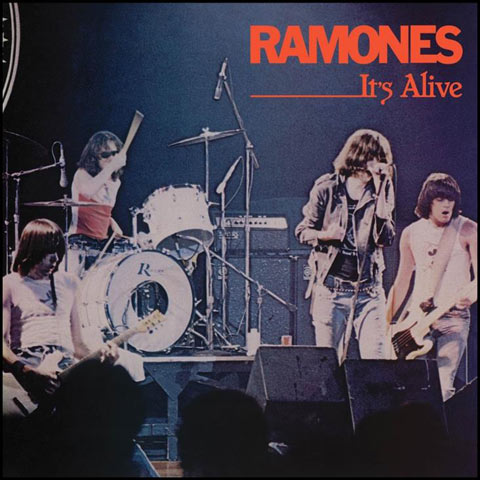 The Ramones reissue programme continues with the announcement of an expanded edition of live album It's Alive.

Recorded at London's Rainbow Theatre on New Year's Eve 1977, It's Alive saw the Ramones at full pelt rattling through some of the iconic selections from their first three studio albums. It's Alive was eventually issued in April 1979 and managed to cram in 28 songs in a brisk 54 minutes (!) such was the economy and speed of a Ramones show.

While all four dates that the band played at the venue were recorded, this particular evening was deemed the best of the lot, and also ended up with the audience throwing the first ten rows of seats at the band. Amazing.




This new version features the original album – remastered – on double vinyl and CD, and now adds another three recordings from that UK tour across the other CDs, three of which are making their first release: Top Rank, Birmingham (December 28, 1977); Victoria Hall, Stoke-On-Trent (December 29, 1977); Friars, Aylesbury (December 30, 1977).

The new edition of It's Alive is limited to 8000 copies, and follows the style and presentation of previous 40th anniversary set, coming in a 12″ x 12″ large format hardcover package with an essay by Steve Albini and original album producer-engineer Ed Stasium (who has done the remastering duties here).

The 40th anniversary edition of It's Alive is released 20 September 2019 by Sire/ Rhino.


Compare prices and pre-order
Ramones
It's Alive - 40th anniversary deluxe
LP 1 – Recorded live at The Rainbow Theatre, London, December 31, 1977 – 2019 Remaster
Side A
Rockaway Beach

Teenage Lobotomy

Blitzkrieg Bop

I Wanna Be Well

Glad To See You Go

Gimme Gimme Shock Treatment

You're Gonna Kill That Girl
Side B
I Don't Care

Sheena Is A Punk Rocker

Havana Affair

Commando

Here Today, Gone Tomorrow

Surfin' Bird

Cretin Hop
LP 2- Recorded live at The Rainbow Theatre, London, December 31, 1977
Side A
Listen To My Heart

California Sun

I Don't Wanna Walk Around With You

Pinhead

Do You Wanna Dance

Chainsaw

Today Your Love, Tomorrow The World
Side B
I Wanna Be A Good Boy

Judy Is A Punk

Suzy Is A Headbanger

Let's Dance

Oh Oh I Love Her So

Now I Wanna Sniff Some Glue

We're A Happy Family 
CD1- Recorded live at The Rainbow Theatre, London, December 31, 1977
Rockaway Beach

Teenage Lobotomy

Blitzkrieg Bop

I Wanna Be Well

Glad To See You Go

Gimme Gimme Shock Treatment

You're Gonna Kill That Girl

I Don't Care

Sheena Is A Punk Rocker

I Can't Give You Anything

Commando

Here Today, Gone Tomorrow

Surfin' Bird

Cretin Hop

Listen To My Heart

California Sun

I Don't Wanna Walk Around With You

Pinhead

Do You Wanna Dance

Chainsaw

Today Your Love, Tomorrow The World

I Wanna Be A Good Boy

Suzy Is A Headbanger

Let's Dance

Oh Oh I Love Her So

Now I Wanna Sniff Some Glue

We're A Happy Family
CD2- Recorded live at Top Rank, Birmingham, Warwickshire, December 28, 1977
Rockaway Beach

Teenage Lobotomy

Blitzkrieg Bop

I Wanna Be Well

Glad To See You Go

Gimme Gimme Shock Treatment

You're Gonna Kill That Girl

I Don't Care

Sheena Is A Punk Rocker

I Can't Give You Anything

Commando

Here Today, Gone Tomorrow

Surfin' Bird

Cretin Hop

Listen To My Heart

California Sun

I Don't Wanna Walk Around With You

Pinhead

Do You Wanna Dance

Chainsaw

Today Your Love, Tomorrow The World

I Wanna Be A Good Boy

Suzy Is A Headbanger

Let's Dance

Oh Oh I Love Her So

Now I Wanna Sniff Some Glue

We're A Happy Family
CD3- Recorded live at Victoria Hall, Stoke-On-Trent, Staffordshire, December 29, 1977
Rockaway Beach

Teenage Lobotomy

Blitzkrieg Bop

I Wanna Be Well

Glad To See You Go

Gimme Gimme Shock Treatment

You're Gonna Kill That Girl

I Don't Care

Sheena Is A Punk Rocker

Havana Affair

Commando

Here Today, Gone Tomorrow

Surfin' Bird

Cretin Hop

Listen To My Heart

California Sun

I Don't Wanna Walk Around With You

Pinhead

Do You Wanna Dance

Chainsaw

Today Your Love, Tomorrow The World

I Wanna Be A Good Boy

Suzy Is A Headbanger

Let's Dance

Oh Oh I Love Her So

Now I Wanna Sniff Some Glue

We're A Happy Family
CD4- Recorded live at Friars, Aylesbury, Buckinghamshire, December 30, 1977
Rockaway Beach

Teenage Lobotomy

Blitzkrieg Bop

I Wanna Be Well

Glad To See You Go

Gimme Gimme Shock Treatment

You're Gonna Kill That Girl

I Don't Care

Sheena Is A Punk Rocker

Havana Affair

Commando

Here Today, Gone Tomorrow

Surfin' Bird

Cretin Hop

Listen To My Heart

California Sun

I Don't Wanna Walk Around With You

Pinhead

Do You Wanna Dance

Chainsaw

Today Your Love, Tomorrow The World

I Wanna Be A Good Boy

Suzy Is A Headbanger

Let's Dance

Oh Oh I Love Her So

Now I Wanna Sniff Some Glue

We're A Happy Family