 News
Rhino repackage Fleetwood Mac 'Rumours' super deluxe edition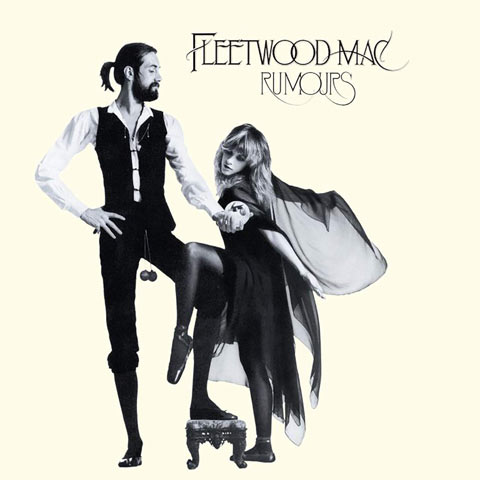 Rhino are to release a 4CD edition of Fleetwood Mac's Rumours in what they are describing as a 'great value package'.

The four CDs are taken from the 2013 super deluxe edition. They are as follows
CD 1 – Remastered album, plus B-side Silver Springs
CD 2 – Live 1977 Rumours World Tour (12 tracks)
CD 3 – 'More From The Recording Sessions' which is 16 outtakes/alternates
CD 4 – Recording Sessions Roughs and Outtakes, which is 18 tracks that were originally included on the 2004 two-CD deluxe.
The DVD of the Rosebud film and the vinyl are the missing elements, from the super deluxe. The new packaging is unconfirmed for now, although it's fairly likely to be a "10-panel softpack" because the same label is reissuing the a-ha Hunting High and Low super deluxe like that.
This will be released on 25 October 2019.
Compare prices and pre-order
Fleetwood Mac
Rumours - 4CD set
You might also like…
Compare prices and pre-order
Fleetwood Mac
Rumours - clear vinyl
Disc: 1
1. Second Hand News (2004 Remaster)
2. Dreams (2004 Remaster)
3. Never Going Back Again (2004 Remaster)
4. Don't Stop (2004 Remaster)
5. Go Your Own Way (2004 Remaster)
6. Songbird (2004 Remaster)
7. The Chain (2004 Remaster)
8. You Make Loving Fun (2004 Remaster)
9. I Don't Want to Know (2004 Remaster)
10. Oh Daddy (2004 Remaster)
11. Gold Dust Woman (2004 Remaster)
12. Silver Springs (2004 Remaster)
Disc: 2
1. Intro (Live 1977)
2. Monday Morning (Live at The Fabulous Forum, Inglewood, CA 08/29/77)
3. Dreams (Live 1977)
4. Don't Stop (Live 1977)
5. The Chain (Live 1977)
6. Oh Daddy (Live 1977)
7. Rhiannon (Live 1977)
8. Never Going Back Again (Live 1977)
9. Gold Dust Woman (Live 1977) [2013 Remaster]
10. World Turning (Live at The Fabulous Forum, Inglewood, CA 08/29/77) [2013 Remaster]
11. Go Your Own Way (Live 1977)
12. Songbird (Live 1977)
Disc: 3
1. Second Hand News (Early Take)
2. Dreams (Take 2)
3. Never Going Back Again (Acoustic Duet)
4. Go Your Own Way (Early Take)
5. Songbird (Demo)
6. Songbird (Instrumental, Take 10)
7. I Don't Want to Know (Early Take)
8. Keep Me There (Instrumental) [2013 Remaster]
9. The Chain (Demo)
10. Keep Me There (2013 Remaster)
11. Gold Dust Woman (Early Take) [2013 Remaster]
12. Oh Daddy (Early Take)
13. Silver Springs (Early Take)
14. Planets of the Universe (Demo) [2013 Remaster]
15. Doesn't Anything Last (Acoustic Duet) [2013 Remaster]
16. Never Going Back Again (Instrumental)
Disc: 4
1. Second Hand News (Sessions, Roughs & Outtakes) [2004 Remaster]
2. Dreams (Sessions, Roughs & Outtakes) [2004 Remaster]
3. Brushes (Never Going Back Again) [Sessions, Roughs & Outtakes] [2004 Remaster]
4. Don't Stop (Sessions, Roughs & Outtakes) [2004 Remaster]
5. Go Your Own Way (Sessions, Roughs & Outtakes) [2004 Remaster]
6. Songbird (Sessions, Roughs & Outtakes) [2004 Remaster]
7. Silver Springs (Sessions, Roughs & Outtakes) [2004 Remaster]
8. You Make Loving Fun (Sessions, Roughs & Outtakes) [2004 Remaster]
9. Gold Dust Woman #1 (Sessions, Roughs & Outtakes) [2004 Remaster]
10. Oh Daddy (Sessions, Roughs & Outtakes) [2004 Remaster]
11. Think About It (Sessions, Roughs & Outtakes) [2004 Remaster]
12. Never Going Back Again (Early Demo) [2004 Remaster]
13. Planets of the Universe (Early Demo) [2004 Remaster]
14. Butter Cookie (Keep Me There) [Early Demo] [2004 Remaster]
15. Gold Dust Woman (Early Demo) [2004 Remaster]
16. Doesn't Anything Last (Early Demo) [2004 Remaster]
17. Mic the Screecher (Jam Sessions) [2004 Remaster]
18. For Duster (The Blues) [Jam Sessions] [2004 Remaster]