 News
Stevie Nicks / Complete Studio Albums & Rarities
10CD box set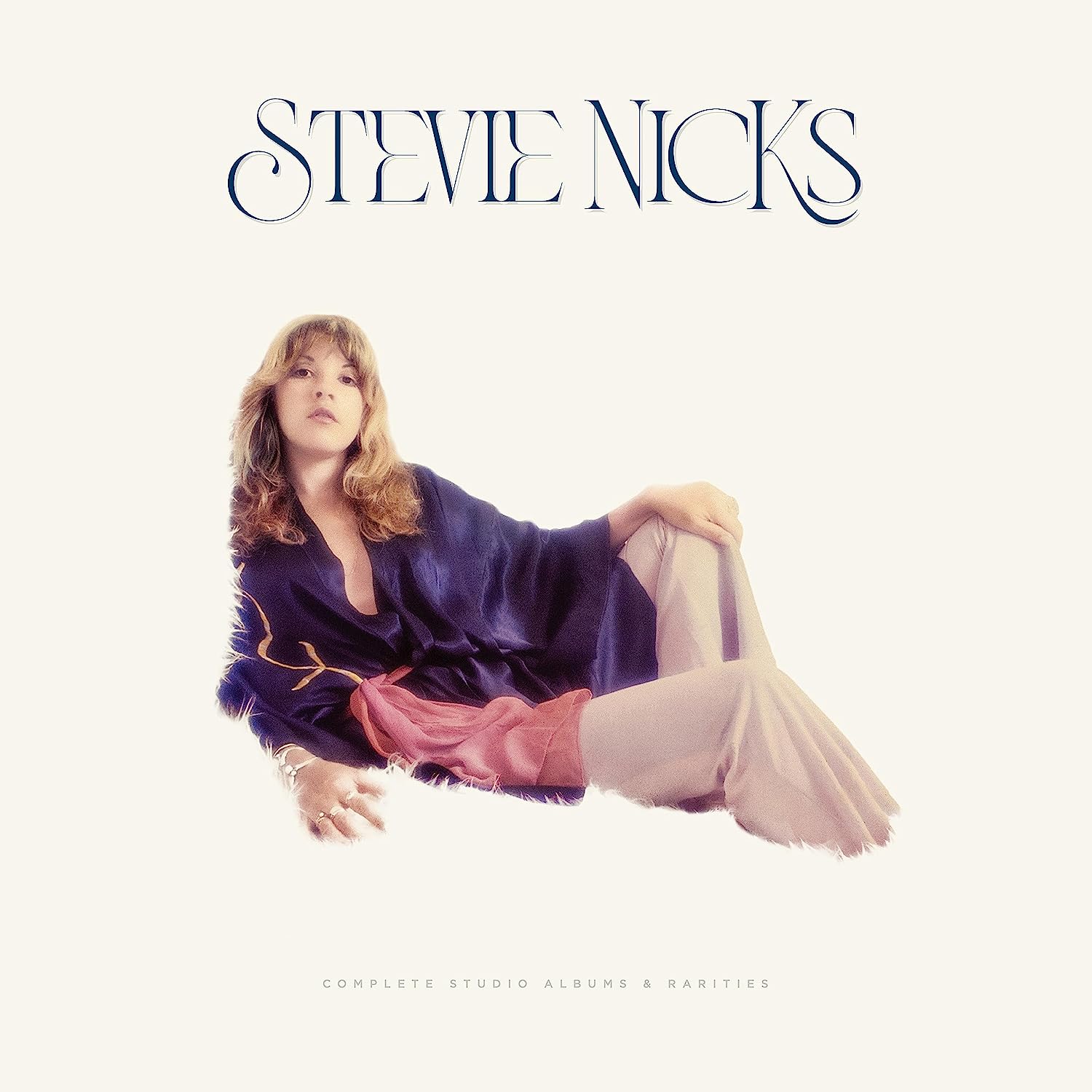 Complete Studio Albums & Rarities is a new 10CD box set featuring the solo output of Stevie Nicks. The singer-songwriter has released eight solo records since her 1981, and was the first woman inducted into the Rock and Roll Hall of Fame twice, first as a member of Fleetwood Mac and then as a solo artist in 2019.
The box set features the following eight albums, with half of them newly remastered (from the analogue tapes):
Bella Donna (1981)
The Wild Heart (1983)
Rock a Little (1985)
The Other Side of the Mirror (1989)
Street Angel (1994)
Trouble in Shangri-La (2001)
In Your Dreams (2011)
24 Karat Gold: Songs from the Vault (2014)
Additionally this box set features two CDs of Rarities; 23 hard-to-find recordings, including non-album tracks such as contributions to film and television and B-sides. These have also been remastered.
As well as the 10CD box, there will be a limited-edition, 16LP version, but that will be exclusive to Rhino.com (in the UK and USA). Street Angel, Trouble in Shangri-La, and In Your Dreams will all receive their vinyl debut as part of this set. The rarities package will be a 3LP set in what is a clear vinyl box set.
Complete Studio Albums & Rarities will be released on 28 July 2023, via Rhino
Compare prices and pre-order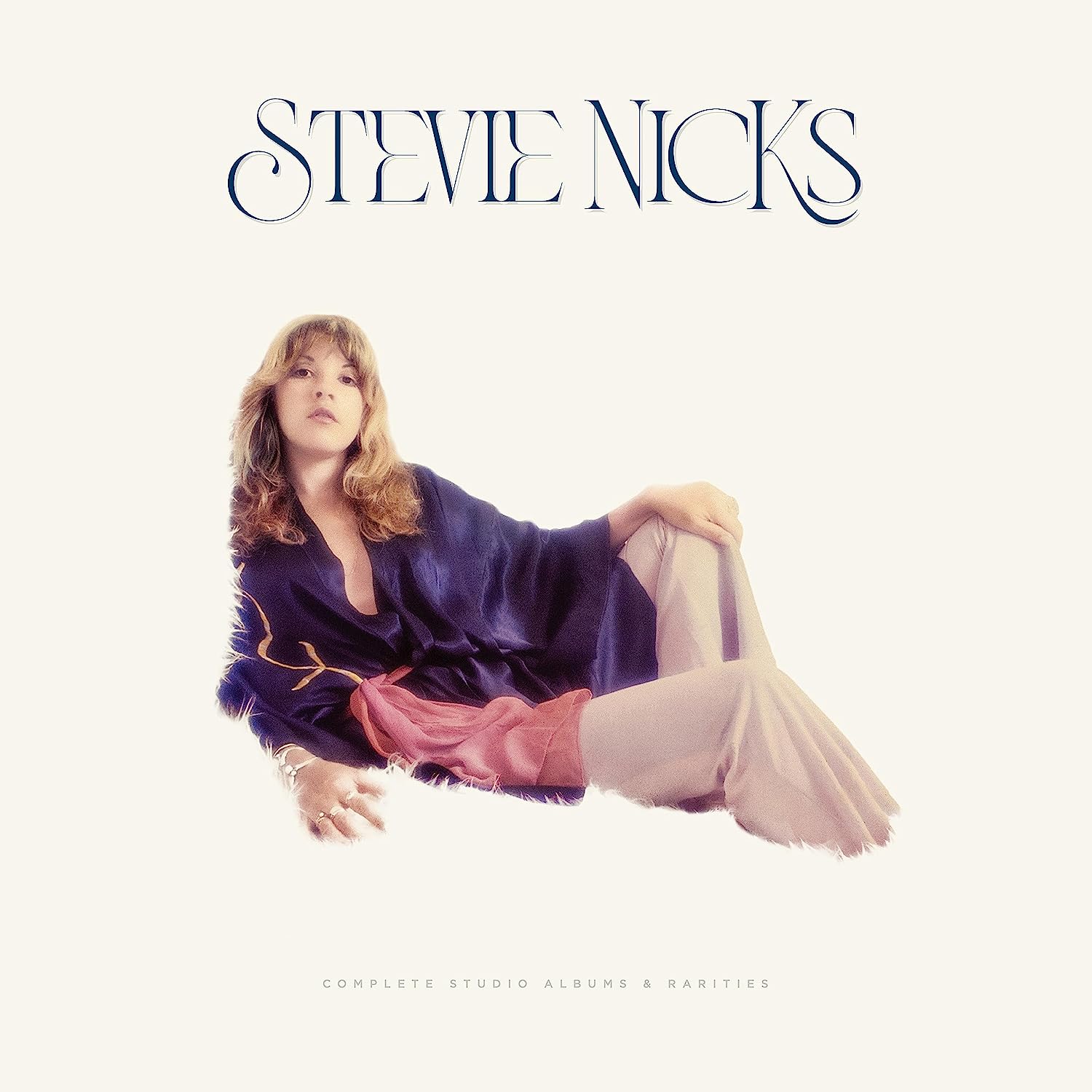 Stevie Nicks
Complete Studio Albums and Rarities 10CD box set
Tracklisting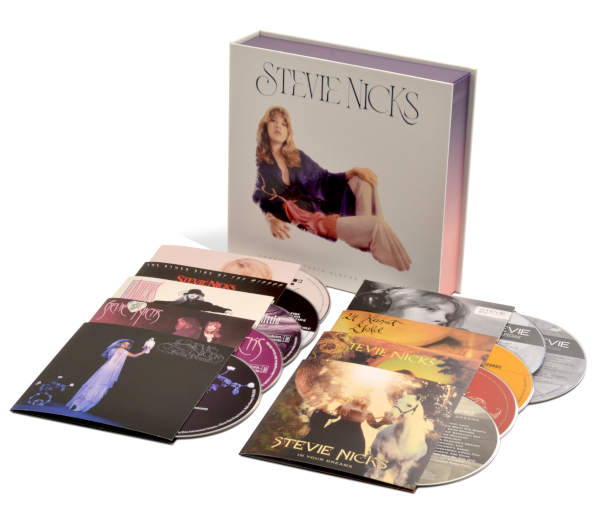 Complete Studio Albums & Rarities Stevie Nicks
/
CD 1: Bella Donna

Bella Donna (2016 Remaster)
Kind of Woman (2016 Remaster)
Stop Draggin' My Heart Around (with Tom Petty and The Heartbreakers) [2016 Remaster]
Think About It (2016 Remaster)
After the Glitter Fades (2016 Remaster)
Edge of Seventeen (2016 Remaster)
How Still My Love (2016 Remaster)
Leather and Lace (2016 Remaster) [Remastered] – By Stevie Nicks & Don Henley
Outside the Rain (2016 Remaster)
The Highwayman (2016 Remaster)

CD 2: The Wild Heart

Wild Heart (2016 Remaster)
If Anyone Falls (2016 Remaster)
Gate and Garden (2016 Remaster)
Enchanted (2016 Remaster)
Nightbird (2016 Remaster)
Stand Back (2016 Remaster)
I Will Run to You (2016 Remaster) – By Stevie Nicks & Tom Petty
Nothing Ever Changes (2016 Remaster)
Sable on Blond (2016 Remaster)
Beauty and the Beast (2016 Remaster)

CD 3: Rock a Little

I Can't Wait (2023 Remaster)
Rock a Little (Go Ahead Lily)
Sister Honey (2023 Remaster)
I Sing for the Things (2023 Remaster)
Imperial Hotel (2023 Remaster)
Some Become Strangers (2023 Remaster)
Talk to Me (2023 Remaster)
The Nightmare (2023 Remaster)
If I Were You (2023 Remaster)
No Spoken Word (2023 Remaster)
Has Anyone Ever Written Anything for You (2023 Remaster)

CD 4: The Other Side of the Mirror

Rooms on Fire (2023 Remaster)
Long Way to Go (2023 Remaster)
Two Kinds of Love (2023 Remaster) – By Stevie Nicks & Bruce Hornsby
Ooh My Love (2023 Remaster)
Ghosts (2023 Remaster)
Whole Lotta Trouble (2023 Remaster)
Fire Burning (2023 Remaster)
Cry Wolf (2023 Remaster)
Alice (2023 Remaster)
Juliet (2023 Remaster)
Doing the Best That I Can (Escape from Berlin) [2023 Remaster]
I Still Miss Someone (Blue Eyes) [2023 Remaster]

CD 5: Street Angel

Blue Denim (2023 Remaster)
Greta (2023 Remaster)
Street Angel (2023 Remaster)
Docklands (2023 Remaster)
Listen to the Rain (2023 Remaster)
Destiny (2023 Remaster)
Unconditional Love (2023 Remaster)
Love is Like a River (2023 Remaster)
Rose Garden (2023 Remaster)
Maybe Love Will Change Your Mind (2023 Remaster)
Just Like a Woman (2023 Remaster)
Kick It (2023 Remaster)
Jane (2023 Remaster)

CD 6: Trouble in Shangri-La

Trouble in Shangri-La (2023 Remaster)
Candlebright (2023 Remaster)
Sorcerer (2023 Remaster)
Planets of the Universe (2023 Remaster)
Every Day (2023 Remaster)
Too Far from Texas (2023 Remaster)
That Made Me Stronger (2023 Remaster)
It's Only Love (2023 Remaster)
Love Changes (2023 Remaster)
I Miss You (2023 Remaster)
Bombay Sapphires (2023 Remaster)
Fall from Grace (2023 Remaster)
Love Is (2023 Remaster)

CD 7: In Your Dreams

Secret Love
For What It's Worth
In Your Dreams
Wide Sargasso Sea
New Orleans
Moonlight (A Vampire's Dream)
Annabel Lee
Soldier's Angel
Everybody Loves You
Ghosts Are Gone
You May Be the One
Italian Summer
Cheaper Than Free (feat. Dave Stewart)

CD 8: 24 Karat Gold: Songs from the Vault

Starshine
If You Were My Love
Mabel Normand
Twisted
24 Karat Gold
Belle Fleur
All the Beautiful Worlds
Lady
I Don't Care
Watch Chain
Hard Advice
Carousel
Blue Water
Cathouse Blues
The Dealer
She Loves Him Still

CD 9: Rarities

Blue Lamp (2023 Remaster)
Sleeping Angel (2023 Remaster)
Garbo (2023 Remaster)
Violet and Blue (2023 Remaster)
One More Big Time Rock and Roll Star (2023 Remaster)
Battle of the Dragon (2023 Remaster)
Real Tears (2023 Remaster)
Sometimes It's a Bitch (2023 Remaster)
Love's a Hard Game to Play (2023 Remaster)
Desert Angel (2023 Remaster)
Mirror, Mirror (2023 Remaster)
Inspiration (2023 Remaster)

CD 10: Rarities

Thousand Days (2023 Remaster)
God's Garden (2023 Remaster)
Somebody Stand By Me (2023 Remaster)
Free Fallin' (2023 Remaster)
Reconsider Me (with Don Henley) [2023 Remaster]
If You Ever Did Believe (2023 Remaster)
Crystal (2023 Remaster)
Touched by an Angel (2023 Remaster)
Not Fade Away (2023 Remaster)
My Heart (2023 Remaster)
For What It's Worth