 News
Shakespears Sister / Hormonally Yours 30th anniversary
Formats include 7CD singles box!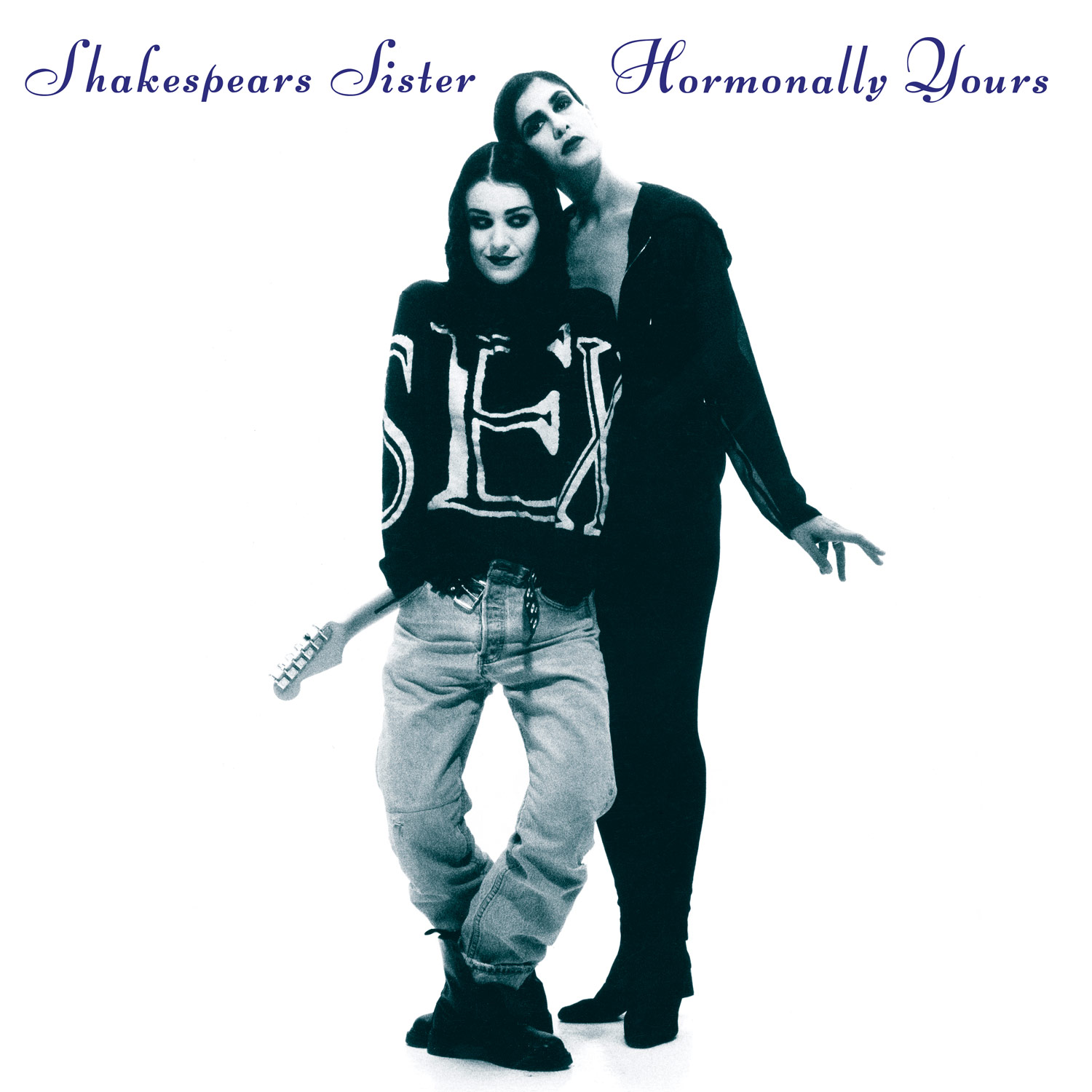 New formats including coloured vinyl, CD+DVD and 7CD singles box • Mirror-board packaging and limited 'Sequinned Catsuit Editions'
Shakespears Sister's 1992 album Hormonally Yours will be reissued in August for its 30th anniversary across various special vinyl and CD formats, including a 75-track, 7CD singles box set!
The album was a enormous success off the back of the astonishing UK chart-topping single 'Stay' which spent a staggering eight weeks at number one across February, March and April of 1992. Five singles were issued in Britain including 'I Don't Care (which peaked at #7) and 'Hello (Turn Your Radio On)' which was a top 20 hit in November '92.
The 30th anniversary reissues of Hormonally Yours sees all formats make use of special 'mirror-board' packaging. This means that instead of the white front cover, the artwork is printed on special reflective, 'mirror' stock.
There are two new vinyl editions, white and 'splatter' vinyl, with the band's official store exclusively offering a special 'Sequinned Catsuit Edition' of the white variant. This is literally a bespoke sequinned sleeve inspired by the band's famous catsuits. Very flash!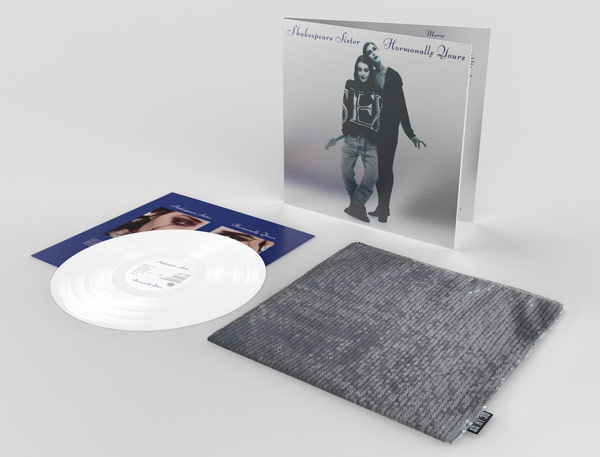 A 'bookpack' (aka casebound book) CD+DVD edition adds three bonus tracks to the (remastered) album proper and offers all the videos as shot by Sophie Muller, plus live recordings of album tracks from the bands 2019 tour. Also on this disc, is previously unseen footage shot during the making of the album. Again, this is printed on mirror-board and the official store has a 'Sequinned Catsuit Edition' of this format as well (the vinyl Sequinned Catsuit Edition is limited to 1000 units, the CD+DVD version, 2000 units).
So far, so good, but the format which has the SDE readers' name all over it, is the 7CD singles box! Like the other formats, this is printed on special mirror-board stock and this set devotes a CD to each of the singles five singles, plus the promo single 'Black Sky'. These CD singles are absolutely packed with variants of each song. For example the 'Stay' CD has 13-tracks, while 'I Don't Care' and 'Goodbye Cruel World' have 11 apiece. Fantastic stuff. If you are wondering why it's seven CDs and not six, it's because the remastered album with the 3 bonus tracks is included as well! What's not to like? Especially at £35 with a signed A5 photo, exclusive from the band's official store.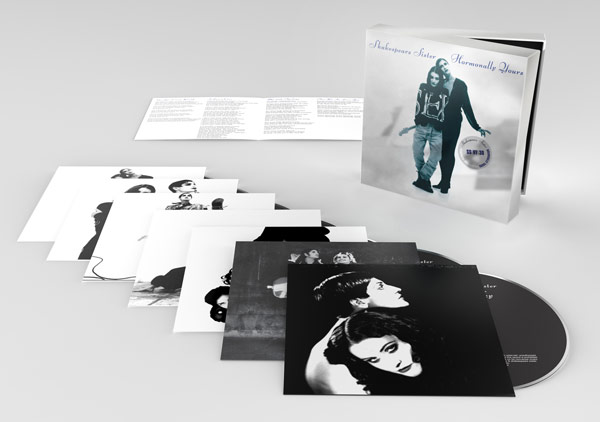 These 30th anniversary editions of Hormonally Yours include new sleeve notes and will be released on 30 September 2022 (was 19 August 2022).
Shakespears Sister Official Store Exclusives
Compare prices and pre-order
Shakespears Sister
Hormonally Yours - CD+DVD
Compare prices and pre-order
Shakespears Sister
Hormonally Yours - splatter vinyl
Tracklisting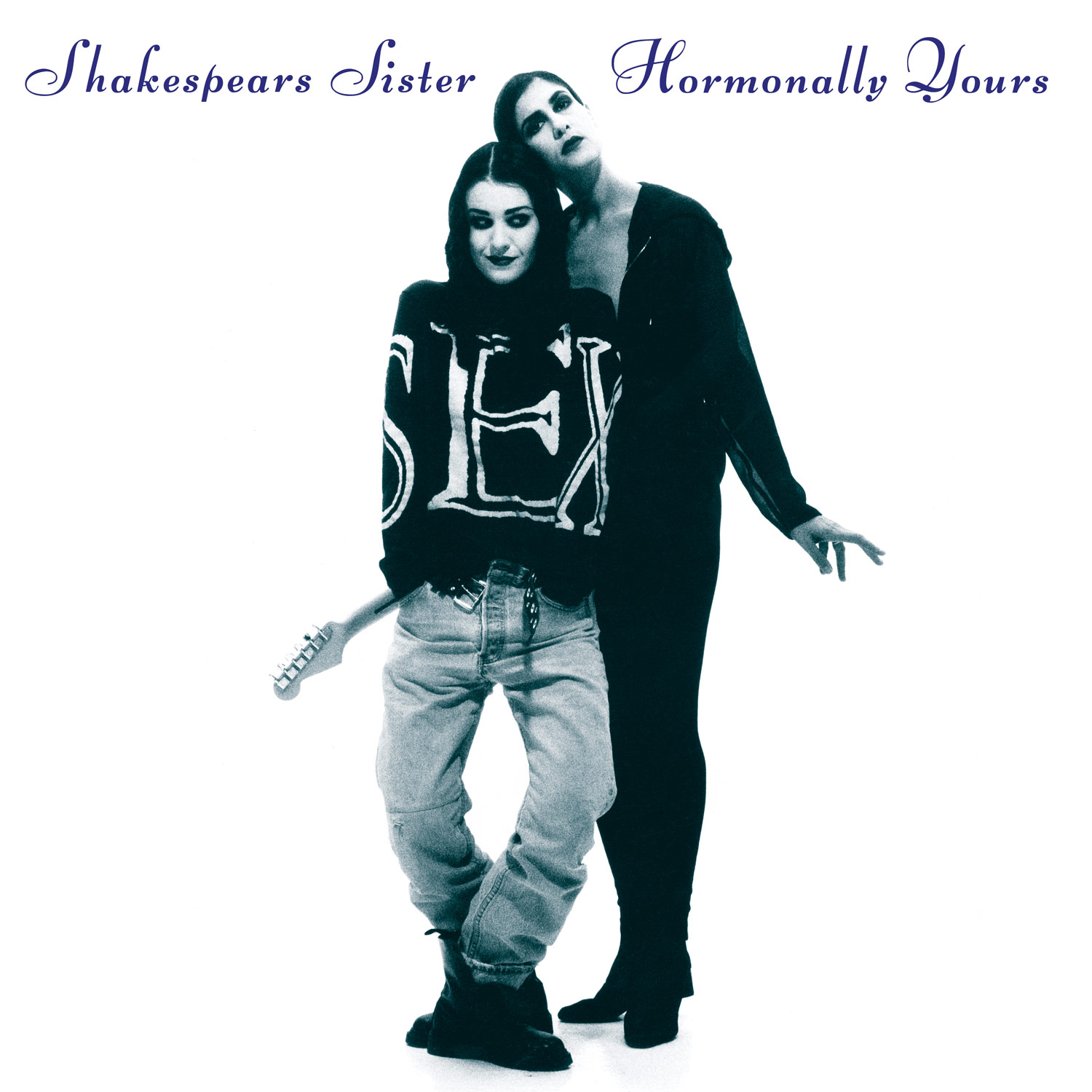 Hormonally Yours Shakespears Sister
/
25th anniversary
Hormonally Yours

Goodbye Cruel World 4:05
I Don't Care 4:15
My 16th Apology 4:16
Are We in Love Yet 3:45
Emotional Thing 3:48
Stay 3:48
Black Sky 4:08
The Trouble with Andre 4:38
Moonchild 4:27
Catwoman 3:59
Let Me Entertain You 4:44
Hello (Turn Your Radio On) 4:12

CD

Goodbye Cruel World 4:05
I Don't Care 4:15
My 16th Apology 4:16
Are We in Love Yet 3:45
Emotional Thing 3:48
Stay 3:48
 Black Sky 4:08
The Trouble with Andre 4:38
Moonchild 4:27
Catwoman 3:59
Let Me Entertain You 4:44
Hello (Turn Your Radio On) 4:12

Bonus Tracks

Cat Worship 2:17
 Out to Groove [Demo] 3:45
The End [Demo] 4:05

DVD

Brighton Live footage  – Hormonally Yours

Goodbye Cruel World
My 16th Apology
The Trouble with Andre
Emotional Thing
Black Sky
Stay
Are We in Love Yet
I Don Don't Care
Catwoman
Hello (Turn Your Radio On)

Restored and Remastered Videos

Goodbye Cruel World
Stay
I Don't Care
Hello (Turn Your Radio On)
My 16th Apology
Catwoman [Live]
Goodbye Cruel World (2022 Version)

Making of / Behind the Scenes Hormonally Yours

Behind The Scenes (Unseen Archive Footage)

CD 1: Hormonally Yours

Goodbye Cruel World 4:05
I Don't Care 4:15
My 16th Apology 4:16
Are We in Love Yet 3:45
Emotional Thing 3:48
Stay 3:48
 Black Sky 4:08
The Trouble with Andre 4:38
Moonchild 4:27
Catwoman 3:59
Let Me Entertain You 4:44
Hello (Turn Your Radio On) 4:12

Bonus Tracks

Cat Worship 2:17
 Out to Groove [Demo] 3:45
The End [Demo] 4:05

CD 2: Stay

Stay [Radio Mix] 3:45
The Trouble With Andre [unsegued] 4:43
Stay [Acoustic Version] 3:46
Stay [Video Mix] 3:45
 Stay [Andre Betts Remix] 3:42
 Stay [Andre Betts 12" Remix] 4:27
 The Trouble With Andre [Chris Thomas Remix] 3:24
 The Trouble With Andre [Luke Mornay Sweeter Mix] 8:00
 The Trouble With Andre [Luke Mornay Deeper Mix] 6:48
The Trouble With Andre [Edit] 4:03
Excerpts from the album Hormonally Yours 6:01
 Stay [Instrumental] 3:45
 The Trouble With Andre [Instrumental] 4:43

CD 3: I Don't Care

I Don't Care [7" Remix] 4:25
Remember My Name 3:36
Catwoman [BBC Session] 4:22
I Don't Care [BBC Session] 4:23
I Don't Care [Henley Board Mix] 4:06
 I Don't Care [Radio Edit] 4:06
I Don't Care [US Radio Edit] 3:58
I Don't Care [US Alternate Radio Edit] 3:59
 I Don't Care [7" Remix Instrumental] 4:25
I Don't Care [Album Instrumental] 4:15
Catwoman [Instrumental] 3:59

CD 4: Goodbye Cruel World

Goodbye Cruel World [1992 Remix] 4:01
Are We in Love Yet [Remix] 3:32
Goodbye Cruel World [1992 Alternative Remix] 4:01
Goodbye Cruel World [BTO Remix] 7:05
Are We in Love Yet [Abbey Road Mix] 4:16
Are We in Love Yet [Alternative Remix] 3:32
Are We in Love Yet [BBC Session] 3:41
Goodbye Cruel World [1992 Remix Instrumental] 4:01
Goodbye Cruel World [Album Instrumental] 4:05
Are We in Love Yet [Instrumental] 3:32
Moonchild [Instrumental] 4:27

CD 5: Hello (Turn Your Radio On)

Hello (Turn Your Radio On) [7" Version] 4:21
Let Me Entertain You [Full-Length Version] 5:14
Emotional Thing [Luke Mornay Emotional Mix] 6:31
Emotional Thing [Luke Mornay Radio Mix] TBC
Emotional Thing [Luke Mornay Dispassionate Dub]
Hello (Turn Your Radio On) [Alternative Piano Mix] 4:23
 Hello (Turn Your Radio On) [7" Instrumental]
Hello (Turn Your Radio On) [Album Instrumental] 4:12
Emotional Thing [Instrumental] 3:48
Let Me Entertain You [Instrumental] 4:44

CD 6: My 16th Apology

My 16th Apology [7" edit] 3:45
My 16th Apology [Strings Version] 4:16
Catwoman [Live] 4:52
 Hot Love [Live] 4:20
Dirty Mind [Live] 3:27
My 16th Apology [Instrumental] 4:16

CD 7: Black Sky

Black Sky [unsegued] 4:18
Black Sky [The Black Widow Mix] 6:59
Black Sky [Black Dub] 7:13
Black Sky [Dub Extravaganza Part One] 5:51
Black Sky [Dub Extravaganza Part Two] 10:39
 Black Sky [The Black Widow Mix Edit] 5:51
 Black Sky [Black Dub Edit] 4:32
Black Sky [Alternative Black Widow Mix Edit] 5:57
Black Sky [Instrumental] 4:18