 News
Small Faces 'Ogdens' triple vinyl deluxe set now more widely available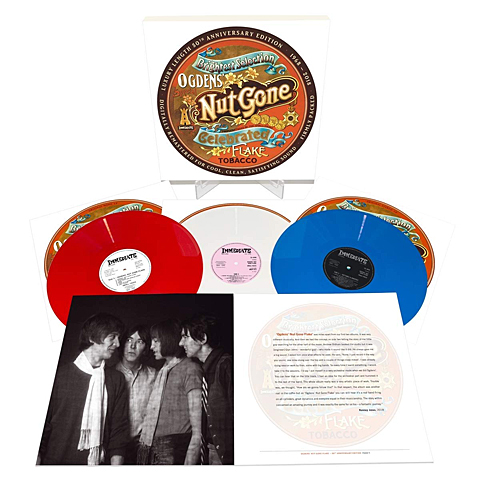 The 3LP coloured-vinyl deluxe edition of the Small Faces 1968 album Ogden's Nut Gone Flake can now be pre-ordered on Amazon UK.

This 50th anniversary set was announced back in July and for a premium can be bought from the Official Small Faces Shop with a print SIGNED by Kenny Jones.
A reminder that this set includes the mono mix, stereo mix and sessions across three red, white and blue vinyl records. The audio has been newly remastered by Nick Robbins at Soundmastering and cut at half-speed by Matt Colton at Alchemy Studios.
The triple vinyl set comes with a deluxe booklet which includes in-depth sleeve notes by Mark Paytress, interviews, rare photos and memorabilia.
This is released on 5 October 2018. You can buy from Amazon UK for £48 or secure a signed edition from the official shop for £60.
Compare prices and pre-order
Small Faces
Ogden's Nut Gone Flake - 3LP coloured vinyl box
Pre-orders with limited SIGNED Kenney Jones print from the official store
(signed art prints while stocks last – keep an eye on the listings in the store)
LP 1 or CD 1 (Mono)
A1. Ogdens' Nut Gone Flake
A2. Afterglow
A3. Long Agos And Worlds Apart
A4. Rene
A5. Song Of A Baker
A6. Lazy Sunday
B1. Happiness Stan
B2. Rollin' Over
B3. The Hungry Intruder
B4. The Journey
B5. Mad John
B6. Happydaystoytown
LP 2 or CD 2 (Stereo)
C1. Ogdens' Nut Gone Flake
C2. Afterglow
C3. Long Agos And Worlds Apart
C4. Rene
C5. Song Of A Baker
C6. Lazy Sunday
D1. Happiness Stan
D2. Rollin' Over
D3. The Hungry Intruder
D4. The Journey
D5. Mad John
D6. Happydaystoytown
LP 3
E1. Ogdens' Nut Gone Flake (Early Session Version – Mono)
E2. Afterglow (Alt USA Mix)
E3. Long Agos And Worlds Apart (Alt USA Mix – Stereo)
E4. Rene, The Dockers' Delight (Early Session Mix)
E5. Song Of A Baker (Alt USA Mix – Stereo)
E6. Lazy Sunday (Alt USA Mix – Stereo)
E7. Every Little Bit Hurts (Early Session Mix – Mono)
F1. Happiness Stan (Backing Track – Mono)
F2. Bun In The Oven (Early Session Mix)
F3. The Fly (Take 4 – Instrumental Version – Stereo)
F4. Mad John (Take 7 – Backing Track – Mono)
F6. Happydaystoytown (Alt USA Mix – Stereo)
F7. Kamikhazi (take 7 – backing track – mono)
F8. Ogdens' Nut Gone Flake (Alt Take – Phased Mix – Stereo)