 News
Spares and Parts: Guns N' Roses Appetite for Destruction sets broken up
Universal Music selling off USB sticks, guitar picks and more from unsold Locked N' Loaded boxes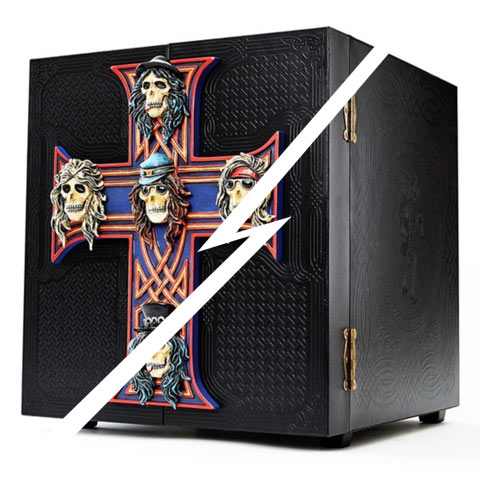 The Guns N' Roses Appetite For Destruction reissue campaign of 2018 was massive and in hindsight, perhaps over ambitious from a record label point of view.

The 'Locked N' Loaded' mega-box was created in the hope that 10,000 fans would be prepared to pay $1000 for a music box set that literally came in a wooden cabinet. You could hold it in your hands, but only just. Fourteen months on from the release, Universal Music have discounted this to less than $400 and furthermore, it appears they are actually breaking them up to sell off, separately, individual components that were once exclusive to the sets. Let's take a look at what's going on…

The US GNR Merch site is not only offering the 'Locked N' Loaded' box for $399 but it also has for sale something called 'Appetite For Destruction Hardcover Book + 4CD+ Blu-ray' which looks very much like the super deluxe edition, WITHOUT the outer slipcase and the 'collectables' (lithos, replica concert tickets, posters, temporary tattoos, flyers etc). The $49.98 pricing on this is curious, since the same site has the actual super deluxe edition for ONE CENT more – $49.99. Superfluous as those 'collectables' might be, you may as well get them for a cent!

This is where it becomes interesting though, because the same site also has for sale a set of 12 lithos (one for each song) for less than $20, a set of five metal band skull rings  for $39.98, a set of five metal guitar picks for $24.98 and a 32gb Metal Cross USB Stick With Audio for $39.98. What do all these items have in common? They were previously exclusive to the 'Locked N' Loaded' box set!




SDE is not one to enthuse about digital formats, but that USB cross is actually excellent value, when you consider the contents. It has the audio from all four CDs in the super deluxe (album, B-Sides N' EPs, 1986 Sound City Session, 1986 Sound City Session N' More) in THREE different file resolutions (44.1kHz 16 bit, 96kHz 24 bit, 192kHz 24 bit). So in total 153 hi-res tracks for less than $40. Note, this doesn't include the 5.1 surround mix.

All these products are on the US GNR site and while they will ship internationally – and rates are surprisingly good – but what about other territories, like the UK? Sadly the UK GNR Merch site has none of the goodies above and isn't selling the 'Locked N' Loaded' box set at all, while the super deluxe is shown as 'sold out'.

In terms of other options, you can buy the 'Locked and Loaded' set from Amazon in the UK for the not very attractive price of £800 although in Germany it's a much better €665 which gets the price to nearer £600. Amazon in the USA have it listed at $499.

The super deluxe edition via Amazon UK has a similarly unattractive price-tag of £112. However, if you head buy from Amazon in Japan you can acquire the same super deluxe for just £47. Shipped to the UK with all taxes paid this equates to around £63. That's very good indeed.

Despite the discounting, the big question is whether the prices will drop any lower? Perhaps not, if Universal have adopted a 'spares and parts' strategy for the really big 'Locked N' Loaded' sets. This certainly appears to be the case, because the 'hardcover book' five-disc edition and the rings, lithos, guitar picks and USB stick are all straight from that mammoth box set.


Compare prices and pre-order
Guns N Roses
Appetite For Destruction - 4CD+blu-ray super deluxe
Compare prices and pre-order
Guns N Roses
Appetite For Destructioni - Locked N Loaded box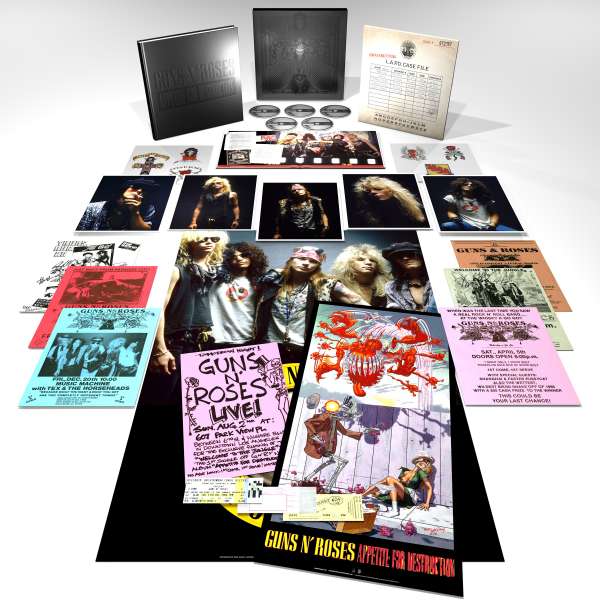 Appetite For Destruction 4CD+blu-ray+book Super Deluxe Edition

CD 1 – APPETITE FOR DESTRUCTION: REMASTERED

Welcome To The Jungle
It's So Easy
Nightrain
Out Ta Get Me
Mr. Brownstone
Paradise City
My Michelle
Think About You
Sweet Child O' Mine
You're Crazy
Anything Goes
Rocket Queen
Produced by Mike Clink

Mixed by Steve Thompson and Michael Barbiero

CD2 – B-SIDES N' EPS: REMASTERED

Reckless Life
Nice Boys
Move To The City (Live)
Mama Kin
Shadow Of Your Love (Live)
You're Crazy (Acoustic Version)
Patience
Used To Love Her
You're Crazy
It's So Easy (Live)
Knockin' On Heaven's Door (Live)
Whole Lotta Rosie (Live)

CD 3 – 1986 SOUND CITY SESSION

All Previously Unreleased

Welcome To The Jungle (1986 Sound City Session)
Nightrain (1986 Sound City Session)
Out Ta Get Me (1986 Sound City Session)
Paradise City (1986 Sound City Session)
My Michelle (1986 Sound City Session)
Think About You (1986 Sound City Session)
You're Crazy (1986 Sound City Session)
Anything Goes (1986 Sound City Session)
Rocket Queen (1986 Sound City Session)
Shadow Of Your Love (1986 Sound City Session)
Heartbreak Hotel (1986 Sound City Session)
Jumpin' Jack Flash (1986 Sound City Session)

CD 4 – 1986 SOUND CITY SESSION N' MORE

All Previously Unreleased

Shadow Of Your Love
Move To The City (1986 Sound City Session)
Ain't Goin' Down No More (Instrumental Version – 1986 Sound City Session)
The Plague (1986 Sound City Session)
Nice Boys (1986 Sound City Session)
Back Off Bitch (1986 Sound City Session)
Reckless Life (1986 Sound City Session)
Mama Kin (1986 Sound City Session)
New Work Tune (1986 Sound City Session)
November Rain (Piano Version – 1986 Sound City Session))
Move To The City (Acoustic Version – 1986 Sound City Session)
You're Crazy (Acoustic Version – 1986 Sound City Session)
November Rain (Acoustic Version – 1986 Sound City Session)
Jumpin' Jack Flash (Acoustic Version – 1986 Sound City Session)
Move To The City (1988 Acoustic Version)

DISC 5 – BLU-RAY AUDIO

96kHz 24-bit 5.1 Surround Sound & Remastered Stereo
5.1 Surround Sound mixed by *Elliot Scheiner and **Frank Filipetti

All Previously Unreleased

APPETITE FOR DESTRUCTION*

Welcome To The Jungle
It's So Easy
Nightrain
Out Ta Get Me
Mr. Brownstone
Paradise City
My Michelle
Think About You
Sweet Child O' Mine
You're Crazy
Anything Goes
Rocket Queen
Produced by Mike Clink

Stereo mixed by Steve Thompson and Michael Barbiero

BONUS TRACKS

Shadow Of Your Love**
Patience*
Used To Love Her**
You're Crazy**
Move To The City (1988 Acoustic Version)**
MUSIC VIDEOS*

Welcome To The Jungle
Sweet Child O'Mine
Paradise City
Patience
It's So Easy – BRAND NEW VIDEO FROM 1989


Appetite For Destruction Locked N' Loaded box set

Full Contents
Embossed Faux Leather and Wood Cabinet

Handmade 3D Cross

Super deluxe edition: 96 page handbound book with unreleased photos from Axl Rose's personal archive

4 CD's in total with 73 total tracks featuring 49 unreleased tracks

1 blu ray audio disc with new 5.1 surround sound mixes

Seven 12″ 180 Gram LPS

Original Album expanded into two LPs

First ever album remaster from analogue tapes

Limited Edition foil slipcase

4th side hologroove hologram

1 LP B-Sides  N' EPs and Live Like a Suicide EP

3LP Sound City Session and 25 unreleased songs from the 1986 session

2 unreleased tracks from Mike Clink Sessions

7 7″ singles on yellow vinyl

12 New illustration lithos visualizing each song from Appetite for Destruction

Turntable Mat

6 Replica Gig Flyers

Welcome to the Jungle Video Invite Flyer

Microfiber Cleaning Cloth

6 Iron-On Stitched Logo Patches

5 Metal Guitar Picks

3 Replica Ticket Stubs

5 metal Band Skull Lapel Pins

2-Inch Collectable Coin

5 buttons

7″ adapter

5 Metal Band Skull Rings

USB Stick

5 Never-Before Seen Band Member Photo Lithos

6 Temporary Band Member Tattoos

Robert Williams Painting Litho

Two Wall Posters

Custom bandana With Silver Metallica Ink

Replica 85'/86′ Concert Banner Featuring Numbered Certificate of Authenticity
4 CDs

73 Total Tracks – 49 Tracks Previously Unreleased

First Ever Album Remaster from Original Analog Tapes

12 Tracks from B-sides N' EPs Newly Remastered from Original Analog Tapes

25 Unreleased Recordings from 1986 Sound City Session

2 Unreleased Recordings from Mike Clink Sessions:

"Shadow Of Your Love" – from December 1986 Mike Clink tryout session

"Move To The City (1988 Acoustic Version)" – from GN'R LIES sessions

1 Blu-ray Audio Disc

New 96kHz 24-bit 5.1 Surround Sound Mixes from Original Analog Multi-tracks

Original Album Mixed by Elliot Scheiner

5 Bonus Tracks Mixed by Elliot Scheiner & Frank Filipetti

All songs feature brand new animations

4 Original Music Videos in 5.1

Unreleased 1989 "It's So Easy" Video in 5.1

Seven 180-gram Audiophile 12-inch LPs

All Vinyl Cut from 192kHz 24-bit Remastered High-Resolution Audio

Original Album Expanded to 2-LPs for Maximum Audiophile Playback

Limited Edition Foil Art Slipcase

Side 4 Extra Bonus: Hologroove Hologram of GN'R Logo

LIVE LIKE A SUICIDE EP (1-LP) with Extra Track "Shadow Of Your Love"

B-SIDES N' EPS (1-LP)

1986 SOUND CITY SESSION N' MORE (3-LPs)

6 Replica 7-inch Singles + New 7-inch for "Shadow Of Your Love" on Yellow Vinyl

"It's So Easy" b/w "Mr. Brownstone"

"Welcome To The Jungle" b/w "Whole Lotta Rosie (Live)"

"Sweet Child O' Mine" b/w "Out Ta Get Me"

"Paradise City" b/w "Used To Love Her"

"Patience" b/w "Rocket Queen"

"Nightrain" b/w "Reckless Life"

"Shadow Of Your Love" b/w "Move To The City (1988 Acoustic Version)"

32GB Metal Cross USB Stick with High-Resolution Audio Formats from All 4 CDs

192kHz 24-bit AIFF Files

96kHz 24-bit AIFF Files

44.1kHz 16-bit AIFF Files