 News
Sting / My Songs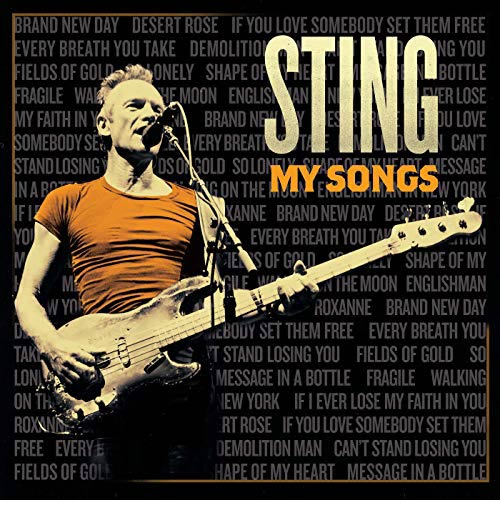 As predicted by SDE back in January Sting has announced his next album, My Songs, which sees him rework (or 'reimagine') songs from his back catalogue as a solo artist and with The Police.

The selection veers towards big hits, which hints at commercial aspirations rather than creative explorations, and indeed, when talking to Billboard recently about the new version of 'Brand New Day' (which sparked off the idea for the project) Sting said "…so we did an updated version of that… taking off some filters and using a different bass drum sound, and it just sounded very contemporary and it ended up on Spotify, next to Ariana Grande. So I thought, 'Yeah, that works. Let's keep doing that.'"
Sting admits that he's "constantly tinkering" (he reworked 'We Work The Black Seam' back in '93, for example) and told Billboard that "I'm always wanting to make the songs as contemporary as they can possible be, because I think they are good songs. Sometimes songs are identified by the technology they were recorded with — recording techniques, the sound of synthesizers or the drum sound. They all date a song, so we just want to re-contemporise the stuff."
The standard 15-track version of My Songs is roughly half solo material and half The Police. Regarding the latter, tracks include 'Walking On The Moon,' 'Every Breath You Take,' 'Message in a Bottle,' 'Can't Stand Losing You,' 'So Lonely' and a live version of 'Roxanne'. On the solo side, as well as the aforementioned 'Brand New Day', My Songs includes new versions of 'If You Love Somebody Set Them Free', 'Fields of Gold', 'Englishman In New York' and 'Shape of My Heart' (the latter a great song that undeservedly stalled at 57 in the UK charts).
The album comes as a double gatefold vinyl set, with A2 poster and a CD deluxe edition adds four live tracks. A French exclusive deluxe CD – available at FNAC – adds and extended version of the new version of 'Desert Rose', while the Japanese deluxe CD exclusively features a live version of 'I Can't Stop Thinking About You.'
My Songs was recorded in various locations, makes use of both existing and newly recorded tracks, with members of Sting's touring band (guitarist Dominic Miller and his son Rufus, drummer Josh Freese) and of the Last Bandoleros and Sting's manager Martin Kierszenbaum. It comes with new sleeve notes written by Sting, in which he shares the personal stories behind each track.
My Songs will be issued on 24 May 2019 via Universal Music (the vinyl follows on 7 June). Read the SDE review here.
Compare prices and pre-order
Sting
My Songs - 2LP vinyl
Compare prices and pre-order
Sting
My Songs - deluxe CD
Compare prices and pre-order
Standard CD/vinyl editions
Brand New Day
Desert Rose
If You Love Somebody Set Them Free
Every Breath You Take
Demolition Man
Can't Stand Losing You
Fields of Gold
So Lonely
Shape of My Heart
Message in a Bottle
Fragile
Walking on the Moon
Englishman in New York
If I Ever Lose My Faith in You
Roxanne (Live)
Deluxe CD bonus tracks:
Synchronicity II (Live)
Next To You (Live)
Spirits In The Material World (Live)
Fragile (Live)
Japanese Deluxe CD adds:
I Can't Stop Thinking About You (Live) (Japan Exclusive)
French Exclusive Deluxe CD adds:
Desert Rose (Extended Version) (France Exclusive)