 News
The Police / Every Move You Make: The Studio Recordings / 6LP vinyl box
Half-speed mastered • 6LP vinyl box • Bonus LP of non-album cuts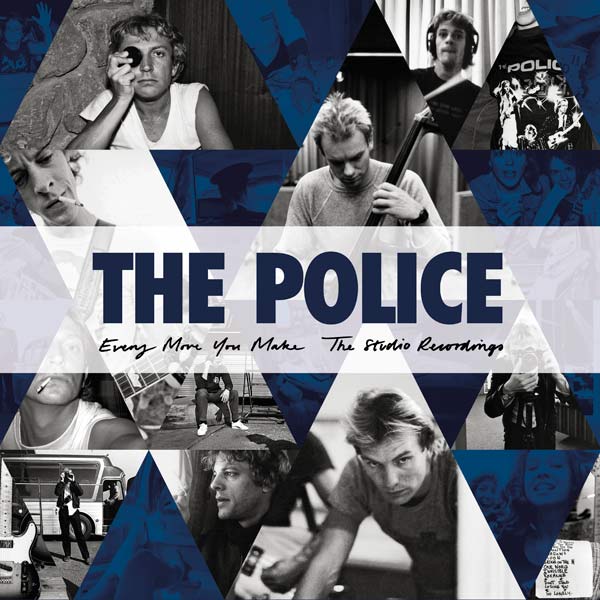 This November, Universal Music will release Every Move You Make: The Studio Recordings a new six vinyl LP box set which brings together The Police's studio albums, along with a bonus disc of non-album recordings and B-sides.

All six five albums – Outlandos d'Amour (1978), Reggatta de Blanc (1979), Zenyatta Mondatta (1980), Ghost in the Machine (1981) and Synchronicity (1983) – have been remastered and cut at half-speed at Abbey Road Studios by Miles Showell.




Miles has actually cut a Ghost In The Machine half-speed before, back in 2015 for the first wave of Abbey Road Studios-branded albums put out by Universal Music. SDE can exclusively reveal that 'Ghost' in this box set comes from the same remastered source, but is an all-new cut for this Every Move You Make box, because since that time Showell has restored and made operational a new lathe which he considers to be the best he's ever used and therefore in theory this new cut could/should be slightly better than the 2015 version.

The 12-track bonus LP is called Flexible Strategies and features songs such as 'Dead End Job', ' Landlord', 'Visions Of The Night' and 'Murder By Numbers'.

The box set comes with a 24 page, 12" x 12" photo 'book' (looks more like a bookLET to me) and features the usual 'rare and unseen' images. Everything is packaged in a lift-off lid box set. Every album in the box has been pressed at Optimal in Germany. No CD version has been announced.

Every Move You Make: The Studio Recordings will be released on 16 November 2018.


Compare prices and pre-order
The Police
Every Move You Make - The Studio Recordings
Outlandos d'Amour (1978)
Side One:

Next to You
So Lonely
Roxanne
Hole in My Life
Peanuts                           
Side Two:
Can't Stand Losing You
Truth Hits Everybody
Born in the '50s
Be My Girl – Sally
Masoko Tanga
Reggatta de Blanc (1979)
Side One:
Message in a Bottle
Reggatta de Blanc
It's Alright for You
Bring on the Night
Deathwish                          
Side Two:
Walking on the Moon
On Any Other Day
The Bed's Too Big Without You
Contact
Does Everyone Stare
No Time This Time   
Zenyatta Mondatta (1980)
Side One:
Don't Stand So Close to Me
Driven to Tears
When the World Is Running Down, You Make the Best of What's Still Around
Canary in a Coalmine
Voices Inside My Head
Bombs Away
Side Two:
De Do Do Do, De Da Da Da
Behind My Camel
Man in a Suitcase                               Shadows in the Rain
The Other Way of Stopping
Ghost in the Machine (1981)
Side One:
Spirits in the Material World
Every Little Thing She Does Is Magic
Invisible Sun                               Hungry for You (J'aurais toujours faim de toi)
Demolition Man
Side Two:
Too Much Information
Rehumanize Yourself
One World (Not Three)
Ωmegaman
Secret Journey
Darkness
Synchronicity (1983)
Side One:
Synchronicity I
Walking in Your Footsteps
O My God                               Mother                               Miss Gradenko
Synchronicity II                       
Side Two:
Every Breath You Take
King of Pain                               Wrapped Around Your Finger
Tea in the Sahara  
Bonus Disc: Flexible Strategies (2018)
Side One:
Dead End Job (1978)
Landlord (1979)
Visions Of The Night (1979)
Friends (1980)
A Sermon (1980)
Shambelle (1981)
Side Two:
Flexible Strategies (1981)
Low Life (1981)
Murder By Numbers (1983)
Truth Hits Everybody (Remix) (1983)
Someone To Talk To (1983)
Once Upon A Daydream (1983)