 News
Sting offers a digital-only expanded edition of The Soul Cages
Digital 'deluxe' confirms Sting's lack of interest in physical reissues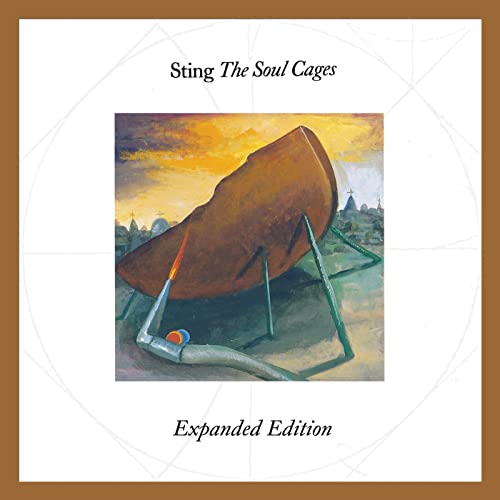 An expanded edition of Sting's 1991 album The Soul Cages has been released digitally and on streaming services.

The album, which is 30 years old on Sunday in the UK (21 January in America), spawned the singles 'All This Time', 'Mad About You', 'The Soul Cages' and 'Why Should I Cry For You'. 'All This Time' was a top five single in the USA, but only a minor hit elsewhere.
'Mad About You' failed to crack the UK top 40 which may seem surprising (especially since it's a great track) but people tend to forget that Sting's solo singles were largely unsuccessful in the UK in the 1980s and things only improved in the 1990s. If you want some statistics, of the ten singles released from 1984's The Dream of the Blue Turtles and 1987's Nothing Like The Sun only THREE charted (and one of those was a late-in-the-day remix of 'Englishman In New York'). 'All This Time' peaked at 22 in the UK which was pretty good for Sting. Hugh Padgham produced The Soul Cages.
Thirteen bonus tracks are offered with this digital expanded edition with the label claiming that seven of them have never been made available before digitally, either via streaming or download (some of them have been on CD, so it's not a true digital debut).
The selection has thrown up some oddities. None of the three bonus remixes of 'Mad About You' were issued commercially. They all come from a US promo CD and were remixed by Sting's guitarist Dominic Miller (stick to the day job) and Vinnie Colaiuta (the drummer, who played on the next album, Ten Summoner's Tales, but not The Soul Cages). Weird, but welcome, I guess. On the other hand, the actual single remix of 'Mad About You' which was on EVERY format issued isn't included. Go figure.
The selection also omits live bonus material that was featured on singles from this album but stems from another era. So no 'Don't Stand So Close To Me (live)' or 'Walking In Your Footsteps (Live)' (from 'The Soul Cages' single), no 'If You Love Somebody Set Them Free (live)' (from 'Mad About You'), no 'King of Pain (live)' (from 'All This Time') and no 'Sister Moon (live)' (from 'Why Should I Cry For You').
 
Back of the 'Mad About You' promo CD shows the provenance of those remixes.
We do get the Elton John cover 'Come Down In Time', instrumentals 'I Miss You Kate' and 'Oo La La Hugh' along with some foreign language versions and the relatively rare Extended Mix of 'Why Should I Cry For You?'.
It's not perfect, but if this was a bonus CD on a two-disc set I think most people would think it was a decent effort. Of course, this begs the question, why isn't there a physical release, 30 years on?!
I don't know the answer, but will simply guess that by the total lack of archival activity (save for the disappointing 25 Years) Sting is simple not interested. He's willing to let the record company make these available online, but that's your lot. I do not expect any kind of physical release to follow.
Pretty disappointing, although if Sting was going to kick off a physical reissue campaign I doubt he'd start with The Soul Cages. I will probably reluctantly pay to download these tracks, if only because of those promo selections. It still makes sense to do this because who knows how long this may stick around on streaming services? Of course, I'd much rather be buying a physical product. Digital deluxe editions are, by definition, a misnomer.
This expanded edition of Sting's The Soul Cages is available digitally right now.
1. Island Of Souls
2. All This Time
3. Mad About You
4. Jeremiah Blues (Part 1)
5. Why Should I Cry For You
6. Saint Agnes And The Burning Train
7. The Wild Wild Sea
8. The Soul Cages
9. When The Angels Fall
Bonus tracks

10. I Miss You Kate (Instrumental) – From the 'All This Time' CD single
11. Come Down In Time* Elton John cover from the Two Rooms album
12. Tempted (Live)* – From the 'Mad About You' CD single
13. Ne Me Quitte Pas (Live)* From the 'Why Should I Cry For You ' CD single
14. Oo La La Hugh* From the 'Soul Cages' CD single
15. Mad About You (Original Remix)* -From the 'Mad About You' US promo CD single
16. Mad About You (Remix Edit)* From the 'Mad About You' US promo CD single
17. Mad About You (12″ Remix) * From the 'Mad About You' US promo CD single
18, Mad About You (Italian Version) From the 'Why Should I Cry For You ' Japanese CD single
19. Why Should I Cry For You (Spanish Version) From the 'Why Should I Cry For You ' Japanese CD single
20. Why Should I Cry For You (Extended Mix) From the 'Why Should I Cry For You ' Japanese CD single
21. The Soul Cages (Edit) From the 'Soul Cages' CD single
22. All This Time (Edit) From various All This Time singles, including the 7″
* Not Previously Available Digitally