 News
Stylotone correct Marnie image error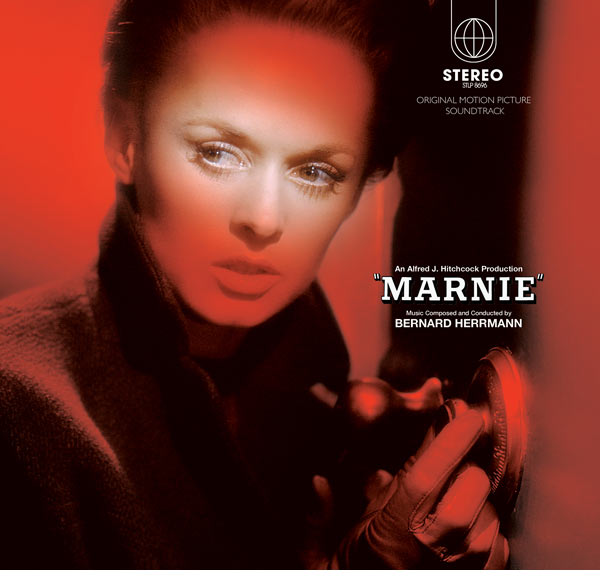 Stylotone's forthcoming super deluxe edition of the Bernard Herrmann's soundtrack to Alfred Hitchcock's 1964 film Marnie, will be delayed for a few weeks as the label correct an error with the cover image highlighted by SDE readers!

The set was previously announced back in February and the photo used on the front cover was actually a still from Hitchcock's previous film The Birds (released in 1963 and also featuring Tippi Hedren) and not Marnie. This was picked up in the comments on SDE and Stylotone clearly saw this. In a statement, the label had the following to day
"In February we announced 'Marnie – Original Motion Picture Soundtrack' as our next Bernard Herrmann release… However, due to the eagle-eyed readers over at Super Deluxe Edition we found out that the cover image we had been supplied was in fact from 'The Birds'… We swiftly moved into action to correct this error and up until a few days ago we believed we were on course to stick to the original release date. Unfortunately, it now appears that this isn't going to be possible. The new release date is the 24th of May 2019
Please accept our apologies as we are really sorry for this, but we like to think we do a pretty good job over at 'Stylotone Towers' and a front cover image from the wrong film was obviously never going to be acceptable."

The original cover (above) incorrectly used a still image from 'The Birds'
New gatefold sleeves for the vinyl (and for the vinyl replica CD) are being reproduced and as the statement says should be ready to ship on 24 May.
I know many SDE readers have ordered this reissue via the SDE shop and will be disappointed with the delay, but by way of apology, the label have agreed to supply a hand-embossed Marnie print to every SDE reader who had pre-ordered this Marnie set as of end-of-play yesterday, Tuesday 23 April 2019.
Important: THIS PRINT WILL NOT BE SUPPLIED WITH ANY ORDERS OF MARNIE GOING FORWARD, it's strictly for those people who have previously ordered via the SDE shop expecting these to despatch this week. The image of the print is below.
The Marnie super deluxe edition will now be released on 24 May 2019. You can read more about the set and pre-order via the SDE shop using this link or the button below.
The Marnie super deluxe package comprises:
two 180g scarlet-coloured vinyl LPs cut at 45 RPM
an expanded CD (in vinyl replica gatefold sleeve) with the complete score plus unused / alternate cues
a  45RPM 2-track black vinyl seven-inch single featuring Nat King Cole's rendition of 'Marnie' b/w 'The Main Theme',
a 30″x40″ newly commissioned British 'Quad' film poster
sleeve notes by Herrmann's biographer Steven C. Smith.
High-Resolution 24-bit WAV + 320kbps CBR MP3 Downloads of the LP, CD & unused / alternate cues
Marnie Original Motion Picture Soundtrack
Side One
1. Prelude
2. Marnie
3. Forio
4. Red Flowers
5. The Shampoo
6. The Bowl
7. No. 9
8. Want Ad
9. The Stranger
10. Red Ink
11. The Drawer
Side Two
1. The Storm
2. Red Jacket
3. The Homestead
4. Romance
5. The Safe
6. Encounter
7. The Wedding
8. The Porch
9. The Checkbook
10. The Bridal Suite
11. The Cabin
12. Alone
13. The Shadow
Side Three
1. Love Scene
2. The Pool
3. Homecoming
4. The Window
5. Telephone
6. The Horse
7. The Nightmare
8. The Book
9. Mr Strutt (Film version)
10. The Word Game
11. The Hunt
Side Four
1. Forio's Fall
2. Forio's Death
3. The Stairs / The Keys / The Stairway
4. The Dial
5. The Money
6. The Gun
7. Departure
8. The Street
9. Flashback II
10. Blood
11. Farewell
12. Finale
13. Cast
Additional CD tracks
49. Flashback I (unused)
50. Mr Strutt (alternate)
51. Shock (unused)
By way of a little gesture for this delay all pre-orders will now include a hand-embossed & numbered
'Marnie' print.
Sincerely
The Stylotone Team