 News
Super Deluxe of Bernard Herrmann's soundtrack to Hitchcock's 'Marnie'
2LP+CD+7″ super deluxe • Red vinyl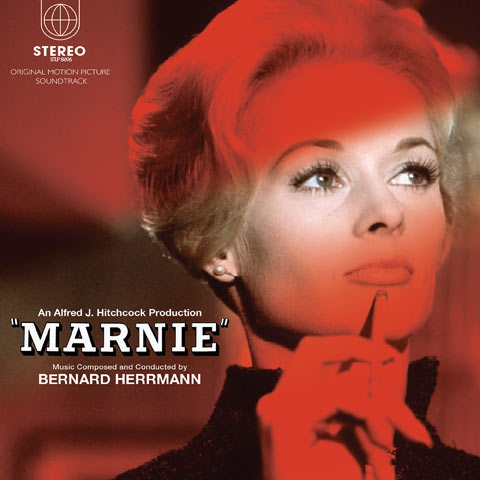 Soundtrack specialists Stylotone, in association with The Bernard Herrmann Estate, will issue for the first time ever, from the original master tapes, the original motion picture soundtrack to Alfred Hitchcock's 1964 film Marnie, as composed and conducted by film score Maestro Bernard Herrmann.

Marnie was a psychological thriller starring Sean Connery and Tippi Hedren. It was Hitch's follow-up to The Birds and continued the British director's outstanding run of films from the late '50s through to the early '60s (Vertigo, North by NorthWest, Psycho, The Birds, Marnie). By this point Connery had achieved superstar status with Bond and after some negotiations with EON productions, he stepped into the role of business owner Mark Rutland, fresh from being 007 in 1963's From Russia With Love. Hedren was in The Birds, of course, and Marnie would be her last film with Hitchcock.

At this point, composer Bernard Herrmann had already worked with Hitchcock seven times, his score for 1960's Psycho featuring some of the most iconic film cues ever recorded, but the score for Marnie would be his last for the filmmaker – at least his last that was used, because despite the long running director/composer partnership, Hitchcock rejected Herrmann's score for Marnie follow-up Torn Curtain and the pair never worked together again.


Never-before-available, the soundtrack to 'Marnie' has been restored from the original music masters and has been assembled, mastered and cut at Abbey Road Studios by engineer Sean Magee (famed for his work on The Beatles remasters).

Norma Herrmann, Benard's widow says of this work "Marnie held a special place for Benny. He always said to me that out of all of his recordings that one came closest to realising his original ideas. It was his favourite."

Having reviewed Stylotone's super deluxe packages before (see Twisted Nerve) I can't stress just how good these are: everything is produced to the highest standard from the spot-varnished heavyweight 320gsm 'tip on' gatefold sleeves, to CD in the vinyl replica sleeves and the astonishingly good 'quad' poster. The sound is incredible.

The Marnie super deluxe package comprises:
two 180g scarlet-coloured vinyl LPs cut at 45 RPM

an expanded CD (in vinyl replica gatefold sleeve) with the complete score plus unused / alternate cues

a  45RPM 2-track black vinyl seven-inch single featuring Nat King Cole's rendition of 'Marnie' b/w 'The Main Theme',

a 30″x40″ newly commissioned British 'Quad' film poster

sleeve notes by Herrmann's biographer Steven C. Smith.

High-Resolution 24-bit WAV + 320kbps CBR MP3 Downloads of the LP, CD & unused / alternate cues

In total, there is over 58 minutes of music and this set is released on 26 April 2019. You can pre-order this super deluxe Marnie soundtrack package exclusively from the SDE shop.
<![CDATA[
/**/
]]>
Marnie Original Motion Picture Soundtrack
Side One
1. Prelude
2. Marnie
3. Forio
4. Red Flowers
5. The Shampoo
6. The Bowl
7. No. 9
8. Want Ad
9. The Stranger
10. Red Ink
11. The Drawer
Side Two
1. The Storm
2. Red Jacket
3. The Homestead
4. Romance
5. The Safe
6. Encounter
7. The Wedding
8. The Porch
9. The Checkbook
10. The Bridal Suite
11. The Cabin
12. Alone
13. The Shadow
Side Three
1. Love Scene
2. The Pool
3. Homecoming
4. The Window
5. Telephone
6. The Horse
7. The Nightmare
8. The Book
9. Mr Strutt (Film version)
10. The Word Game
11. The Hunt
Side Four
1. Forio's Fall
2. Forio's Death
3. The Stairs / The Keys / The Stairway
4. The Dial
5. The Money
6. The Gun
7. Departure
8. The Street
9. Flashback II
10. Blood
11. Farewell
12. Finale
13. Cast
Additional CD tracks

49. Flashback I (unused)
50. Mr Strutt (alternate)
51. Shock (unused)
Psycho 7″
 from the original motion picture soundtrack
1. Prelude
2. The Murder