 News
Suede / Coming Up 25th anniversary 2CD deluxe
Shake your bits to the hits (and B-sides).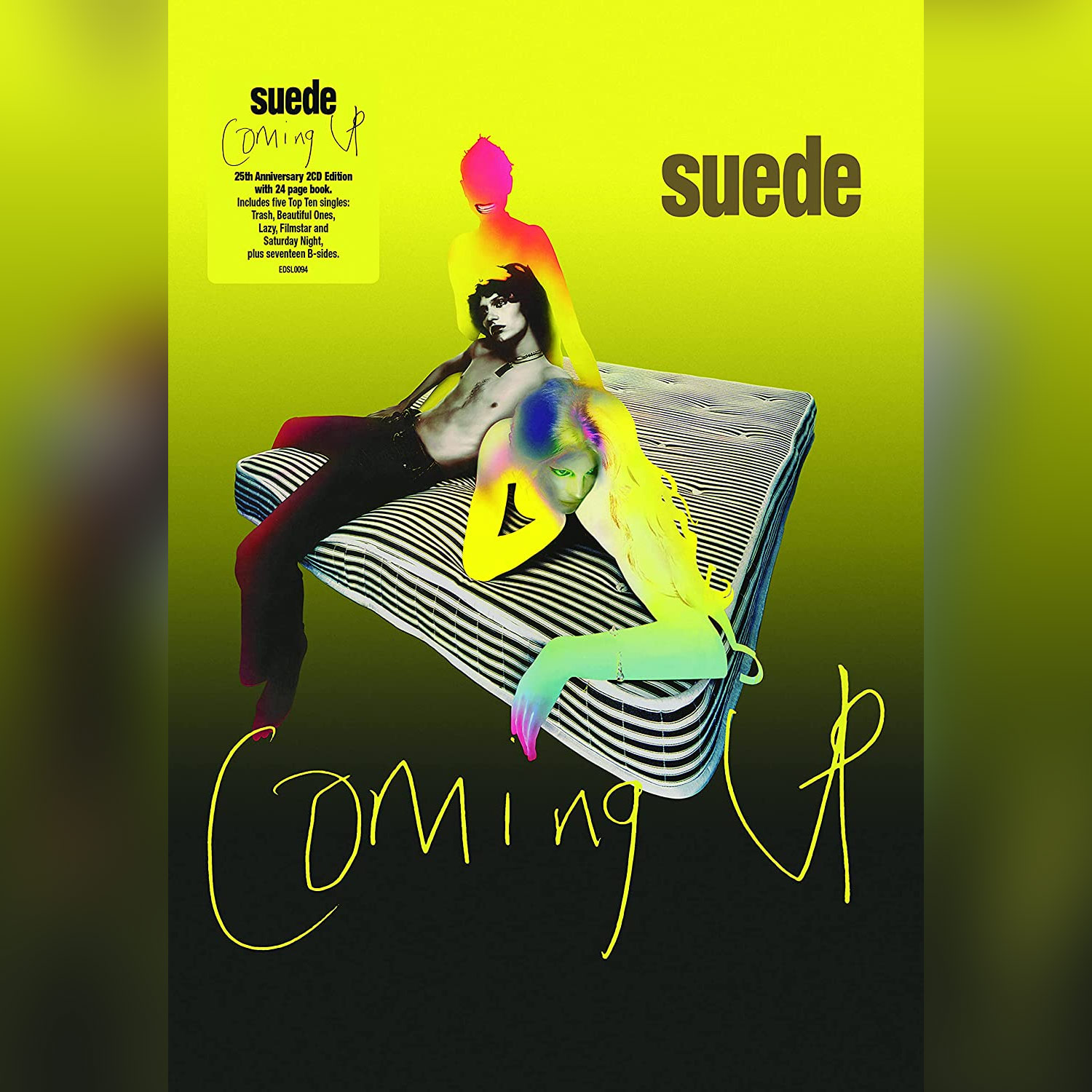 These days, so long as the artist doesn't despise their record label, it's close to a contractual obligation to celebrate an album's 25th anniversary and Edsel have done exactly that with Suede's 1996 long-player Coming Up, a record that, on the face of it, doesn't need reissuing.
The great value 2CD+DVD deluxe edition from 2011 seemed definitive, with its collection of demos, B-sides and video content, although the so-so packaging let it down a bit and there was the odd omission, such as the Neil Codling-penned flip-side, 'Digging A Hole'.
Five years later, the 20th anniversary 4CD+DVD set offered a better presentation, filled the odd gap, found more demos, but didn't entirely supersede its predecessor. For example, the band decided to amicably separate Coming Up from a few songs that originally bridged the second and third albums and that had been included on the earlier reissue. These include 'Together' – the first fruit of the Brett Anderson/Richard Oakes writing partnership – and B-sides 'Asda Town' and 'Bentswood Boys'.
Coming Up is a fizzy, brash, pop record

Brett Anderson
Despite having been written a few years earlier and being paired with Dog Man Star singles, these songs, in theory, have more in common with the 1996 album, since Bernard Butler was not involved in the creation of any of them. But it seems they aren't considered close enough to Coming Up, and therefore reside in a Suede 'No Man's Land' lying betwixt and between the two albums. No recent Suede deluxe edition has been willing to offer them refuge!
SDE Poll
What's the best Suede studio album?
Perhaps wisely, for this new, two-CD 25th anniversary treatment of Coming Up, Edsel have gone back to basics. There's no demos, no videos, no live tracks just the album, paired with an CD of B-sides and extra tracks from Coming Up singles (17 in total). And those B-sides are ludicrously strong. In many ways, they tell the full story of the beginnings of the post-Bernard Butler era, in a way that the album, alone, can not.
Coming Up was a big commercial success, a self-designed "fizzy, brash, pop record", in the words of Brett Anderson. It certainly delivered success, with five UK top ten hit singles, but while later singles such as 'Lazy' and 'Filmstar' did the business across the counter at Our Price, they were arguably a tad one-dimensional and lacked some depth evident in the best of Suede. This is where the B-sides widen the scope and offer a broader picture.
Consider the first single, 'Trash'. The 'extra tracks' for that release across the two UK CD singles were 'Europe Is Our Playground', 'Have You Ever Been This Low?', 'Another No One' and 'Every Monday Morning Comes'. All superb – I would take any of those above 'Lazy'. 'Beautiful Ones' offered more of the same – four great songs, including 'Young Men' with its memorable opening line: "Tony only reads Asian Babes". Perhaps I'd allow that by the fourth of fifth single the quality was starting to dip somewhat, but nevertheless, delivering this quantity and quality of extra material was a remarkable achievement.
Putting all the studio recordings together and just forgetting about everything else is an astute move on the part of the record company and is a true and concise representation of what Suede were up to at the height of Britpop.
None of this means that any self-respecting Suedehead needs this new 25th edition, but for the more casual fan you might call it the 'Goldilocks' edition. Not too big, not too small – just right.
Coming Up is reissued as a 25th anniversary two-CD set on 10 September 2021 (was 13 August 2021). A clear vinyl LP pressing (album-only) will also be available.
Compare prices and pre-order
Suede
Coming Up - 25th anniversary 2CD set
Compare prices and pre-order
Suede
Coming Up - 25th anniversary clear vinyl LP
Tracklisting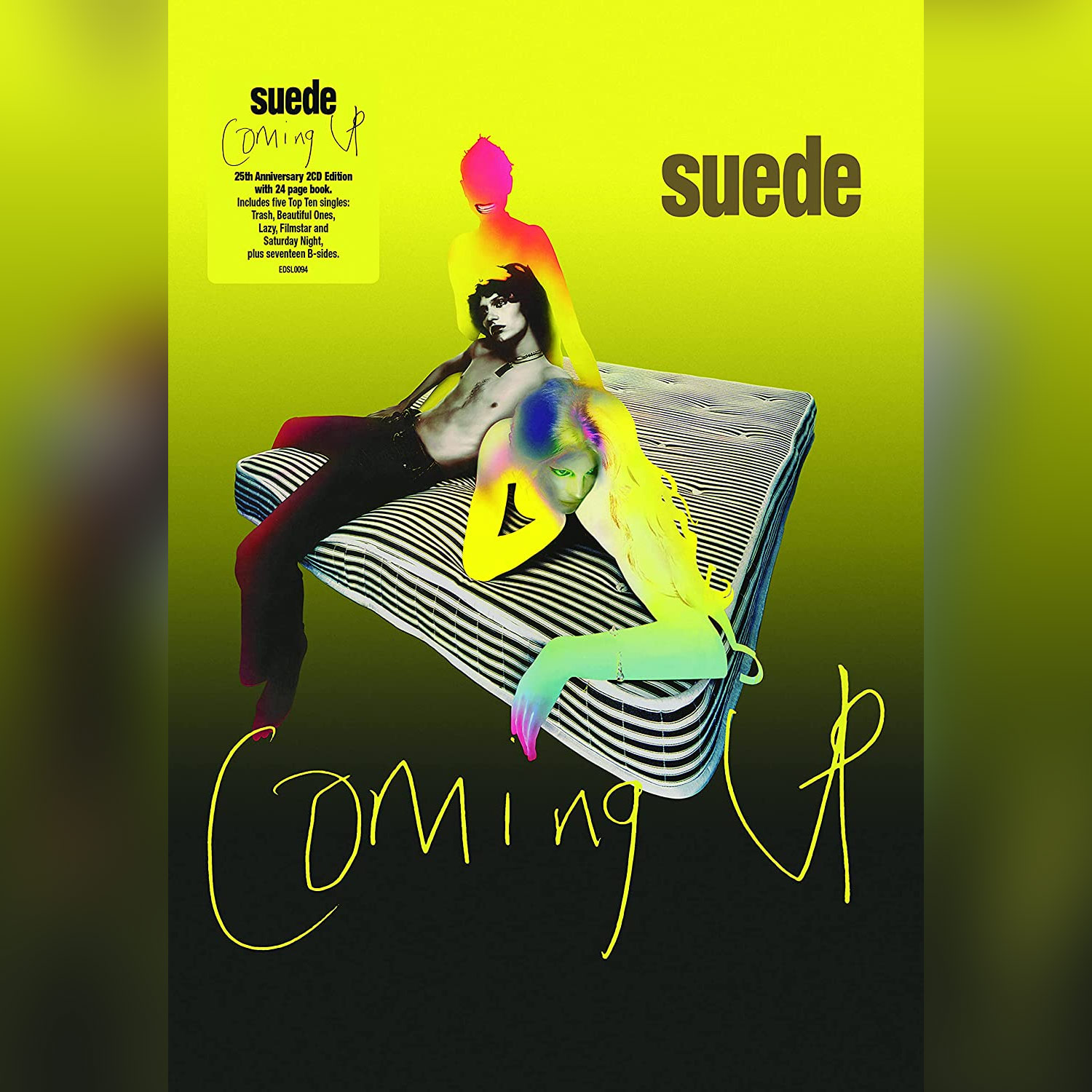 Coming Up Suede
/
25th anniversary 2CD set
Trash
Filmstar
Lazy
By The Sea
She
Beautiful Ones
Starcrazy
Picnic By The Motorway
The Chemistry Between Us
Saturday Night

Europe Is Our Playground [original version]
Have You Ever Been This Low?
Another No One
Every Monday Morning Comes
The Sound Of The Streets
Young Men
Sam
Money
This Time
WSD
Jumble Sale Mums
These Are The Sad Songs
Feel
Sadie
Digging A Hole
Graffiti Women
Duchess