 News
Suzanne Vega / An Evening of New York Songs and Stories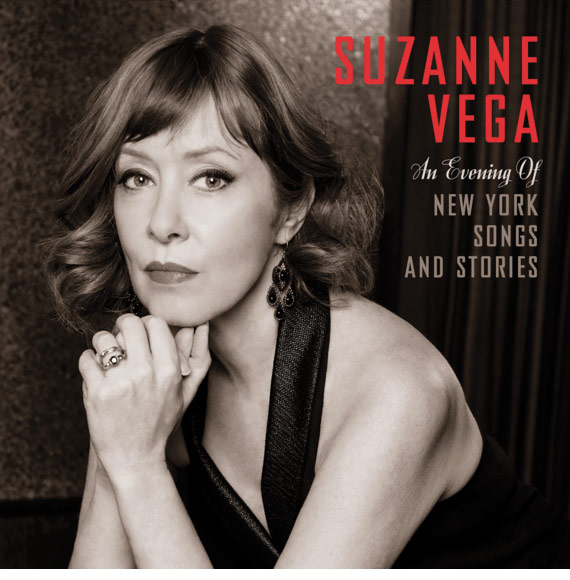 Only 200 red vinyl • Signed • Guitar and production by Gerry Leonard
Suzanne Vega will release a new album, An Evening of New York Songs and Stories in May.

On this record, Vega revisits familiar songs in her repertoire, as well as some hidden gems. It's actually a live recording, made at New York's Café Carlisle (on 14 March last year) on which she is backed by longtime guitarist, Gerry Leonard (who is amazing with Vega on stage), bassist Jeff Allen and keyboardist Jamie Edwards.

Red vinyl pressing limited to just 200 units and is now sold out.
The album was produced by Gerry Leonard, mixed by Kevin Killen and mastered by Grammy Award winner, Bob Ludwig.
Sadly, the vinyl signed editions are now sold out. Vinyl is a gatefold package and the CD version comes in a fold-out six-panel digi-sleeve.
An Evening of New York Songs and Stories is being released by Cooking Vinyl on 11 September 2020 (was 1 May).
Compare prices and pre-order
Suzanne Vega
An Evening of New York Songs and Stories - 2LP black vinyl edition
Compare prices and pre-order
Suzanne Vega
An Evening of New York Songs and Stories - CD edition
1. Marlene On The Wall
2. Luka
3. 'So how many people are here from out of town?'
4. New York Is A Woman
5. 'This next song takes place on 59th street…'
6. Frank and Eva
7. 'So I myself came to New York City when I was 2 ½ years old'
8. Gypsy
9. Freeze Tag
10. Pornographer's Dream
11. 'This next song is called New York Is My Destination'
12. New York Is My Destination
13. 'The first time I saw Lou Reed…'
14. Walk On The Wild Side
15. Ludlow Street
16. Cracking
17. 'And now we've got a song about those times…'
18. Some Journey
19. 'I'm gonna close with this song…'
20. Tom's Diner
21. 'Would you like another one?'
22. Anniversary
23. Tombstone
24. Thin Man