 News
The Alan Parsons Project / The Complete Albums Collection
Limited 11LP vinyl box set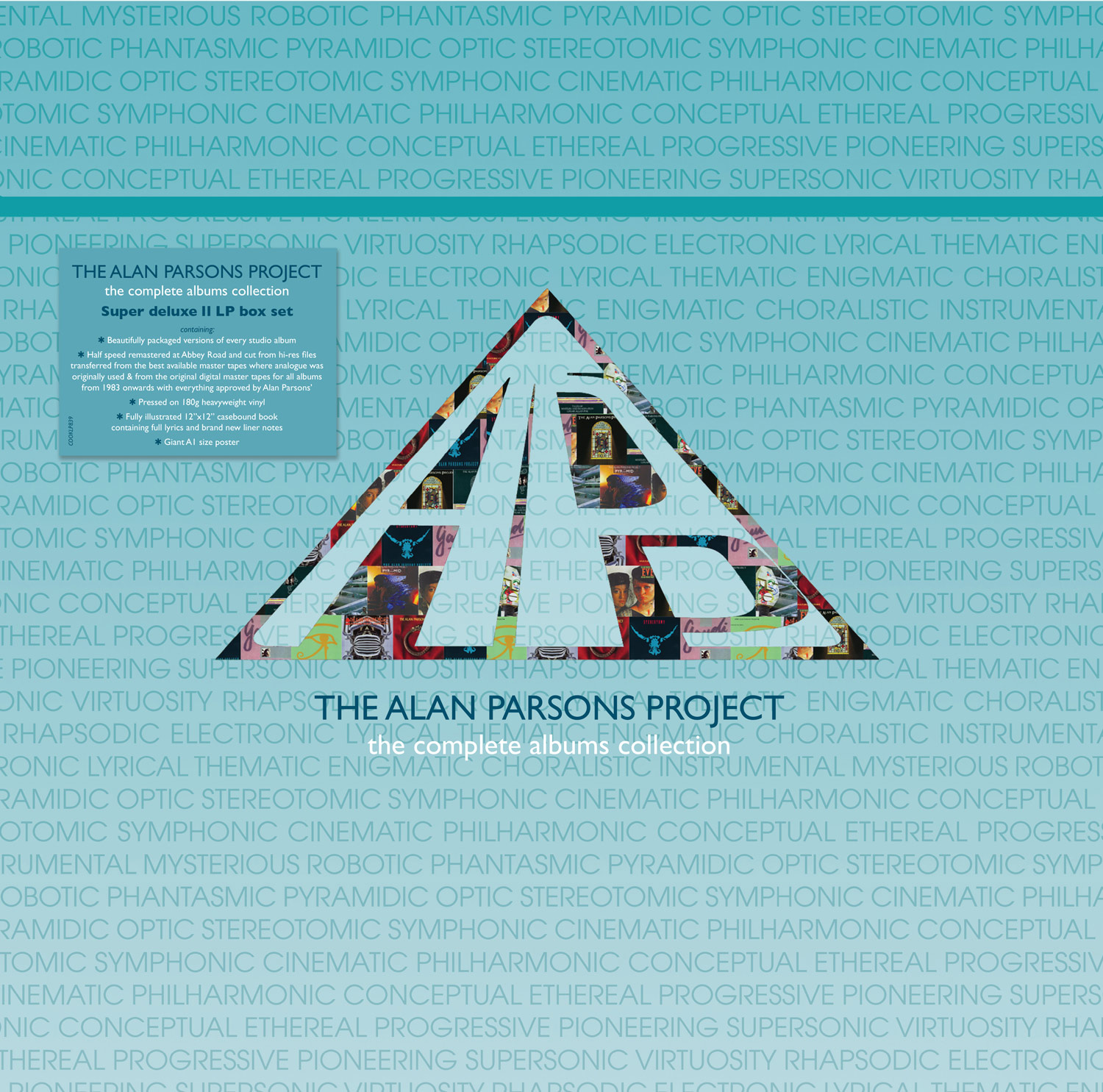 The Complete Albums Collection, The Alan Parsons Project CD set issued back in 2014, will be released as an 11LP vinyl box in November.
It includes the 10 original studio albums plus The Sicilian Defence which was originally recorded in 1979 and was previously unreleased until it was offered in the 11CD box in 2014.
All albums have been half-speed remastered at Abbey Road and cut from hi-res files transferred from the best available analogue master tapes (digital master tapes for all albums from 1983 onwards). Everything has been approved by Alan Parsons.
All the records are pressed on heavyweight 180gm black vinyl and these are housed in a 'cigarette' style outer box. It comes with a 60-page 12″x 12″ hardcover book which feature lyrics, new sleeve notes and an essay from Miles Showell about the half-speed mastering. This package also comes with a large A1 poster.
The Complete Albums Collection is limited to just 1500 copies and is only available via the official Alan Parsons Project online shop. The first 500 copies come with a print signed by Alan Parsons. It's released on 18 November 2022 via Cooking Vinyl.
Compare prices and pre-order
The Alan Parsons Project
The Complete Albums Collection - 11LP box set
Tracklisting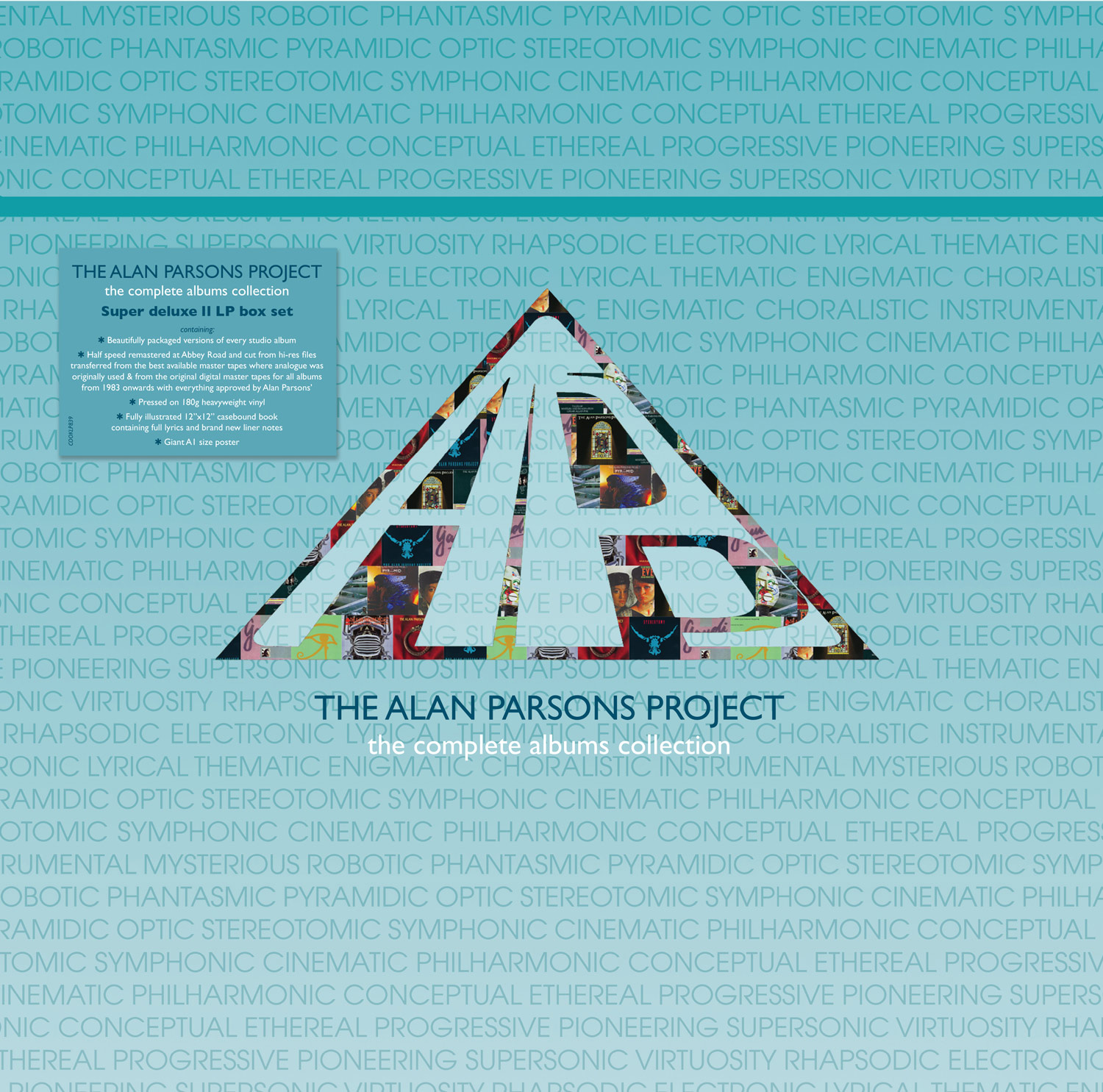 The Complete Albums Collection The Alan Parsons Project
/
11LP vinyl box set
LP 1: Tales Of Mystery And Imagination Edgar Allan Poe (1976 Version)

A Dream Within A Dream
The
The Tell-Tale Heart
The Cask Of Amontillado
(The System Of) Doctor Tarr And Professor Fether
The Fall Of The House Of Usher (Instrumental)
(i) Prelude
(ii) Arrival
(iii) Intermezzo
(iv) Pavane
(v) Fall
To One In Paradise

LP 2: I Robot

I Robot (Instrumental)
I Wouldn't Want To Be Like You
Some Other Time
Breakdown
Don't Let It Show
The Voice
Nucleus (Instrumental)
Day After Day (The Show Must Go On)
Total Eclipse
Genesis CH.1 V.32 (Instrumental)

LP 3: Pyramid

Voyager (Instrumental)
What Goes Up
The Eagle Will Rise Again
One More River
Can't Take It With You
Pyramania
Hyper-Gamma-Spaces (Instrumental)
Shadow Of A Lonely Man

LP 4: Eve

Lucifer (Instrumental)
You Lie Down With Dogs
I'd Rather Be A Man
You Won't Be There
Winding Me Up
Damned If I Do
Don't Hold Back
Secret Garden
If I Could Change Your Mind

LP 5: The Turn Of A Friendly Card

May Be A Price To Pay
Games People Play
Time
I Don't Wanna Go Home
The Gold Bug (Instrumental)
The Turn Of A Friendly Card
(i) The Turn Of A Friendly Card (Part One)
(ii) Snake Eyes
(iii) The Ace OF Swords (Instrumental)
(iv) Nothing Left To Lose
(v) The Turn Of A Friendly Card (Part Two)

LP 6: Eye In The Sky

Sirius (Instrumental)
Eye In The Sky
Children Of The Moon
Gemini
Silence And I
You're Gonna Get Your Fingers Burned
Psychobabble
Mammagamma (Instrumental)
Step By Step
Old And Wise

LP 7: Ammonia Avenue

Prime Time
Let Me Go Home
One Good Reason
Since The Last Goodbye
Don't Answer Me
Dancing On A Highwire
You Don't Believe
Pipeline (Instrumental)
Ammonia Avenue

LP 8: Vulture Culture

Let's Talk About Me
Separate Lives
Days Are Numbers (The Traveller)
Sooner Or Later
Vulture Culture
Hawkeye (Instrumental)
Somebody Out There
The Same Old Sun

LP 9: Stereotomy

Stereotomy
Beaujolais
Urbania (Instrumental)
Limelight
In The Real World
Where's The Walrus? (Instrumental)
Light Of The World
Chinese Whispers (Instrumental)
Stereotomy Two

LP 10: Gaudi

La Sagrada Familia
Too Late
Closer To Heaven
Standing On Higher Ground
Money Talks
Inside Looking Out
Paseo De Gracia (Instrumental)

LP 11: The Sicilian Defence

P-K4
P-QB4
Kt-KB3
…Kt-QB3
P-Q4
PxP
KtxP
Kt–B3
Kt–QB3
P–Q3