 News
The Alan Parsons Project / The Turn of a Friendly Card deluxe edition
3CD+Blu-ray with 5.1 mix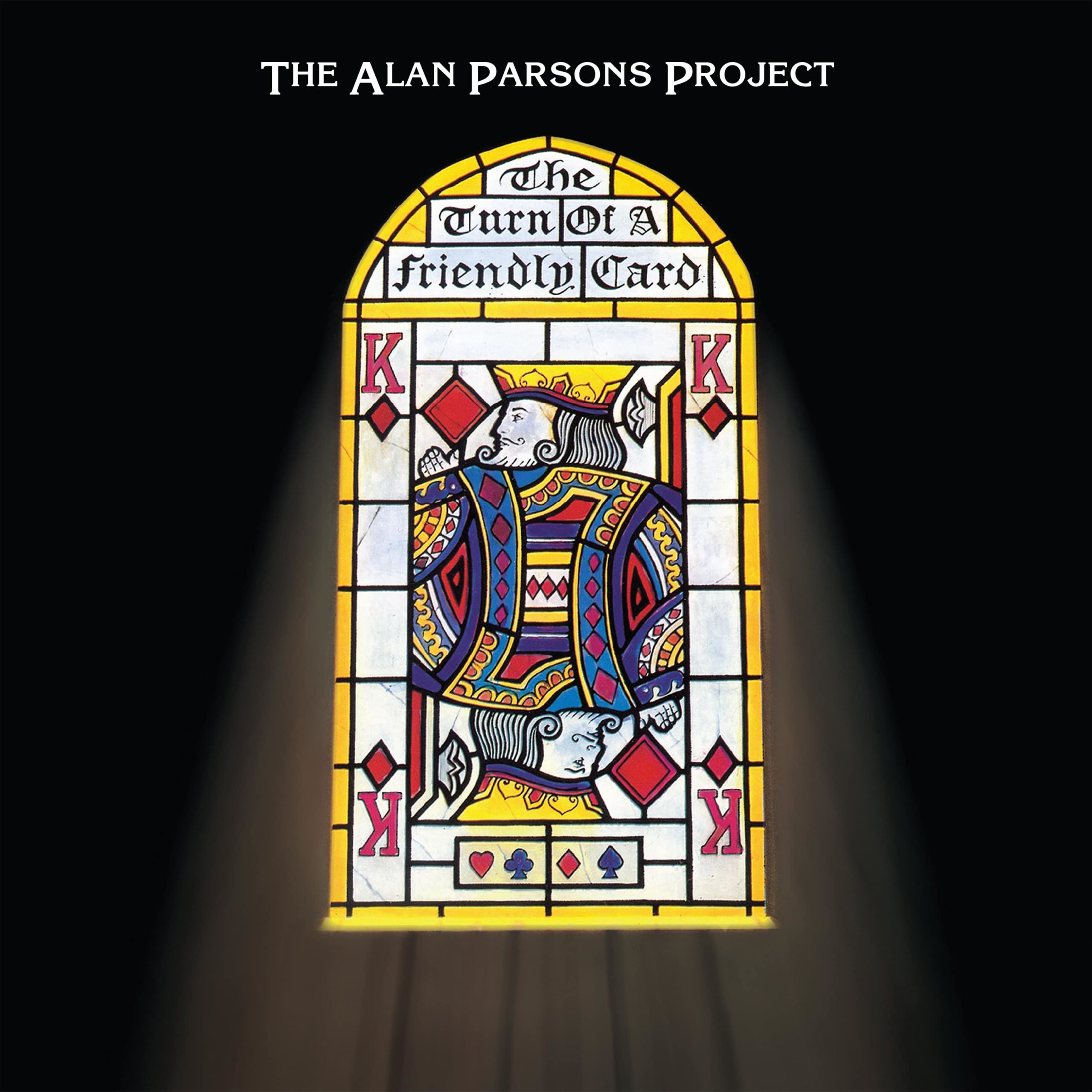 The Alan Parsons Project's 1980 album The Turn of a Friendly Card will be reissued as a 3CD+blu-ray deluxe box set in February next year.
The Alan Parsons Project was of course a collaboration between composer, musician and manger Eric Woolfson and celebrated producer and engineer Alan Parsons. The Turn of a Friendly Card was their fifth album and was inspired by the period in which both Eric Woolfson and Alan Parsons had resided in Monte Carlo!
The album itself was recorded in Paris, with contributions from musicians such as Ian Bairnson (guitars), David Paton (bass), Stuart Elliott (drums) with Eric Woolfson playing keyboards and providing lead vocals, along with Elmer Gantry, Chris Rainbow and Lenny Zakatek.
The album did well, reaching the top 10 or top 20 of the album charts in many territories, including the USA, although, as was often the case, this level of success wasn't repeated in the UK, where it peaked at #38.
This new deluxe edition features a remastered version of the album and 32 bonus tracks, including rough mixes, single edits, alternates and audio rarities from Eric Woolfson's songwriting diaries.
The blu-ray features a new 5.1 surround mix of the album created by Alan Parsons, along with a hi-res stereo version. Additional video content offers three promo videos and an old TV ad for the album. The blu-ray is region-free. The package comes with an illustrated book, with rare images and recollections from Alan Parsons and Sally Woolfson. It also includes a replica poster.
The Turn of a Friendly Card will be reissued on 24 February 2023.
Compare prices and pre-order
THE ALAN PARSONS PROJECT
The Turn of a friendly card - 3CD+blu-ray deluxe
Tracklisting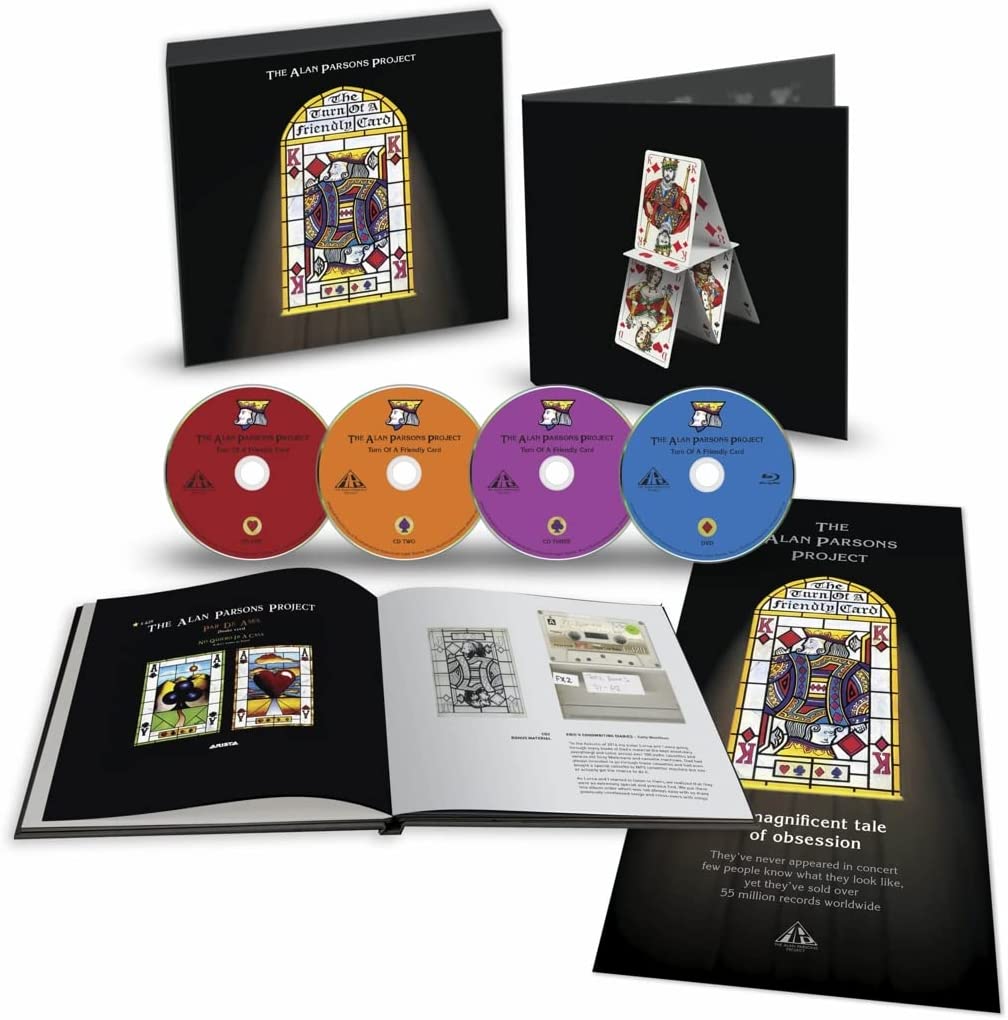 The Turn of a Friendly Card The Alan Parsons Project
/
CD 1: THE TURN OF A FRIENDLY CARD – REMASTERED

MAY BE A PRICE TO PAY
GAMES PEOPLE PLAY
TIME
I DON'T WANNA GO HOME
THE GOLD BUG
THE TURN OF A FRIENDLY CARD (PART ONE)
SNAKE EYES
THE ACE OF SWORDS
NOTHING LEFT TO LOSE
THE TURN OF A FRIENDLY CARD (PART TWO)

BONUS TRACKS

MAY BE A PRICE TO PAY (INTRO DEMO)
NOTHING LEFT TO LOSE (BASIC BACKING TRACK)
NOTHING LEFT TO LOSE (CHRIS RAINBOW OVERDUB VOCAL COMPILATION)
TIME (EARLY STUDIO ATTEMPT)
GAMES PEOPLE PLAY (ROUGH MIX)
THE GOLD BUG (DEMO)

CD 2: ERIC WOOLFSON'S SONGWRITING DIARIES

MAY BE A PRICE TO PAY
GAMES PEOPLE PLAY
TIME
I DON'T WANNA GO HOME
THE TURN OF A FRIENDLY CARD
SNAKE EYES
NOTHING LEFT TO LOSE
TOFC / SNAKE EYES / I DON'T WANNA GO HOME
LA LA LA LAH
NEXT YEAR
SOMEONE ELSE
TAKING IT ALL AWAY
TO THOSE OF YOU OUT THERE

CD 3: RECORDING SESSIONS BONUS TRACKS

MAY BE A PRICE TO PAY (EARLY VERSION – ERIC GUIDE VOCAL AND UNUSED GUITAR SOLO)
GAMES PEOPLE PLAY (EARLY VERSION – ERIC GUIDE VOCAL)
TIME (ORCHESTRA AND CHRIS RAINBOW BACKING VOCALS)
THE GOLD BUG (EARLY REFERENCE VERSION)
THE GOLD BUG (CHRIS RAINBOW BACKING VOCALS)
THE GOLD BUG (CLAVINET WITH NO DELAY)
THE TURN OF A FRIENDLY CARD – Part One (EARLY BACKING TRACK)
SNAKE EYES (EARLY VERSION – ERIC GUIDE VOCAL)
THE ACE OF SWORDS (EARLY VERSION WITH SYNTH ORCHESTRATION)
THE TURN OF A FRIENDLY CARD – Part Two (ERIC GUIDE VOCAL AND EXTENDED GUITAR SOLO)
SINGLE EDITS
GAMES PEOPLE PLAY (SINGLE EDIT)
THE TURN OF A FRIENDLY CARD (SINGLE EDIT)
SNAKE EYES (SINGLE EDIT)

BLU-RAY: 5.1 SURROUND SOUND MIX (2019) AND HIGH- RESOLUTION ORIGINAL STEREO MIX BY ALAN PARSONS

MAY BE A PRICE TO PAY
GAMES PEOPLE PLAY
TIME
I DON'T WANNA GO HOME
THE GOLD BUG
THE TURN OF A FRIENDLY CARD (PART ONE)
SNAKE EYES
THE ACE OF SWORDS
NOTHING LEFT TO LOSE
THE TURN OF A FRIENDLY CARD (PART TWO)

VISUAL CONTENT

THE TURN OF A FRIENDLY CARD (ALBUM AD)
GAMES PEOPLE PLAY (PROMOTIONAL VIDEO)
THE GOLD BUG (PROMOTIONAL VIDEO)
THE TURN OF A FRIENDLY CARD (PROMOTIONAL VIDEO)