 News
The Auteurs / People 'Round Here Don't Like To Talk About It
The Complete EMI Recordings on six CDs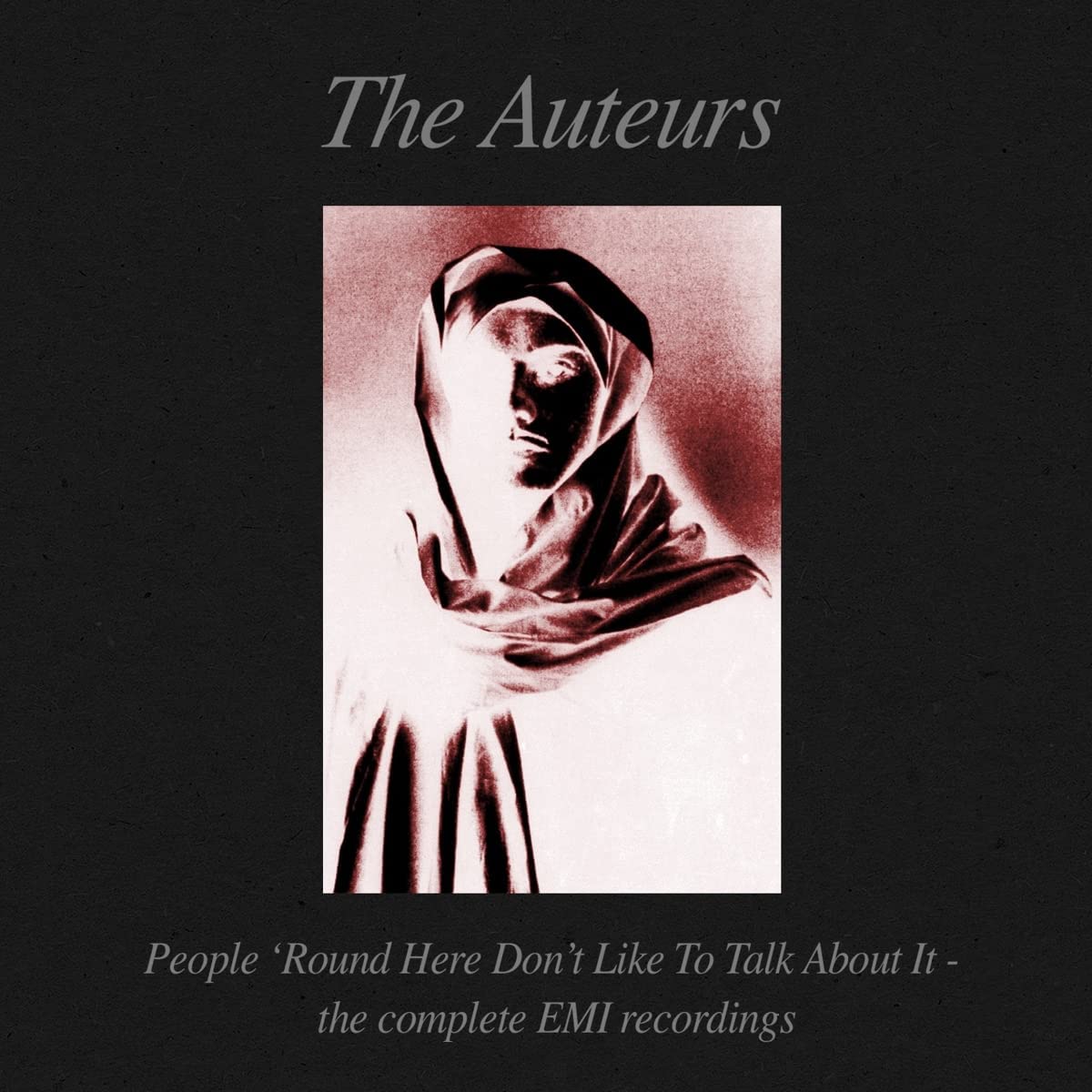 A new 6CD box set called People 'Round Here Don't Like To Talk About It (the opening line from the song 'Unsolved Child Murder') brings together 'The Complete EMI Recordings' of 1990s British band The Auteurs.
The band's frontman was Luke Haines who is still a prolific songwriter and releaser of albums (his latest with R.E.M.'s Peter Buck is out now). He's also an author, artist and music journalist (regularly contributing to Record Collector magazine).
The Auteurs released four 'proper' studio albums: New Wave (1993), Now I'm A Cowboy (1994), After Murder Park (1996) and How I Learned to Love The Bootboys (1999) – all excellent – with each charting slightly lower than its predecessor in the UK, as Haines reacted to the commercial opportunities presented by Britpop, by digging his heels in and writing songs about child murder and German terrorist groups. The latter is a reference not to an Auteurs album, but rather the 'side project' that was Baader Meinhof. This "sonic experiment" was released in 1996, just six months after After Murder Park and is arguably one of the strongest and most interesting albums Haines was ever involved in, with its conceptual clarity, Tablas, Clavinets, Moog, bass synths and surprising levels of funk.
That's five albums, the sixth included here is Das Capital, which like Baader Meinhof "wasn't really an Auteurs album" but included orchestral re-recordings of much of the band's older material (plus three new songs). Issued in 2003, this was the last Haines album on the major-pretending-to-be-indie label Hut (actually EMI).
Hut actually released their own excellent 3CD summation of this era called Luke Haines Is Dead in 2005, so nearly 18 years later, how does this new 6CD box set compare?
Well, the new set is certainly generous with 56 bonus tracks including acoustic versions, bonus tracks from singles, remixes, demos, alternates and more. The obvious difference is that People 'Round Here Don't Like To Talk About It includes the full albums and rarities whereas Luke Haines Is Dead was a rarities-only affair.
Putting to one side that Luke Haines Is Dead spilled into the early part of Haines' solo career, the most significant omission is the Auteurs BBC sessions from the era. Some of these were included on Luke Haines Is Dead and all of them were on the various 3 Loop Music 2CD deluxe editions from seven or eight years ago. But we get nothing here, which means no 'Kids Issue' EP, for example. Haines explains in the booklet that comes with this set that "The Auteurs were never gonna give the Grateful Dead a run" and he wanted to keep the new package to a "manageable" six discs. The Auteurs Versus Muziq remix album is also not included because Luke, probably wisely, decided it doesn't "fit in" with the rest of the material.
Despite being subtitled The Complete EMI Recordings there's still the odd thing missing. Luke Haines Is Dead includes an early unreleased single version of 'Bailed Out' that for some reason never ended up on the New Wave 2CD deluxe and isn't repeated here and therefore appears to be unique to the 3CD set from 2005. There are a few bonus tracks on People 'Round Here Don't Like To Talk About It that are not on Luke Haines Is Dead but as far as SDE can tell, these can all be found on the individual deluxe editions (including six very early 4-track recordings lifted from the New Wave 2CD deluxe and appended to Das Capital in the new 6CD box set).
With all the Auteurs/Baader Meinhof 2CD deluxe editions and Luke Haines Is Dead set, long out-of-print this is nit-picking and largely moot. The new box set should be welcomed by those who missed those previous releases or have 'got into' Haines past output in more recent years.
People 'Round Here Don't Like To Talk About It: The Complete EMI Recordings will be released on 10 February 2023, via Cherry Red.
Compare prices and pre-order
THE AUTEURS
People Round Here Dont Like To Talk About It - 6CD box set
You might also like…
Compare prices and pre-order
Luke Haines and Peter Buck
All The Kids Are Super Bummed Out - 2CD set
Compare prices and pre-order
Luke Haines and Peter Buck
All The Kids Are Super Bummed Out - 2LP vinyl
Tracklisting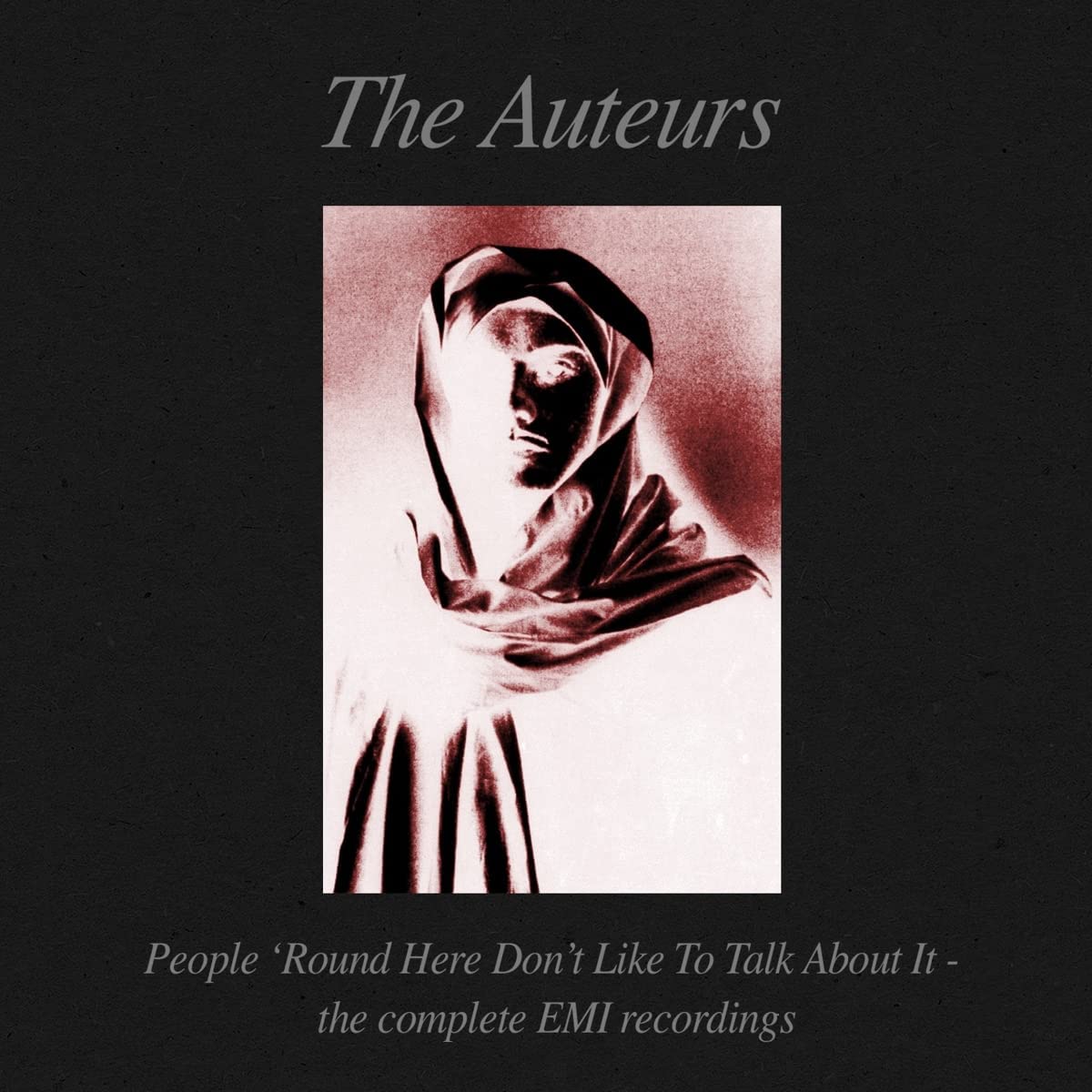 People 'Round Here Don't Like To Talk About It The Auteurs
/
CD 2: New Wave

Showgirl
Bailed Out
American Guitars
Junk Shop Clothes
Don't Trust The Stars
Starstruck
How Could I Be Wrong
Housebreaker
Valet Parking
Idiot Brother
Early Years
Home Again

B-Sides

Subculture (They Can't Find Him)
She Might Take A Train
Glad To Be Gobe
Staying Power
Wedding Day
High Diving Horses

Bonus Tracks

Housebeaker (Rough Trade Singles Club)
Valet Parking (Rough Trade Singles Club)
Starstruck (Acoustic)
Junk Shop Clothes (Acoustic)
Housebreaker (Acoustic)
Home Again (Acoustic)

CD 2: Now I'm A Cowboy

Lenny Valentino
Brainchild
I´m A Rich Man´s Toy
New French Girlfriend
The Upper Classes
Chinese Bakery
A Sister Like You
Underground Movies
Life Classes / Life Model
Modern History
Daughter Of A Child

B-Sides

Lenny Valentino (Single Version)
Vacant Lot
Car Crazy
Disney World
Lenny Valentino (Original Mix)
Underground Movies (Alternative Mix)
Brainchild (Original Version)

Bonus Tracks

Government Bookstore
Everything You Say Will Destroy You
Chinese Bakery (Acoustic)
Modern History (Acoustic)

CD 3: After Murder Park

Light Aircraft On Fire
Child Brides
Land Lovers
New Brat In Town
Everything You Say Will Destroy You
Unsolved Child Murder
Married To A Lazy Lover 8 Buddha
Tombstone
Fear Of Flying
Dead Sea Navigators
After Murder Park

Bonus Material B-sides And Rarities

Back With The Killer Again (A Side)
Kenneth Anger´s Bad Dream
Former Fan
Light Aircraft On Fire (Single Version)
Car Crash
Buddha (4 Track Band Demo)
X-Boogie Man
Everything You Say (Early Steve Albini Recording)
Tombstone (Alternate Recording)
Unsolved Child Murder (Early Version)

CD 4: Baader Meinhof / Baader Meinhof

Baader Meinhof
Meet Me At The Airport
There's Gonna Be An Accident
Mogadishu
Theme From "Burn Warehouse Burn"
GSG – 29
…It's A Moral Issue
Back On The Farm
Kill Ramirez
Baader Meinhof (Alternative Version)

Bonus Tracks

I've Been A Fool For You
Baader Meinhof (Confrontation Remix)
There's Gonna Be An Accident (Fuse Remix)
There's Gonna Be An Accident (Muziq Remix)
Mogadishu (Dalai Lama Remix)

CD 5: How I Learned to Love The Bootboys

The Rubettes
1967
How I Learned To Love The Bootboys
Your Gang, Our Gang
Some Changes
School
Johnny And The Hurricanes
The South Will Rise Again
Asti Spumante
Sick Of Hari Krisna
Lights Out
Future Generation

Bonus Material B-sides And Rarities

Get Wrecked At Home
Breaking Up
Politic
ESP Kids
Johnny And The Hurricanes (Alternate Recording)
Future Generation (Alternate Recording)
School (Alternate Recording)
Essex Bootboys
The Rubettes (Acoustic Version)
1967 (Acoustic Version)
Some Changes (Acoustic Version)
Lights Out (Acoustic Version)

CD 6: Luke Haines & The Auteurs / Das Capital

Das Capital Overture
How Could I Be Wrong
Showgirl
Baader Meinhof
Lenny Valentino
Starstruck
Satan Wants Me
Unsolved Child Murder
Junk Shop Clothes
The Mitford Sisters
Bugger Bognor
Future Generation

Bonus Tracks

Bailed Out (4 Track Demo)
American Guitars (4 Track Demo)
Showgirl (4 Track Demo)
Glad To Be Gone (4 Track Demo)
Starstruck (4 Track Demo)
Early Years (4 Track Demo)