 News
The Band / Music From Big Pink: 50th anniversary edition super deluxe box
New stereo mix • Blu-ray audio with 5.1 surround mix • 2LP vinyl • box set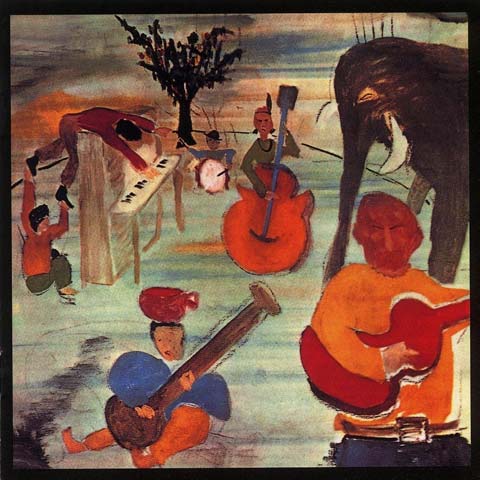 The Band's debut album Music From Big Pink will be reissued as a 50th anniversary super deluxe edition box set in August, that includes a new stereo mix and a 5.1 surround mix of the 1968 album.

The box set is a five-disc set which comprises CD, blu-ray audio, 2LP vinyl and seven-inch and comes with a hardcover book. The double vinyl LP and CD elements are available separately, but not the blu-ray with the 5.1 mix.


The songs on this superb album include The Weight, This Wheel's On Fire, Tears of Rage and To Kingdom Come and the cover art was painted by Bob Dylan (the 'Big Pink' being the upstate New York house where The Band wrote the songs.

Bob Clearmountain has created the new stereo mix (which features on the CD and double vinyl) from the original four-track analog masters. The CD features six outtakes/alternates (including an unreleased A Cappella version of I Shall Be Released) and the seven-inch included is a recreation the original 1968 single for The Weight and I Shall Be Released.
Music from Big Pink will be reissued on 31 August 2018.
Compare prices and pre-order
The Band
Music From Big Pink 5-disc box set
Compare prices and pre-order
The Band
music from big pink - 2LP vinyl
Compare prices and pre-order
The Band
music from big pink - CD edition
In the Super Deluxe Edition:
CD
2018 stereo mix
Tears Of Rage

To Kingdom Come

In A Station

Caledonia Mission

The Weight

We Can Talk

Long Black Veil

Chest Fever

Lonesome Suzie

This Wheel's On Fire

I Shall Be Released
Bonus Tracks:
Yazoo Street Scandal (Outtake)

Tears Of Rage (Alternate Take)

Long Distance Operator (Outtake)

Lonesome Suzie (Alternate Take)

Key To The Highway (Outtake)

I Shall Be Released (A Cappella)
BLU-RAY
Tracklist above in new 5.1 surround mix + 96kHz/24bit high resolution stereo (exclusive to the box set)
2LP
SIDE ONE
Tears Of Rage

To Kingdom Come
SIDE TWO
In A Station

Caledonia Mission

The Weight
SIDE THREE
We Can Talk

Long Black Veil

Chest Fever
SIDE FOUR
Lonesome Suzie

This Wheel's On Fire

The Weight
7″ Single 

The Weight b/w I Shall Be Released

Book