 News
The Clash / London Calling reissue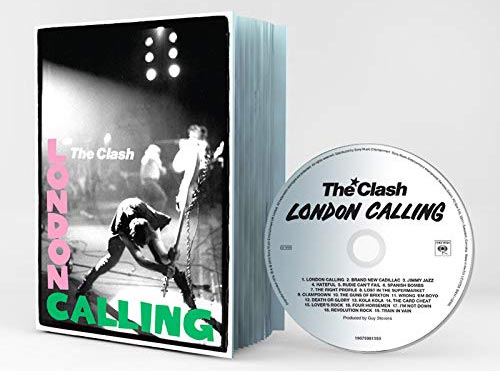 Sony are reissuing The Clash's London Calling album in a number of different physical editions.
The band's third studio album was issued in December 1979 and this campaign recognises this 40th anniversary in tandem with a new exhibition on The Clash and the album being held at the Museum of London later this year. There is no bonus audio at all in these new reissues, so what exactly are we getting…

There is a 2LP vinyl edition which comes in a special clear slip case printed with Ray Lowry's artwork, which slides off to reveal the Pennie Smith photo below. There's also a two-CD edition with the same 'slipcase' sleeve, that actually came out a couple of weeks ago.
The most 'super deluxe' version is a 'scrapbook' edition which actually puts all the audio back onto one disc, but sets it within a 120-page hardcover book with "rarely seen" content from the band's personal archives, including handwritten lyrics, Ray Lowry drawings, fanzines, original press cuttings and band images. It sounds good, but it should be for the £40 asking price.
By the way, even though it doesn't look like it from the mocked-up image above, this scrapbook also has the special removable clear slipcase.
As mentioned, the two-CD reissue is already available, but you can pre-order either the vinyl or the scrapbook edition, both of which will be released on 15 November 2019.
Compare prices and pre-order
Clash, The
London Calling - scrapbook edition with special sleeve
Compare prices and pre-order
Clash, The
London Calling - 2LP vinyl with special 2019 limited sleeve
Compare prices and pre-order
Clash, The
London Calling - 2CD edition with special 2019 limited sleeve

The Clash / London Calling2LP vinyl edition with 2019 special sleeve

Side 1
1. London Calling
2. Brand New Cadillac
3. Jimmy Jazz
4. Hateful
5. Rudie Can't Fail
Side 2
1. Spanish Bombs
2. The Right Profile
3. Lost in the Supermarket
4. Clampdown
5. The Guns of Brixton
Side 3
1. Wrong 'Em Boyo
2. Death or Glory
3. Koka Kola
4. The Card Cheat
Side 4
1. Lover's Rock
2. Four Horsemen
3. I'm Not Down
4. Revolution Rock
5. Train in Vain
The Clash / London Calling 2CD edition with 2019 special sleeve
CD 1
1. London Calling
2. Brand New Cadillac
3. Jimmy Jazz
4. Hateful
5. Rudie Can't Fail
6. Spanish Bombs
7. The Right Profile
8. Lost in the Supermarket
9. Clampdown
10. The Guns of Brixton
CD 2
1. Wrong 'Em Boyo
2. Death or Glory
3. Koka Kola
4. The Card Cheat
5. Lover's Rock
6. Four Horsemen
7. I'm Not Down
8. Revolution Rock
9. Train in Vain