 News
The Cure / 40 LIVE – CURÆTION-25 + ANNIVERSARY deluxe box sets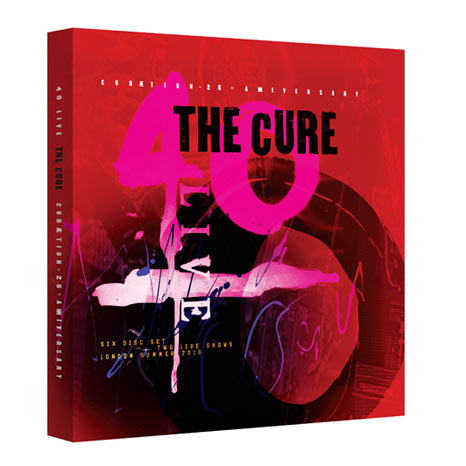 The Cure will release 40 LIVE – CURÆTION-25 + ANNIVERSARY in October, a deluxe box set of live performances from 2018 to mark the 40th anniversary of the band.

The six-disc box sets (2 x blu-ray+4CD or 2 x DVD+4CD) offer sets from two nights (the tenth and final evening) of the 25th Meltdown Festival (curated by lead singer Robert Smith) at London's Royal Festival Hall in June 2018. Smith, Simon Gallup, Jason Cooper, Roger O'Donnell, and Reeves Gabrels performed a song from each of their 13 studio albums in chronological order. There are also two brand news songs meaning there are 28 tracks on the blu-ray or DVD. This audio is then spilt across two CDs.
The other element to this release is 'Anniversary: 1978-2018 Live In Hyde Park London' which is the band's acclaimed 29-song, 135-minute anniversary concert filmed in Hyde Park in 2018. This is a four-decade deep set and the performance was filmed by Tim Pope. In total, 29 songs which on blu-ray or DVD (depending on which set you want) and split across two CDs.
The video discs offer stereo and surround sound (the latter is Dolby Digital 5.1 &  DTS on the DVD and DTS HD-Audio on the blu-ray).
Both blu-ray and DVD variants are available without the CDs in cheaper DVD-sized hardcover book sets. We are selling the two six-disc deluxe box sets on the SDE shop and other options are listed below.
40 LIVE – CURÆTION-25 + ANNIVERSARY is out on 18 October 2019 via Eagle Vision.
DVD/BLU-RAY DISC 1
CURÆTION-25: From There To Here | From Here To There
Three Imaginary Boys
At Night
Other Voices
A Strange Day
Bananafishbones
A Night Like This
Like Cockatoos
Pictures Of You
High
Jupiter Crash
39
Us Or Them
It's Over
It Can Never Be The Same
Step Into The Light
The Hungry Ghost
end
The Last Day Of Summer
Want
From The Edge Of The Deep Green Sea
Disintegration
If Only Tonight We Could Sleep
Sinking
Shake Dog Shake
One Hundred Years
Primary
A Forest
Boys Don't Cry
DVD/BLU-RAY DISC 2
ANNIVERSARY:  1978-2018 Live In Hyde Park London
Plainsong
Pictures Of You
High
A Night Like This
The Walk
The End Of The World
Lovesong
Push
Inbetween Days
Just Like Heaven
If Only Tonight
Play For Today
A Forest
Shake Dog Shake
Burn
Fascination Street
Never Enough
From The Edge Of The Deep Green Sea
Disintegration
Lullaby
Caterpillar
Friday I'm In Love
Close To Me
Why Can't I Be You
Boys Don't Cry
Jumping Someone Else's Train
Grinding Halt
10:15 Saturday Night
KAA
CD 1
CURÆTION-25: From There To Here | From Here To There
Three Imaginary Boys
At Night
Other Voices
A Strange Day
Bananafishbones
A Night Like This
Like Cockatoos
Pictures Of You
High
Jupiter Crash
39
Us Or Them
It's Over
It Can Never Be The Same
CD 2
CURÆTION-25: From There To Here | From Here To There
Step Into The Light
The Hungry Ghost
end
The Last Day Of Summer
Want
From The Edge Of The Deep Green Sea
Disintegration
If Only Tonight We Could Sleep
Sinking
Shake Dog Shake
One Hundred Years
Primary
A Forest
Boys Don't Cry
CD 3
ANNIVERSARY:  1978-2018 Live In Hyde Park London
Plainsong
Pictures Of You
High
A Night Like This
The Walk
The End Of The World
Lovesong
Push
Inbetween Days
Just Like Heaven
If Only Tonight
Play For Today
A Forest
Shake Dog Shake
CD 4
ANNIVERSARY:  1978-2018 Live In Hyde Park London
Burn
Fascination Street
Never Enough
From The Edge Of The Deep Green Sea
Disintegration
Lullaby
Caterpillar
Friday I'm In Love
Close To Me
Why Can't I Be You
Boys Don't Cry
Jumping Someone Else's Train
Grinding Halt
10:15 Saturday Night
KAA