 News
The Doors / The Soft Parade deluxe
3CD+LP deluxe edition • Unreleased tracks • remastered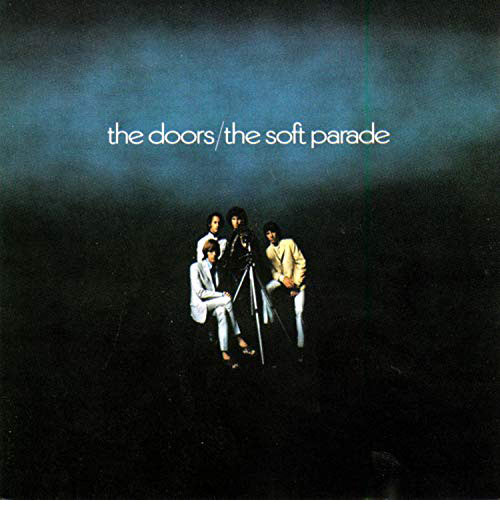 The Doors' fourth studio album, The Soft Parade, will be expanded and reissued as a 50th anniversary 3CD+LP deluxe edition in October.

The record was actually released 50 years ago yesterday and the new edition offers a newly remastered version of the album (by Bruce Botnick) on the first CD with a bonus track of the B-side 'Who Scared You'.

The second CD offers more than a dozen unreleased tracks, with highlights including stripped down 'Doors Only' versions of five tracks where the 'controversial' horns and strings have been removed from the original versions (these are 'Tell All The People,' 'Touch Me,' 'Wishful Sinful,' 'Runnin' Blue,' and 'Who Scared You.')

Also, interestingly, this set features three of those stripped-back versions with new guitar parts added by Robby Krieger ('Touch Me,' 'Wishful Sinful,' and 'Runnin' Blue').




The third CD only features four tracks, but one of those is the complete version of 'Rock Is Dead'. This hour-long bar-band R&B blues jam was previously edited when included on the The Doors' 1997 box set.

The collection is a, a-hem, a 'limited edition' of 15,000 individually numbered copies and is presented similarly to the Waiting For The Sun or The Doors deluxe editions. In other words, it's a large format hardcover book format and includes a vinyl version of the album and sleeve notes by David Fricke. A single CD remaster is also available (that doesn't include the bonus B-side).

The Soft Parade 50th anniversary deluxe will be reissued on 1 November 2019 (previuosly 18 October).


Compare prices and pre-order
The Doors
Soft Parade - 3CD+LP super deluxe
Compare prices and pre-order
The Doors
Soft Parade - single CD remaster
CD 1
1. Tell All The People (2019 Remaster)
2. Touch Me (2019 Remaster)
3. Shaman's Blues (2019 Remaster)
4. Do It (2019 Remaster)
5. Easy Ride (2019 Remaster)
6. Wild Child (2019 Remaster)
7. Runnin' Blue (2019 Remaster)
8. Wishful Sinful (2019 Remaster)
9. The Soft Parade (2019 Remaster)
10. Who Scared You (2019 Remaster)
CD 2
1. Tell All the People (Doors Only Mix)
2. Touch Me (Doors Only Mix) [Robby Krieger Overdub]
3. Runnin' Blue (Doors Only Mix) [Robby Krieger Overdub]
4. Wishful Sinful (Doors Only Mix) [Robby Krieger Overdub]
5. Who Scared You (Doors Only Mix)
6. Roadhouse Blues (Screamin' Ray Daniels a.k.a. Ray Manzarek On Vocals)
7. (You Need Meat) Don't Go No Further [Screamin' Ray Daniels a.k.a. Ray Manzarek On Vocals]
8. I'm Your Doctor (Screamin' Ray Daniels a.k.a. Ray Manzarek On Vocals)
9. Touch Me (Without Horns & Strings)
10. Runnin' Blue (Without Horns)
11. Wishful Sinful (Without Horns & Strings)
CD 3
1. I Am Troubled (2019 Remaster)
2. Seminary School (a.k.a. Petition the Lord with Prayer)
3. Rock Is Dead (Complete Version)
4. Chaos
Vinyl LP
1. Tell All The People (2019 Remaster)
2. Touch Me (2019 Remaster)
3. Shaman's Blues (2019 Remaster)
4. Do It (2019 Remaster)
5. Easy Ride (2019 Remaster)
6. Wild Child (2019 Remaster)
7. Runnin' Blue (2019 Remaster)
8. Wishful Sinful (2019 Remaster)
9. The Soft Parade (2019 Remaster)