 News
The Doors / Waiting For The Sun: 50th anniversary deluxe edition
2CD+LP • Newly remastered • 14 previously unreleased tracks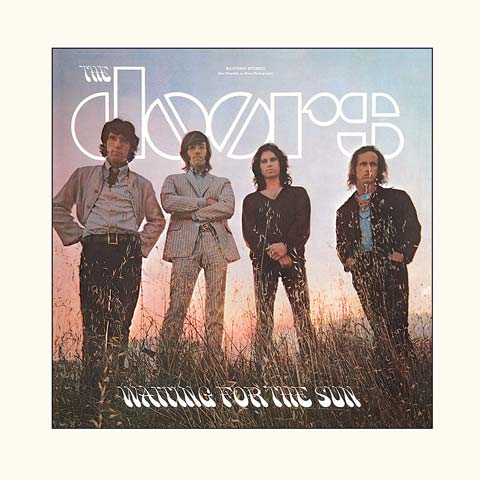 In September, Rhino will issue a 50th anniversary deluxe edition of The Doors' third album Waiting For The Sun.

The 1968 long-player features the band's second US number one, Hello, I Love You (its B-side Love Street is the second track on Waiting For The Sun) and it reached the summit on the American album charts too, the only Doors album to achieve this feat.

This 50th anniversary reissue is a three-disc set – two CDs and a vinyl record – and features a newly remastered version of the stereo mix of the album (by Bruce Botnick) on both CD and the vinyl.

The second CD offers 14 previously unreleased tracks: Rough mixes of nine songs from the album, as well as five tracks performed live in Copenhagen in September 1968. Of the 'recently discovered' rough mixes Botnick has this to say: "I prefer some of these rough mixes to the finals, as they represent all of the elements and additional background vocals, different sensibilities on balances, and some intangible roughness, all of which are quite attractive and refreshing." The bonus tracks on the 40th anniversary reissue haven't been repeated here.

Audiophiles might be interested to know that the CDs in this new release have been encoded with the MQA (Master Quality Authenticated) process. These are fully compatible with standard CD players, but when connected to an MQA-enabled device, it can play the same disc back in hi-res 176 kHz /24 bit. I've never tried this myself – any good?

There is also a Japanese 2 x SHM-CD version which doesn't include the vinyl. This can actually be pre-ordered via Amazon UK. You won't save much over the other package but if you don't have a turntable you won't have the superfluous vinyl and it will be shelf-friendly. Update: This release has now been cancelled.

This Waiting For The Sun 50th anniversary reissue will be released on 14 September 2018.


An anniversary seven-inch single of Hello, I Love You and Love Street will also be issued on 3 August 2018. This single will features the rare mono radio mixes of the songs. This version of Hello, I Love You was issued on the CD version of last year's The Singles, but Love Street wasn't, so this mix is being released commercially for the first time on this seven-inch vinyl (which also features a recreation of the unique black and white promotional label and is housed in its original Elektra records paper sleeve).


Compare prices and pre-order
The Doors
Waiting For The Sun - 50th anniversary deluxe
Compare prices and pre-order
The Doors
Hello, I Love You / Love Street seven-inch single
Disc One
(CD)
Hello, I Love You
Love Street
Not To Touch The Earth
Summer's Almost Gone
Wintertime Love
The Unknown Soldier
Spanish Caravan
My Wild Love
We Could Be So Good Together
Yes, The River Knows
Five To One
Disc Two
 (CD) (All Tracks Previously Unreleased)
Rough Mixes
Hello, I Love You
Summer's Almost Gone
Yes, The River Knows
Spanish Caravan
Love Street
Wintertime Love
Not To Touch The Earth
Five To One
My Wild Love
Live In Copenhagen
The WASP (Texas Radio And The Big Beat)
Hello, I Love You
Back Door Man
Five To One
The Unknown Soldier
Disc Three:
180g LP (Remastered Original Stereo Mix)
Side One
Hello, I Love You
Love Street
Not To Touch The Earth
Summer's Almost Gone
Wintertime Love
The Unknown Soldier
Side Two
Spanish Caravan
My Wild Love
We Could Be So Good Together
Yes, The River Knows
Five To One