 News
The Grateful Dead / Portland Memorial Coliseum and Pacific Northwest boxes
Complete unreleased show on 6LPs • six-show, 19CD box + 3CD highlights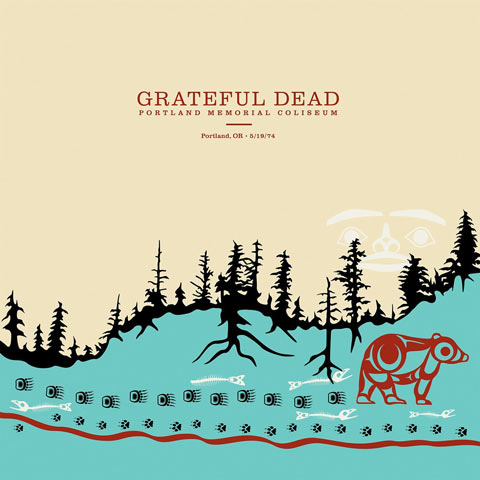 A new 6LP vinyl box of the Grateful Dead's complete Portland Memorial Coliseum show from 19 May 1974 will be issued in September.

This is an unreleased show and the 30-tracks of live audio will be pressed onto six 180g vinyl records for a box that is limited to 7,500 copies.

This concert forms part of an even bigger box called Pacific Northwest '73-74′: Believe It If You Need It. This is a massive 19CD box available exclusively from the band's website. This brings together six previously unreleased shows from Portland, Seattle and Vancouver from June '73 to May '74.

Each show was mastered in HDCD from the original master tapes by Jeffrey Norman at Mockingbird Mastering. The transfers from the masters were transferred and restored by Plangent Processes (the process used on the Bruce Springsteen box sets).

The 19CD box is limited to 15,000 individually numbered copies but if you don't want to spent the $190 required, you can opt for the more widely available three-CD set highlights set.

Portland Memorial Coliseum, Portland OR, 5/19/74 and Pacific Northwest '73-74′: Believe It If You Need It will be issued on 7 September 2018.


Compare prices and pre-order
Grateful Dead
PORTLAND MEMORIAL COLISEUM - 6LP vinyl
Compare prices and pre-order
Grateful Dead
PACIFIC NORTHWEST '73-74 - 3CD highlights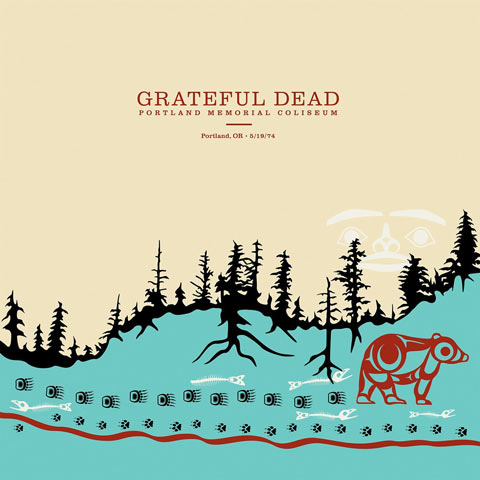 Portland Memorial Coliseum, Portland, OR(5/19/74) – 6LP vinyl box
Side A
1. Missisippi Half-Step Uptown Toodeloo[8:14]
2. Mexicali Blues[3:58]
3. Big Railroad Blues [3:57]
4. Black-Throated Wind [6:45]
Side B
1. Scarlet Begonias [5:26]
2. Beat It On Down The Line [3:47]
3. Tennessee Jed[8:23]
4. Me And Bobby Mcgee[5:51]
Side C
1. Sugaree[7:42]
2. Jack Straw [5:22]
3. It Must Have Been The Roses [5:28]
4. El Paso [4:24]
Side D
1. Loose Lucy [5:11]
2. Money Money [4:28]
Side E
1. China Cat Sunflower> [8:37]
2. I Know You Rider [5:34]
Side F
1. Promised Land> [3:36]
2. Bertha> [6:07]
3. Greatest Story Ever Told[6:09]
4. Ship Of Fools [6:19]
Side G
1. Weather Report Suite> [18:24]
Side H
1. Wharf Rat [11:01]
2. Big River [5:11]
Side I
1. Peggy-O [6:38]
Side J
1. Truckin'> [10:43]
2. Jam> [10:07]
Side K
1. Not Fade Away>[7:03]
2. Goin' Down The Road Feeling Bad [6:58]
3. One More Saturday Night [4:50]
Side L
1. U.S. Blues [6:10]
Pacific Northwest '73-74′: Believe It If You Need It  – 3CD highlights
Disc 1
1. China Cat Sunflower>, Portland Memorial Coliseum, Portland, OR (5/19/74) [8:38]
2. I Know You Rider, Portland Memorial Coliseum, Portland, OR (5/19/74) [5:30]
3. Bird Song, P.N.E. Coliseum, Vancouver, B.C.(6/22/73)[14:21]
4. Box Of Rain, Portland Memorial Coliseum, Portland, OR(6/24/73)[5:19]
5. Brown-Eyed Women, Hec Edmundson Pavilion, University Of Washington, Seattle, WA (5/21/74)[5:02]
6. Truckin'>, Portland Memorial Coliseum, Portland, OR (5/19/74)[10:43]
7. Jam>, Portland Memorial Coliseum, Portland, OR (5/19/74)[9:58]
8. Not Fade Away>, Portland Memorial Coliseum, Portland, OR (5/19/74)[6:56]
9. Goin' Down The Road Feeling Bad, Portland Memorial Coliseum, Portland, OR (5/19/74)[7:01]
10. One More Saturday Night, Portland Memorial Coliseum, Portland, OR (5/19/74)[4:51]
Disc 2
1. Here Comes Sunshine, P.N.E. Coliseum, Vancouver, B.C. (6/22/73) [12:11]
2. Eyes Of The World>, P.N.E. Coliseum, Vancouver, Canada (5/17/74) [13:24]
3. China Doll>, Hec Edmundson Pavilion, University Of Washington, Seattle, WA (5/21/74) [5:33]
4. Playing In The Band, Hec Edmundson Pavilion, University Of Washington, Seattle, WA (5/21/74)[46:32]
Disc 3
1. Sugaree, P.N.E. Coliseum, Vancouver, Canada (5/17/74) [7:37]
2. He's Gone>, P.N.E. Coliseum, Vancouver, B.C. (6/22/73) [11:30]
3. Truckin'>, P.N.E. Coliseum, Vancouver, B.C. (6/22/73)[26:06]
4. The Other One, P.N.E. Coliseum, Vancouver, B.C. (6/22/73) [15:43]
5. Wharf Rat>, P.N.E. Coliseum, Vancouver, B.C. (6/22/73) [7:58]
6. Sugar Magnolia, P.N.E. Coliseum, Vancouver, B.C. (6/22/73) [9:53]