 News
The Hitchhiker's Guide to the Galaxy Quandary Phase / 2LP coloured vinyl
First time on vinyl • Luxury presentation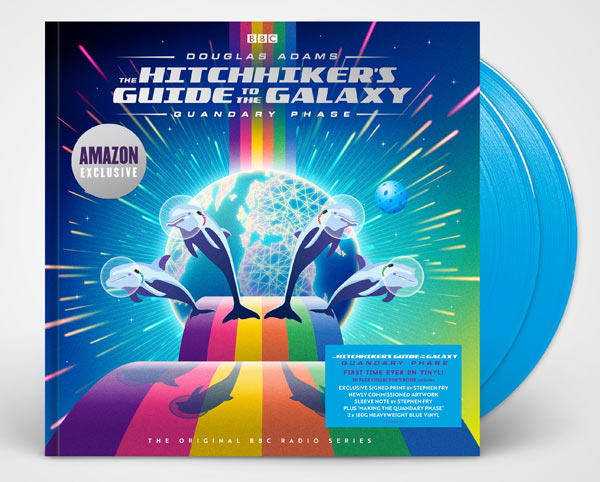 Demon Records will issue Quandary Phase a new 2LP coloured vinyl deluxe set that features the fourth series of Douglas Adams' classic comedy science fiction radio show The Hitchhiker's Guide To The Galaxy.

Here, for the first time ever on vinyl, are episodes 19 to 22 of the BBC radio series. First broadcast in 2005, the 'Quandary Phase' is based upon the Douglas Adams's fourth novel So Long, and Thanks for all the Fish.

This fourth radio series stars William Franklyn as The Book, with Simon Jones as Arthur Dent, Geoffrey McGivern as Ford Prefect, Bill Paterson as Rob McKenna, Jane Horrocks as Fenchurch, Sandra Dickinson as Tricia McMillan and Stephen Moore as Marvin the Paranoid Android, with a guest cast including Arthur Smith, June Whitfield, Stephen Fry, Jackie Mason, Rula Lenska, Patrick Moore and Christian Slater, with music by Philip Pope and Paul 'Wix' Wickens. It is adapted, directed and co-Produced by Dirk Maggs.




Like the previous three deluxe sets, this is presented on 180g coloured vinyl (blue this time) and housed in a 12″ x 12″ 20-page hardcover book. This is actually a two-record set this time around, and includes a moving tribute to Douglas Adams from Stephen Fry as well as sleeve notes by Jem Roberts, Adams's official biographer.

The Hitchhiker's Guide to the Galaxy – Quandary Phase will be released on 29 March 2019.


Compare prices and pre-order
Douglas Adams
The Hitchhikers Guide To The Galaxy - Quandary Phase
LP 1
1. Fit The Nineteenth
2. Fit The Twentieth
LP 2
1. Fit The Twenty-First
2. Fit The Twenty Second