 News
The Hitchhiker's Guide to the Galaxy / Tertiary Phase / 3LP coloured vinyl
First time on vinyl • Luxury presentation • 500 signed sets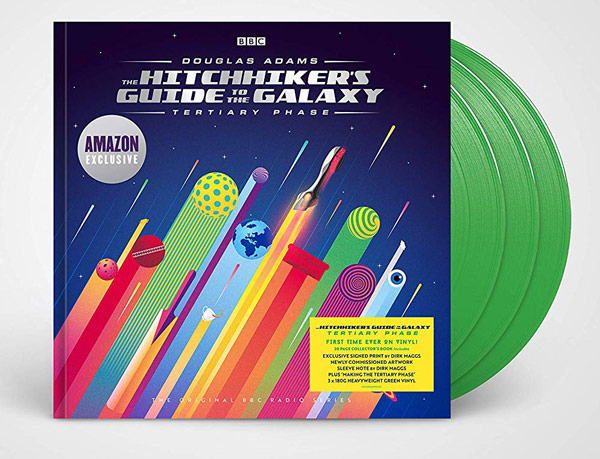 Demon Records will issue Tertiary Phase a new 3LP coloured vinyl deluxe set that features the third series of Douglas Adams' classic comedy science fiction radio show The Hitchhiker's Guide To The Galaxy.

Like the previous two deluxe sets, this is presented on triple 180g coloured vinyl (green this time) and housed in a 12″ x 12″ hardcover book. This limited edition of Tertiary Phase comes with a 12″ x 12″ print SIGNED by Dirk Maggs, who adapted, co-produced and directed this 'Tertiary Phase' for BBC radio.




The third series (Tertiary Phase) featured episodes 13 to 18 of the radio series and was first broadcast in 2004. It's based, logically enough, upon Douglas Adams' third novel in the Hitchhiker's series, Life, The Universe and Everything. This is actually also the first ever publication of the original radio edits of the Tertiary Phase, as heard on their original broadcast.

The series starred Peter Jones and William Franklyn as The Book, with Simon Jones as Arthur Dent, Geoffrey McGivern as Ford Prefect, Mark Wing-Davey as Zaphod Beeblebrox, Susan Sheridan as Trillian and Stephen Moore as Marvin the Paranoid Android, with a guest cast including Richard Griffiths, Leslie Phillips, Joanna Lumley, Toby Longworth, Michael Fenton Stevens, Henry Blofeld, Fred Trueman and the voice of Douglas Adams himself, with music by Philip Pope and Paul 'Wix' Wickens (Paul McCartney's musical director/keyboard player).




As you'd expect, this edition carries on with the superb design work exhibited on the previous editions. The 180g heavyweight green vinyl discs are presented in illustrated wallets inside a rigid, bound 20 page book, with exclusive sleeve notes written by producer Dirk Maggs and Jem Roberts, Douglas Adams's official biographer. "Howzat!"

This limited edition signed/coloured vinyl Tertiary Phase is an Amazon UK exclusive and will be released on 11 January 2019.


Compare prices and pre-order
Douglas Adams
The Hitchhiker's Guide to the Galaxy - Tertiary Phase exclusive signed coloured vinyl edition
LP 1
1. Episode One ? Fit The Thirteenth
2. Episode Two – Fit The Fourteenth
LP 2
1. Episode Three – Fit The Fifteenth
2. Episode Four ? Fit The Sixteenth
LP 3
1. Episode Five ? Fit The Seventeenth
2. Episode Six ? Fit The Eighteenth