 News
The Kinks / Arthur (Or the Decline and Fall of the British Empire)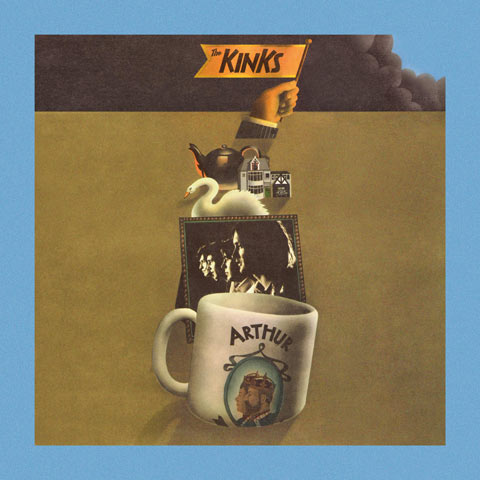 The Kinks' 1969 album Arthur (Or The Decline And Fall Of The British Empire) is to be reissued as a 50th anniversary super deluxe edition box set in October.

This set is presented differently to The Kinks Are The Village Green Preservation Society box set; Arthur is it is smaller, seven-inch square, three-inch deep package, which holds four CDs, four seven-inch singles, a book and some other 'bits'.
The first two CDs offer the album in newly remastered mono and stereo versions (both with seven bonus tracks) while the third disc features music from a 'lost' Dave Davies solo album. CD 4 offers a collection of demos, rehearsals, theatrical versions and remixes. In total there are 81 tracks – five previously unreleased and 28 previously unreleased 'versions'.
The four seven-inch singles feature international sleeve art. They are: Drivin', Victoria, Shangri-La and Hold My Hand (Dave Davies solo).
Additionally, this set comes with a 68-page softback book with essays and new interviews with Ray Davies, Dave Davies and Mick Avory. This Arthur box also includes reproduced photos and posters and a special bespoke metal/enamel logo pin badge.
Arthur (Or The Decline And Fall Of The British Empire) will be reissued on 25 October 2019. A hardcover book two-CD edition will also be available that pairs the remastered stereo edition of Arthur with the Dave Davies solo album. The 2LP vinyl set has the same remastered stereo on the first LP and offers a selection of rarities on the second.
The box set is very well priced in Italy, in particular.
Compare prices and pre-order
The Kinks
Arthur - super deluxe box set
Compare prices and pre-order
The Kinks
Arthur - 2LP vinyl
Compare prices and pre-order
The Kinks
Arthur - 2CD set
Arthur (Or The Decline And Fall Of The British Empire) super deluxe
CD1
ORIGINAL STEREO ALBUM, 2019 REMASTER
Victoria (Stereo)
Yes Sir, No Sir (Stereo)
Some Mother's Son (Stereo)
Drivin' (Stereo)
Brainwashed (Stereo)
Australia (Stereo)
Shangri-La (Stereo)
Mr. Churchill Says (Stereo)
She's Bought A Hat Like Princess Marina (Stereo)
Young And Innocent Days (Stereo)
Nothing To Say (Stereo)
Arthur (Stereo)
Bonus Tracks
Plastic Man (Stereo)
Victoria (Alternate Stereo Mix)
Yes Sir, No Sir (Alternate Stereo Mix)
Drivin' (Alternate Stereo Mix)
Brainwashed (Alternate Stereo Mix)
Australia (Alternate Stereo Mix)
Shangri-La (Alternate Stereo Mix)
CD2
ORIGINAL MONO ALBUM, 2019 REMASTER
Victoria
Yes Sir, No Sir
Some Mother's Son
Drivin'
Brainwashed
Australia
Shangri-La
Mr. Churchill Says
She's Bought A Hat Like Princess Marina
Young And Innocent Days
Nothing To Say
Arthur
Bonus Tracks
Plastic Man (Mono)
King Kong (Mono)
Victoria (Alternate Mono Mix)
Australia (Alternate Mono Acetate Mix)
Shangri-La (Alternate Mono Mix)
She's Bought A Hat Like Princess Marina (Alternate Mono Mix)
Australia (Australian Mono Single Mix/Edit)
CD3
THE GREAT LOST DAVE DAVIES ALBUM (STEREO)
This Man He Weeps Tonight
Mindless Child Of Motherhood
Hold My Hand
Do You Wish To Be A Man?
Are You Ready?
Creeping Jean
I'm Crying
Lincoln County
Mr. Shoemaker's Daughter
Mr. Reporter
Groovy Movies
There Is No Life Without LoveBonus Tracks
Lincoln County (Mono Single Mix/Edit)
There Is No Life Without Love (Mono)
Hold My Hand (Mono)
Creeping Jean (Mono Single Mix/Edit)
Mindless Child Of Motherhood (Mono)
This Man He Weeps Tonight (Mono)
Mr. Shoemaker's Daughter (Alternate Stereo Mix)
Mr. Reporter (Alternate Stereo Mix)
Groovy Movies (Alternate Stereo Mix)
Lincoln County (Acoustic Mix)
Hold My Hand (Alternate Take)
CD4
DEMOS / REHEARSALS / BBC MIXES / THEATRICAL / DOO WOP / REMIXES
Part 1
1. Arthur's Journey (Introduction) (Stereo)
2. Australia (2019 Mix) (Stereo)
3. Home Demos Medley, 1969: Arthur / Victoria / Some Mother's Son / Drivin' /
Brainwashed / Mr. Churchill Says (TV Premix) (Mono)
Part 2
4. Shangri-La (2019 Mix) (Stereo)
5. My Big Sister (Theatrical Version) (Stereo)
6. Stevenage (Theatrical Version) (Stereo)
7. Space (Theatrical Version) (Full Version) (Stereo)
8. The Future (Doo-Wop Version) (Stereo)
9. Arthur (Doo-Wop Version) (Stereo)
Part 3
10. The Virgin Soldiers March (Mono)
11. Soldiers Coming Home (Instrumental) (Mono)
12. King Kong (BBC Mix) (Mono)
13. Victoria (Ray Davies & Band With The DR Symphony & Vocal Ensemble) (Stereo)
14. Arthur (BBC Mix) (Mono)
Arthur (Or The Decline And Fall Of The British Empire) 2CD deluxe
DISC ONE
ORIGINAL STEREO ALBUM, 2019 REMASTER
Victoria (Stereo)
Yes Sir, No Sir (Stereo)
Some Mother's Son (Stereo)
Drivin' (Stereo)
Brainwashed (Stereo)
Australia (Stereo)
Shangri-La (Stereo)
Mr. Churchill Says (Stereo)
She's Bought A Hat Like Princess Marina (Stereo)
Young And Innocent Days (Stereo)
Nothing To Say (Stereo)
Arthur (Stereo)
Bonus Tracks
Plastic Man (Stereo)
King Kong (Mono)
Drivin' (Mono)
Mindless Child Of Motherhood (Mono)
Shangri-La (Mono)
This Man He Weeps Tonight (Mono)
Australia (Australian Mono Single Mix/Edit)
DISC TWO
THE GREAT LOST DAVE DAVIES ALBUM (STEREO)
This Man He Weeps Tonight (Stereo)
Mindless Child Of Motherhood (Stereo)
Hold My Hand (Stereo)
Do You Wish To Be A Man? (Stereo)
Are You Ready? (Stereo)
Creeping Jean (Stereo)
I'm Crying (Stereo)
Lincoln County (Stereo)
Mr. Shoemaker's Daughter (Stereo)
Mr. Reporter (Stereo)
Groovy Movies (Stereo)
There Is No Life Without Love (Stereo)
Bonus Tracks
Lincoln County (Mono Single Mix/Edit)
There Is No Life Without Love (Mono)
Hold My Hand (Mono)
Creeping Jean (Mono Single Mix/Edit)
Arthur (Or The Decline And Fall Of The British Empire) 2LP vinyl
SIDE ONE
1. Victoria (Stereo)
2. Yes Sir, No Sir (Stereo)
3. Some Mother's Son (Stereo)
4. Drivin' (Stereo)
5. Brainwashed (Stereo)
6. Australia (Stereo)
SIDE TWO
1. Shangri-La (Stereo)
2. Mr. Churchill Says (Stereo)
3. She's Bought A Hat Like Princess Marina (Stereo)
4. Young And Innocent Days (Stereo)
5. Nothing To Say (Stereo)
6. Arthur (Stereo)
SIDE THREE
1. Plastic Man (Stereo)
2. King Kong (Mono)
3. Lincoln County (Stereo)
4. There Is No Life Without Love (Stereo)
5. Hold My Hand (Stereo)
6. Creeping Jean (Stereo)
SIDE FOUR
1. Mindless Child Of Motherhood (Stereo)
2. This Man He Weeps Tonight (Stereo)
3. Groovy Movies (Stereo)
4. Victoria (BBC Mix)
5. Mr. Churchill Says (BBC Mix)
6. Arthur (BBC Mix)