 News
The Kinks / Lola 50th anniversary
1970 album reissued across four physical formats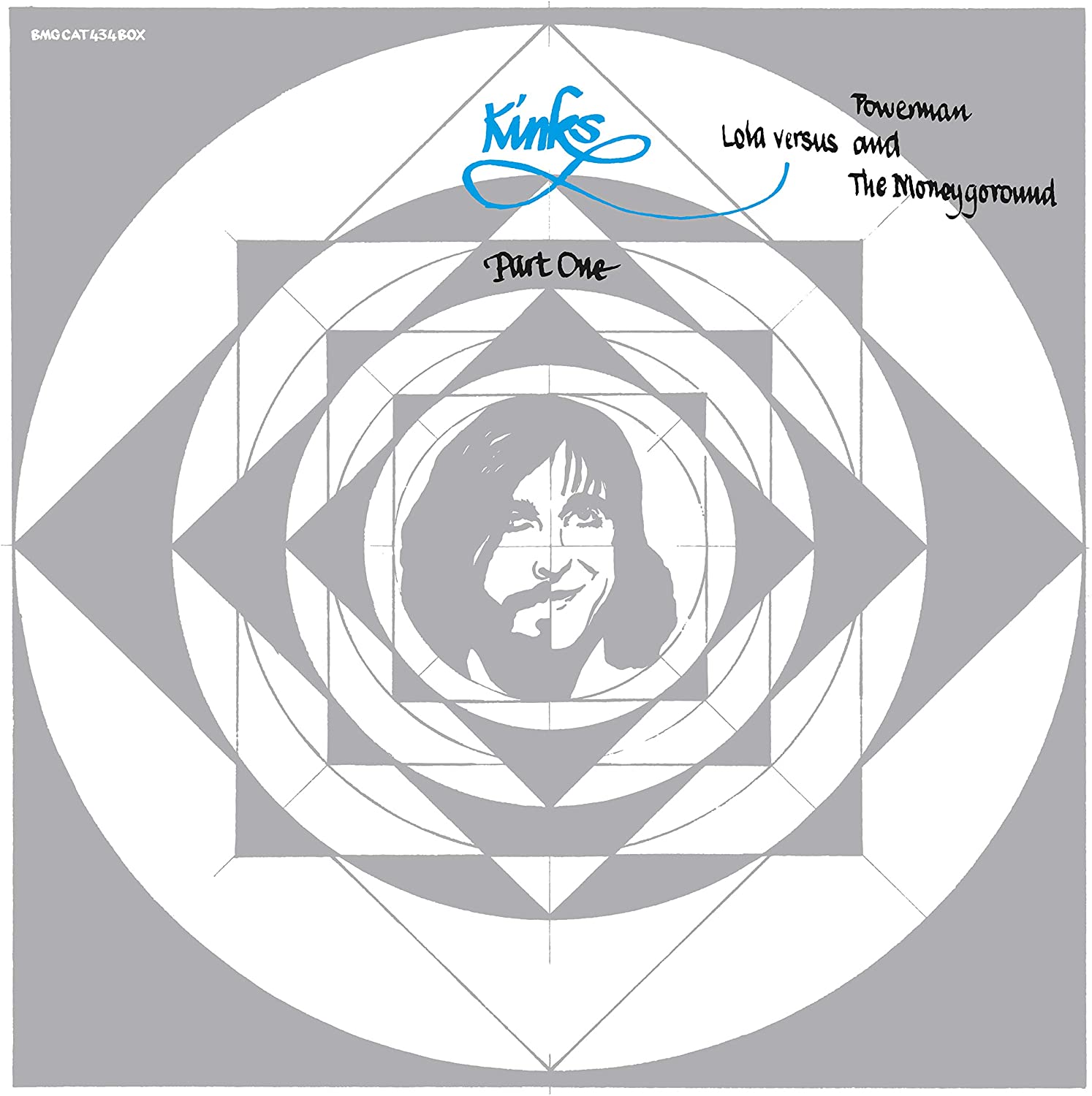 Lola versus Powerman and The Moneygoround, Part One, The Kinks' 1970 album, will be reissued as a 50th anniversary deluxe box set in December.

Commonly abbreviated to Lola Versus Powerman, or just Lola, the 1970 album was a commercial and critical success and of course contains the big hit single 'Lola' and also 'Apeman'.

The deluxe box set is similar to Arthur from last year, as it is presented in an eight-inch box and contains three CDs, two seven-inch singles, a 60-page hardcover book and some art cards.
The Lola box set features three CDs, two seven-inch singles and a book

In terms of the CDs, the original album has been remastered from the original tapes and there's plenty of single mixes (in stereo and mono), B-sides, alternate mixes and new medleys with Ray & Dave Davies spoken word commentary. There's also previously unreleased demos, original session outtakes and more.

The two seven inch singles are 'Lola' and 'Apeman' with their respective B-sides and four art cards with full band shots complete this box set.



There's also a two-CD deluxe (which features the first CD from the box set and a unique compilation of bonus material on disc two), a single CD (which also has a different selection of bonus material appended) and a gatefold vinyl LP which features the remaster and a 12-inch booklet.

Lola versus Powerman and The Moneygoround, Part One will be reissued on 11 December 2020 (18 Dec in the US, except for the box set which will be released on 22 Jan 2021).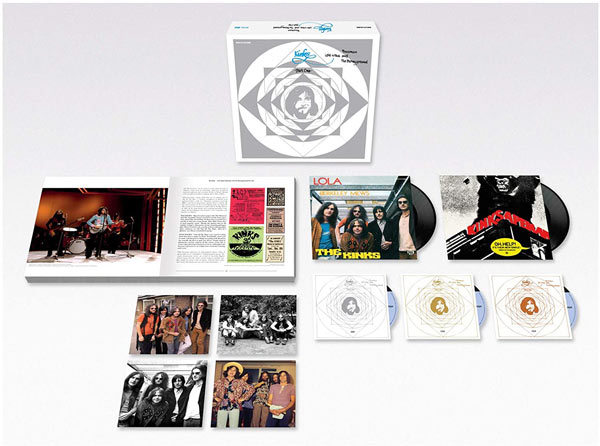 Lola Versus Powerman And The Moneygoround, Part One
box set

CD 1
1. The Contenders
2. Strangers
3. Denmark Street
4. Get Back In Line
5. Lola
6. Top Of The Pops
7. The Moneygoround
8. This Time Tomorrow
9. A Long Way From Home
10. Rats
11. Apeman
12. Powerman
13. Got To Be Free
Alternate Versions
14. Lola (Mono Single Mix)
15. Apeman (UK Mono Single Mix)
16. Rats (Mono Single Mix
17. Powerman (Mono Mix)
18. Apeman (Alternate Version, Stereo)
19. The Moneygoround (Alternate Version, Mono)
CD 2

Alternate Versions / New Medleys & Mixes / Demos / Film Soundtrack
1. This Time Tomorrow (Alternate Take, 2020 Mix)
2. Top Of The Pops (2020 Mix)
3. Lola/Radio Spot, Edit (Ray's Kitchen Sink)
4. Got To Be Free (Ray's Kitchen Sink)
5. The Contenders (Ray's Kitchen Sink)
6. The Good Life (2020 Mix)
7. Apeman (Unplugged Live Version)
8. Get Back In Line (Live Version)
9. Marathon (Edit, from The Long Distance Piano Player)
10. Got To Be Free (Edit, from The Long Distance Piano Player)
11. Lola (Ray Davies & Band with The Danish National Chamber Orchestra & The Danish National Vocal Ensemble)
12. The Good Life
13. Apeman (US Mono Single Mix)
14. Moments (2020 Mix)
15. This Time Tomorrow & Cassette Demos Medley (Ray's Kitchen Sink)
CD 3

Alternate Versions / New Medleys & Mixes / Demos / Live
1. Get Back In Line (Ray's Kitchen Sink)
2. Rats (Ray's Kitchen Sink)
3. Rats (2020 Mix)
4. Powerman (Ray's Kitchen Sink)
5. Powerman (2020 Mix)
6. The Contenders (Instrumental Demo)
7. Anytime
8. A Long Way From Home (Ray's Kitchen Sink)
9. A Long Way From Home (Live, Austin City Limits, 2006)
10. Strangers (Ray's Kitchen Sink)
11. Strangers (2020 Stereo Mix)
12. The Way Love Used To Be (2020 Monitor Mix)
13. Apeman (Morgan Studios Run-Through)
14. Radio Spot/Live, Queens College, Flushing, NY, 1971 15. The Follower -
Anytime 2020 (featuring Anytime by The Kinks)
Seven inch singles
Single 1 – 'Lola / Berkerley Mews
Single 2 – 'Apeman / Rats'
Lola Versus Powerman And The Moneygoround, Part One
vinyl LP
1. The Contenders
2. Strangers
3. Denmark Street
4. Get Back In Line
5. Lola
6. Top Of The Pops
7. The Moneygoround
8. This Time Tomorrow
9. A Long Way From Home
10. Rats
11. Apeman
12. Powerman
13. Got To Be Free
Lola Versus Powerman And The Moneygoround, Part One
2CD deluxe
CD 1
1. The Contenders
2. Strangers
3. Denmark Street
4. Get Back In Line
5. Lola
6. Top Of The Pops
7. The Moneygoround
8. This Time Tomorrow
9. A Long Way From Home
10. Rats
11. Apeman
12. Powerman
13. Got To Be Free
Alternate Versions
14. Lola (Mono Single Mix)
15. Apeman (UK Mono Single Mix)
16. Rats (Mono Single Mix
17. Powerman (Mono Mix)
18. Apeman (Alternate Version, Stereo)
19. The Moneygoround (Alternate Version, Mono)
CD 2 – ALTERNATE VERSIONS & MIXES

1. THE CONTENDERS (INSTRUMENTAL DEMO)
2. STRANGERS (2020 STEREO MIX)
3. ANYTIME
4. THE GOOD LIFE
5. GET BACK IN LINE (LIVE VERSION)
6. LOLA (RAY DAVIES & BAND WITH THE DANISH NATIONAL CHAMBER ORCHESTRA & THE DANISH NATIONAL VOCAL ENSEMBLE)
7. TOP OF THE POPS (2020 MIX)
8. THE MONEYGROUND (ALTERNATE VERSION)
9. THIS TIME TOMORROW (ALTERNATE TAKE, 2020 MIX)
10. A LONG WAY FROM HOME (LIVE, AUSTIN CITY LIMITS, 2006)
11. RATS (2020 MIX)
12. APEMAN (US MONO SINGLE MIX)
13. POWERMAN (2020 MIX)
14. MARATHON (EDIT, FROM THE LONG DISTANCE PIANO PLAYER)
15. GOT TO BE FREE (EDIT, FROM THE LONG DISTANCE PIANO PLAYER)




Lola Versus Powerman And The Moneygoround, Part One single CD edition

CD 1

1. The Contenders
2. Strangers
3. Denmark Street
4. Get Back In Line
5. Lola
6. Top Of The Pops
7. The Moneygoround
8. This Time Tomorrow
9. A Long Way From Home
10. Rats
11. Apeman
12. Powerman
13. Got To Be Free

Alternate Versions

14. Anytime
15. The Good Life (2020 Mix)
16. Apeman (Alternate Version, Stereo)
17. The Time Tomorrow (Alternate Take, 2020 mix)
18. Lola (Mono Single Mix)