 News
The Kinks / The Journey, Part 2
2CD and 2LP vinyl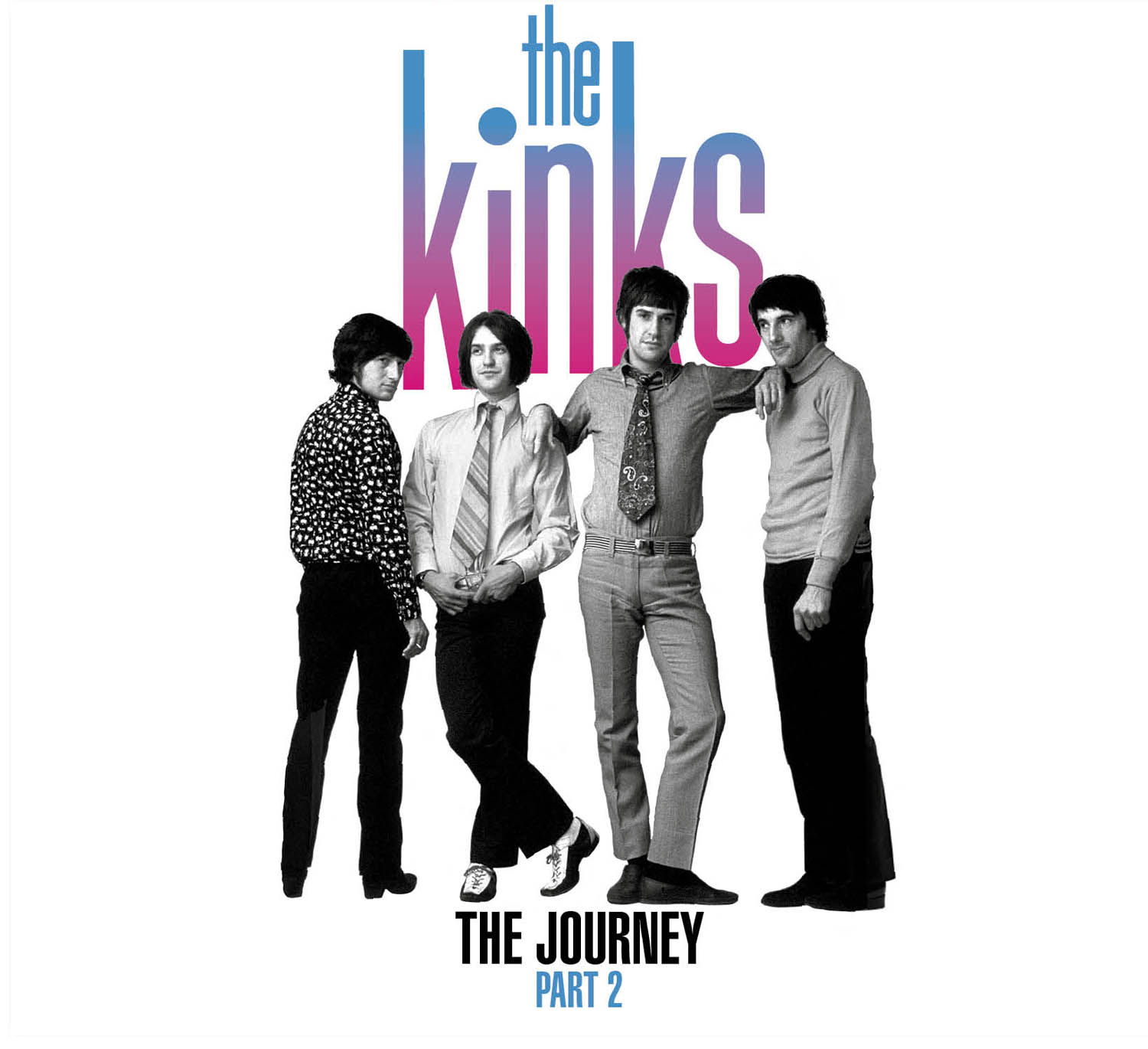 BMG follow up this years The Kinks The Journey release (from March this year), and continue the 60th anniversary celebrations, with Part 2, which will be available as a 2CD or 2LP package.
Compiled by the band, this collection is curated "according to themes inspired by the trials and tribulations of their journey through life together as a band since 1963".
This release features music from Face To Face, The Kink Kontroversy, Something Else, The Village Green Preservation Society, Lola Versus Powerman and The Moneygoround, Muswell Hillbillies, Everybody's In Show-Biz, Preservation Acts 1 & 2 and A Soap Opera.

It includes singles, B-sides, album tracks and, notably, six new Ray Davies mixes, three of which are previously unreleased live performances from the New Victoria Theatre, London in 1975. Check out the live version of 'Everybody's A Star (Starmaker)' below (they've made a new video):
Speaking about this release, Ray Davies said: "I thought I knew everything about my songs until I was given the opportunity to put this record together. The new sequencing has enabled us to show the 'big picture' and give a more insightful back story about how our music evolved. I learned a lot about myself in putting this together."
Audio has been remastered by Kevin Gray at Cohearent Studios in LA, overseen by Andrew Sandoval.
The Journey Part 2 will be released on 17 November 2023 via BMG and at the moment it's only available via the band's official shop, which also has a new selection of band merch, if that's your thing.
Compare prices and pre-order
Kinks,the
The Journey Part 2 - 2CD set
Compare prices and pre-order
Kinks,the
The Journey Part 2 - 2LP vinyl
Tracklisting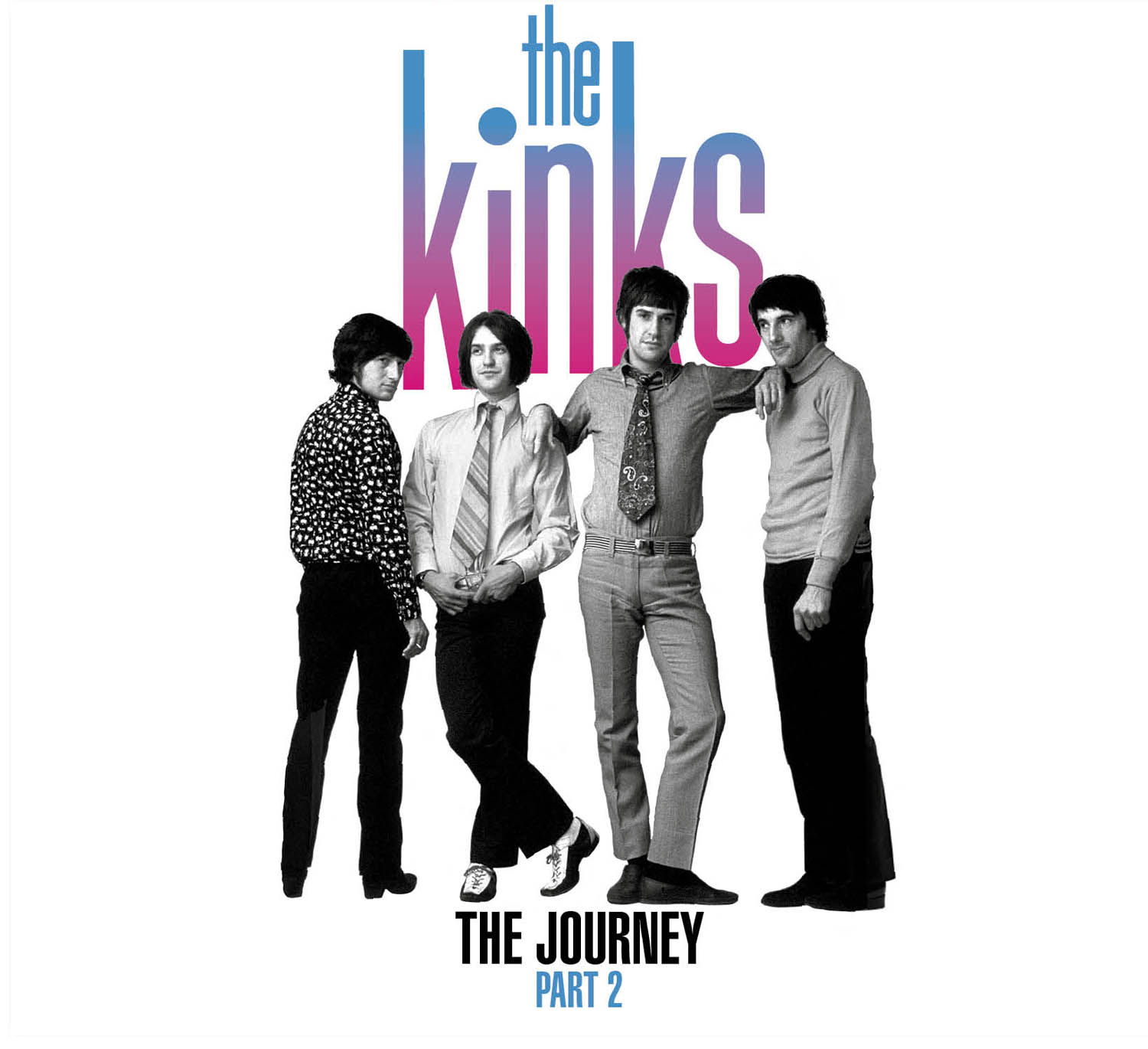 The Journey, Part 2 The Kinks
/
CD 1

THE WORLD AROUND THE JOURNEYMAN STARTS TO CRUMBLE AS HIS LIFE IS TURNED UPSIDE DOWN

TILL THE END OF THE DAY (1965)
PRESERVATION (1974)
DAVID WATTS (1967)
THIS TIME TOMORROW (ALTERNATE TAKE, 2020 MIX) (1970)
A WELL RESPECTED MAN (1965)
MONICA (1968)
SCRAPHEAP CITY (1974)
HE'S EVIL (1974)

THE JOURNEYMAN IS LED ASTRAY BY GHOSTS AND A DARK ANGEL

LOLA (1970)
SUNNY AFTERNOON (1966)
ANIMAL FARM (1968)
CREEPING JEAN (1969) *
TWO SISTERS (1967)
SEE MY FRIENDS (1965)
MONEY TALKS (2023 MIX) (1974) **
NO RETURN (1967)
DON'T YOU FRET (1965)

* BY DAVE DAVIES
** PREVIOUSLY UNRELEASED VERSION

CD 2

OUR JOURNEYMAN IS SEDUCED BY THOSE GHOSTS AND DEMONS OF THE UNDERWORLD AND SEARCHES FOR HIS LOST INNOCENCE

I NEED YOU (1965)
RAINY DAY IN JUNE (1966)
DEDICATED FOLLOWER OF FASHION (1966)
WHERE ARE THEY NOW? (2023 MIX) (1974) **
WICKED ANNABELLA (1968)
ALCOHOL (1971)
SUSANNAH'S STILL ALIVE (1967) *
20TH CENTURY MAN (1971)
SITTING BY THE RIVERSIDE (1971)
ARTIFICIAL MAN (2023 MIX) (1974) **

DESPAIR TURNS TO ELATION AS JOURNEYMAN OVERCOMES HIS FEAR. REUNITES WITH OLD FRIENDS

NEW VICTORIA SUITE – EVERYBODY'S A STAR (STARMAKER) (LIVE, 2023 MIX) (1975) **
NEW VICTORIA SUITE – SLUM KIDS (LIVE NEW VICTORIA THEATRE) (LIVE, 2023 MIX) (1975) **
NEW VICTORIA SUITE – (A) FACE IN THE CROWD (LIVE NEW VICTORIA THEATRE) (LIVE, 2023 MIX) (1975) **
HOLIDAY ROMANCE (1975)
BIG SKY (1968)
LINCOLN COUNTY (1968) *
GOD'S CHILDREN (1971)

* BY DAVE DAVIES
** PREVIOUSLY UNRELEASED VERSION

LP 1

SIDE 1

THE WORLD AROUND THE JOURNEYMAN STARTS TO CRUMBLE AS HIS LIFE IS TURNED UPSIDE DOWN

TILL THE END OF THE DAY (1965)
PRESERVATION (1974)
DAVID WATTS (1967)
THIS TIME TOMORROW (ALTERNATE TAKE, 2020 MIX) (1970)
A WELL RESPECTED MAN (1965)
MONICA (1968)
SCRAPHEAP CITY (1974)

SIDE 2

THE JOURNEYMAN IS LED ASTRAY BY GHOSTS AND A DARK ANGEL

LOLA (1970)
SUNNY AFTERNOON (1966)
ANIMAL FARM (1968)
CREEPING JEAN (1969)*
TWO SISTERS (1967)
SEE MY FRIENDS (1965)
MONEY TALKS (2023 MIX) (1974)**

*BY DAVE DAVIES
**PREVIOUSLY UNRELEASED VERSION

LP 2

SIDE 3

OUR JOURNEYMAN IS SEDUCED BY THOSE GHOSTS AND DEMONS OF THE UNDERWORLD AND SEARCHES FOR HIS LOST INNOCENCE

RAINY DAY IN JUNE (1966)
DEDICATED FOLLOWER OF FASHION (1966)
WHERE ARE THEY NOW? (2023 MIX) (1974)**
WICKED ANNABELLA (1968)
SUSANNAH'S STILL ALIVE (1967)*
20TH CENTURY MAN (1971)
SITTING BY THE RIVERSIDE (1968)

SIDE 4

DESPAIR TURNS TO ELATION AS JOURNEYMAN OVERCOMES HIS FEAR. REUNITES WITH OLD FRIENDS.

NEW VICTORIA SUITE – EVERYBODY'S A STAR (STARMAKER) (LIVE, 2023 MIX) (1975)**
NEW VICTORIA SUITE – SLUM KIDS (LIVE, 2023 MIX) (1975)**
NEW VICTORIA SUITE – (A) FACE IN THE CROWD (LIVE, 2023 MIX) (1975)**
HOLIDAY ROMANCE (1975)
BIG SKY (1968)
GOD'S CHILDREN (1971)

*BY DAVE DAVIES
**PREVIOUSLY UNRELEASED VERSION