 News
The Moody Blues / In Search of the Lost Chord / five-disc deluxe box set
3CD+2DVD • 5.1 mix • new stereo mix • TV appearances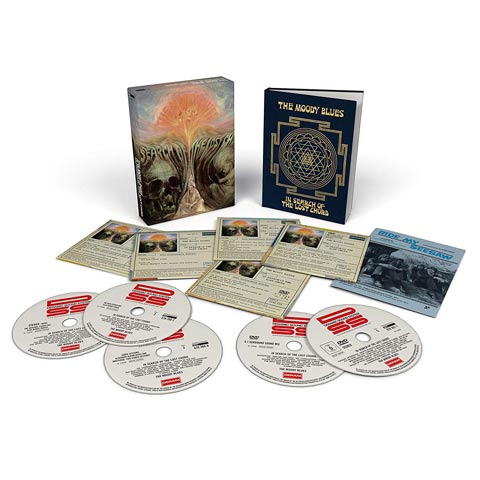 The Moody Blues' third album, In Search of the Lost Chord will be reissued as a five-disc, 50th anniversary box set in November.

This set features three CDs and two DVDs. The CDs include both the original stereo mix and a new stereo mix, along with mono 'A' and 'B' sides of the original Deram-era singles, BBC radio sessions, alternate mixes and other bonus tracks (including a never-before-heard mono version of 'Legend Of A Mind').

Of the two DVDs, the first has a 5.1 surround mix of the album as well as the new stereo mix and the re-master of the original stereo mix. The second DVD concentrates on visuals with the BBC's 'Colour Me Pop' special from 1968 and the previously unreleased French TV's 'Ce Soir On Danse'.

This In Search of the Lost Chord box set includes a 76-page book with photos and a new essay. It is released on 2 November 2018, along with a vinyl version of the original stereo mix.


Compare prices and pre-order
Moody Blues
In Search of the Lost Chord - 5-disc box set
Compare prices and pre-order
The Moody Blues
In Search of the Lost Chord - vinyl LP
You might also like…
Rare, out-of-print & SEALED 17-disc Moody Blues box set on the SDE shop:
<![CDATA[
/**/
]]>
Disc 1 (CD):

1 Departure – The original stereo mix
2 Ride My See-Saw – The original stereo mix
3 Dr. Livingstone, I Presume – The original stereo mix
4 House of Four Doors – The original stereo mix
5 Legend of a Mind – The original stereo mix
6 House of Four Doors (Part 2) – The original stereo mix
7 Voices in the Sky – The original stereo mix
8 The Best Way to Travel – The original stereo mix
9 Visions of Paradise – The original stereo mix
10 The Actor – The original stereo mix
11 The Word – The original stereo mix
12 Om – The original stereo mix
13 Voices in the Sky (mono)
14 Dr. Livingstone, I Presume (mono)
15 Ride My See Saw (mono) – Previously unreleased on CD
16 A Simple Game
17 Legend of a Mind (mono mix) – Previously unreleased
Disc 2 (CD)

1 Departure – "In Search of the Lost Chord" new stereo mix:
2 Ride My See-Saw – "In Search of the Lost Chord" new stereo mix:
3 Dr. Livingstone, I Presume – "In Search of the Lost Chord" new stereo mix:
4 House of Four Doors – "In Search of the Lost Chord" new stereo mix:
5 Legend of a Mind – "In Search of the Lost Chord" new stereo mix:
6 House of Four Doors (Part 2) – "In Search of the Lost Chord" new stereo mix:
7 Voices in the Sky – "In Search of the Lost Chord" new stereo mix:
8 The Best Way to Travel – "In Search of the Lost Chord" new stereo mix:
9 Visions of Paradise – "In Search of the Lost Chord" new stereo mix:
10 The Actor – "In Search of the Lost Chord" new stereo mix:
11 The Word – "In Search of the Lost Chord" new stereo mix:
12 Om – "In Search of the Lost Chord" new stereo mix:
13 A Simple Game (Justin Hayward Vocal Mix / Remastered 2018)
Disc 3 (CD)

1 Dr. Livingstone, I Presume (BBC Radio One "Top Gear" Session / 1968)
2 Voices in the Sky (BBC Radio One "Top Gear" Session / 1968)
3 The Best Way to Travel (BBC Radio One "Top Gear" Session / 1968)
4 Ride My See-Saw (BBC Radio One "Top Gear" Session / 1968)
5 Tuesday Afternoon (BBC Radio One John Peel "Top Gear" session – 16th July 1968)
6 Departure (alternate mix) – Mixed at Decca Studios, West Hampstead in September 1968
7 The Best way to Travel (additional vocal mix) – Mixed at Decca Studios, West Hampstead in September 1968
8 Legend of a Mind (alternate mix) – Mixed at Decca Studios, West Hampstead in September 1968
9 Visions of Paradise (instrumental mix) – Mixed at Decca Studios, West Hampstead in September 1968
10 The Word (Mellotron mix) – Mixed at Decca Studios, West Hampstead in September 1968
11 Om (extended mix) – Mixed at Decca Studios, West Hampstead in September 1968
12 King and Queen – Mixed at Decca Studios, West Hampstead in September 1968
13 Gimmie a Little Something – Mixed at Decca Studios, West Hampstead in September 1968
14 What Am I Doing Here? (full version) – Mixed at Decca Studios, West Hampstead in September 1968
15 A Simple Game (Justin Hayward vocal version) – Mixed at Decca Studios, West Hampstead in September 1968
Disc 4 (DVD) "In Search of the Lost Chord" 96 kHz / 24-bit 5.1 Surround, new Stereo mix and re-mastered original stereo mix"
1 Departure -
2 Ride My See-Saw
3 Dr. Livingstone, I Presume
4 House of Four Doors
5 Legend of a Mind
6 House of Four Doors (Part 2)
7 Voices in the Sky
8 The Best Way to Travel
9 Visions of Paradise
10 The Actor
11 The Word
12 Om
Disc 5 (DVD)
1 Departure / Ride My See-Saw – Visual content
2 Dr. Livingstone I Presume – Visual content
3 House of Four Doors – Visual content
4 Voices in the Sky – Visual content
5 The Best Way to Travel – Visual content
6 Visions of Paradise / The Actor – Visual content
7 Om – Visual content
8 Tuesday Afternoon – BBC TV "Colour Me Pop: In Search of the Lost Chord" – 14th September 1968
9 Nights in White Satin – BBC TV "Colour Me Pop: In Search of the Lost Chord" – 14th September 1968
10 Bye Bye Bird – BBC TV "Colour Me Pop: In Search of the Lost Chord" – 14th September 1968
11 Fly Me High – BBC TV "Colour Me Pop: In Search of the Lost Chord" – 14th September 1968
12 I've Got a Dream – BBC TV "Colour Me Pop: In Search of the Lost Chord" – 14th September 1968
13 A Beautiful Dream – BBC TV "Colour Me Pop: In Search of the Lost Chord" – 14th September 1968
14 Don't Let Me Be Misunderstood – BBC TV "Colour Me Pop: In Search of the Lost Chord" – 14th September 1968
15 Peak Hour – BBC TV "Colour Me Pop: In Search of the Lost Chord" – 14th September 1968
16 Dr. Livingstone, I Presume – BBC TV "Colour Me Pop: In Search of the Lost Chord" – 14th September 1968
17 Ride My See Saw – BBC TV "Colour Me Pop: In Search of the Lost Chord" – 14th September 1968