 News
The Moody Blues / Live at the BBC 1967-1970 / 3LP vinyl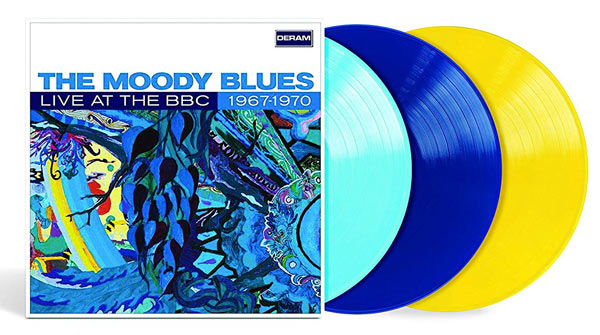 Universal will issue a 3LP coloured vinyl edition of The Moody Blues Live at the BBC in April.

This set was originally issued as a two-CD set back in 2007 but is now presented as a numbered triple vinyl package with three coloured vinyl records packaged in a gatefold sleeve. It features 41 BBC live recordings of performances between 1967 and 1970.
Live at the BBC 3LP vinyl will be issued on 26 April 2019. It's well priced in the UK right now at just over £29.
Compare prices and pre-order
The Moody Blues
Live At The BBC 1967-1970 [VINYL]
LP1
Side A
Fly Me High
Don't Let Me Be Understood
Love And Beauty
Leave This Man Alone
Peak Hour
Nights In White Satin
Fly Me High
Twilight Time (Evening)
Side B
Dr. Livingstone, I Presume
Voices In The Sky
Ride My See-Saw
The Best Way To Travel
Voices In The Sky
Dr. Livingstone, I Presume
Peak Hour
LP2
Side A
Tuesday Afternoon
Ride My See-Saw
Lovely To See You
Never Comes The Day
To Share Our Love
Send Me No Wine
So Deep Within You
Lovely To See You
Side B
Nights In White Satin
The Morning: Another Morning
Ride My See-Saw
Dr. Livingstone, I Presume
House Of Four Doors
LP3
Side A
Voices In The Sky
The Best Way To Travel
Visions Of Paradise
The Actor
Gypsy
The Sun Set
Never Comes The Day
Side B
Are You Sitting Comfortably
Poem: The Dream
Have You Heard
Nights In White Satin
Legend Of A Mind
Question