 News
The Music From Bagpuss / Limited edition 'shop window' die-cut vinyl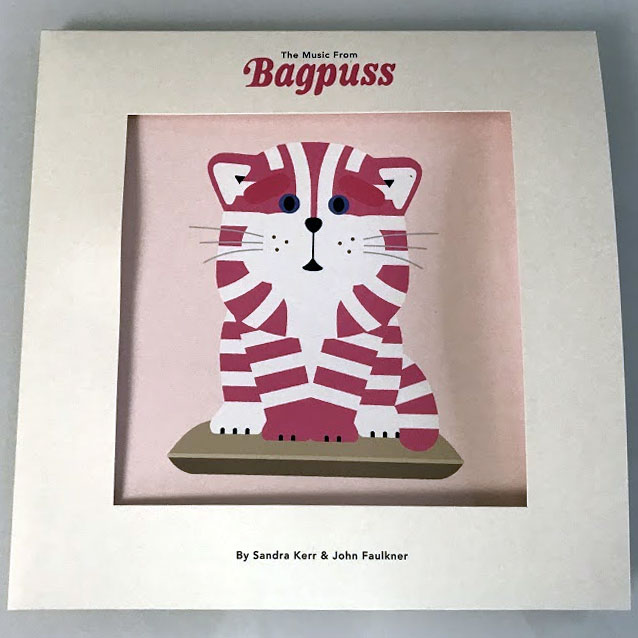 First time on vinyl • 'Book' CD edition • Outtakes
Sandra Kerr and John Faulkner's charming music from British children's TV programme Bagpuss (whose 13 episodes were created by Oliver Postgate and Peter Firmin and originally broadcast in 1974) is being made available – with additional outtakes and alternate versions – on new deluxe vinyl and CD editions.

The music has never been issued on vinyl before and Earth Records have gone to town and created a very special – and limited – 'shop window' vinyl edition which features a die-cut gatefold sleeve, into which you can swap one of five high quality lithographs featuring five characters from the show.
The vinyl and CD editions both feature 32 tracks of which – like all good folk music – are a patchwork of traditional pieces, half-remembered tunes and pure improvisation. Of the recording, Oliver Postgate (in his autobiography 'Seeing Things') says: "Between them Sandra and John could play every sort of instrument from a mountain dulcimer to an Irish fiddle. They knew and could sing every tune in the world and didn't bother with written music, except as a last resort. They were exactly suited to Gabriel the Toad and Madeleine the Rag Doll and in those roles were happy to play whatever music and sing whatever songs would be needed."
In addition to these compositions, there are 17 never-before-heard outtakes on the CD (included as 24/48 kHz WAV files – along with the 32 album tracks – via download card on the vinyl edition) which provide an intimate – and often very humourous – insight into the creative process. Highlights include alternative opening words and end music, as well as Postgate sound-checking in character as Bagpuss.
The CD comes as a stylish book edition and both versions include sleeve notes by writer/comedian Stewart Lee, Sarah Martin and Frances Mckee and some 'behind-the-scenes' photos. The die-cut 'shop window' vinyl edition is a limited run that will be superseded by a standard edition in the near future.
The Music From Bagpuss will be released by Earth Records on 16 November. These special deluxe editions can be pre-ordered from the SDE shop using this link or the buttons below.
Music From Bagpuss vinyl LP
Side One
Opening
We Will Wash It
I Saw A Ship
We Will Rub It
The Bony King Of Nowhere
Cat And Bird Tone Phone
Princess Suite
The Old Woman Who Lived In A Shoe
Row The Boat
We Will Lace It
Ballerina Music Box
Porcupine Song
Here's A Pin
We Will Fix It
Turtle Calypso
Side Two
The Elephant's Fable
The Miller's Song
We Will Find It
The Town Band
Song Of The Flea
We Will Do It (Undo It)
The Weaving Song
Charliemouse Weaving
Bucket's Burning
Brian O'Lynn
Lullaby For Cabbages
We Will Do It (Go Through It)
The Old Woman Tossed Up In A Basket
Mouse Ragtime
We Will Fold It
Uncle Feedle
Closing
24/48 WAV download: additional outtakes and alternate versions
Opening Words (Outtake)
Introducing The Characters (Outtake)
Characters Waking Up (Outtake)
Bagpuss Soundcheck
I Saw A Ship A-Sailing (Alternate Version)
Mermaid Song
Captain Bagpuss Poem
Owls Of Athens Story
Birdsong
Princess Suite (Outtake)
The Old Woman Who Lived In A Shoe (Outtake)
Porcupine Song (Outtake)
Bagpipers
Brian O'Lynn (Outtake)
Agricultural Jig
Percy Pratt Poem
End Music (Outtake)
Music From Bagpuss deluxe CD edition
Opening
We Will Wash It
I Saw A Ship
We Will Rub It
The Bony King Of Nowhere
Cat And Bird Tone Phone
Princess Suite
The Old Woman Who Lived In A Shoe
Row The Boat
We Will Lace It
Ballerina Music Box
Porcupine Song
Here's A Pin
We Will Fix It
Turtle Calypso
The Elephant's Fable
The Miller's Song
We Will Find It
The Town Band
Song Of The Flea
We Will Do It (Undo It)
The Weaving Song
Charliemouse Weaving
Bucket's Burning
Brian O'Lynn
Lullaby For Cabbages
We Will Do It (Go Through It)
The Old Woman Tossed Up In A Basket
Mouse Ragtime
We Will Fold It
Uncle Feedle
Closing
Plus additional outtakes and alternate versions
Opening Words (Outtake)
Introducing The Characters (Outtake)
Characters Waking Up (Outtake)
Bagpuss Soundcheck
I Saw A Ship A-Sailing (Alternate Version)
Mermaid Song
Captain Bagpuss Poem
Owls Of Athens Story
Birdsong
Princess Suite (Outtake)
The Old Woman Who Lived In A Shoe (Outtake)
Porcupine Song (Outtake)
Bagpipers
Brian O'Lynn (Outtake)
Agricultural Jig
Percy Pratt Poem
End Music (Outtake)