 News
The Pretty Things / Live at the BBC
6CD box features seven hours of audio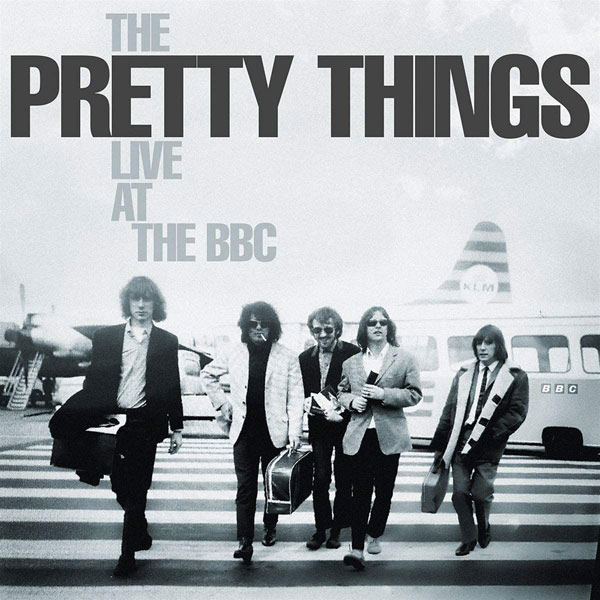 Repertoire Records have been issuing BBC-related Pretty Things compilations for almost 20 years and in June are putting out their biggest collection yet, with a six-CD package called The Pretty Things Live at the BBC.
The label originally released a two-CD set in 2003 (called The BBC Sessions) and more recently, in 2015, a four-CD collection (The Pretty Things Live at the BBC). The new six-CD collection offers an expanded version of the same content with tracks performed on shows like Saturday Club, Top Gear (in the late 1960s) and John Peel's Sunday Concert and Sounds of the '70s, Radio Flashes and In Concert, in the following decade. The final disc in this collection also includes sessions on the Mark Lamarr Show in 2009 and with Marc Riley in 2018 (before returning to the 1960s for some bonus tracks).
The discs are packed full, with each offering over 70 minutes of audio. In total, there's over seven hours of content to enjoy. The audio has been 'restored and remastered' by Eroc (Jon Astley did the 2015 set), and curator Colin Harper confirmed to SDE that this is anything but a quick rehash. He says: "There are around 50 additional tracks and all but 15 of the 2015 edition's tracks have been sourced new from 'flat masters' – be they direct from the BBC or from various off-air sources, many uncirculating. The remaining 15 have been brought into line with the rest by the mighty Eroc's quite extraordinary restoration and mastering. Sonically, this is a massive enhancement of the previous set."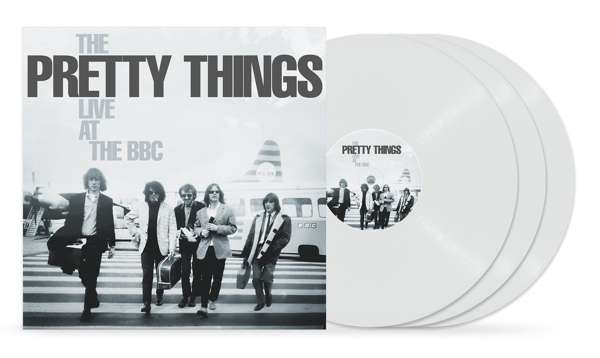 The box set collects three 'digi-sleeved' two-CD sets and Richard Morton Jack provides sleeve notes (which includes an interview with Phil May discussing the recordings) and Repertoire's Chris Welch also interviews founder member guitarist Dick Taylor, who reminisces about the early days of the Pretty Things and pays tribute to Phil May who died in 2020).
As well as the CD package, there's also a 3LP edition as well. Pressed on white vinyl, the triple-disc affair adopts a themed approach with three eras tackled by each record: R&B, Psychedelic and Hard Rock.
The Pretty Things Live at the BBC will be released on 23 July 2021 (was 25 June).
Joachim Heinz Ehrig – once the drummer with German band Grobschnitt
Compare prices and pre-order
The Pretty Things
Live at the BBC - 6CD box set
Compare prices and pre-order
The Pretty Things
Live at the BBC - 3LP white vinyl
Tracklisting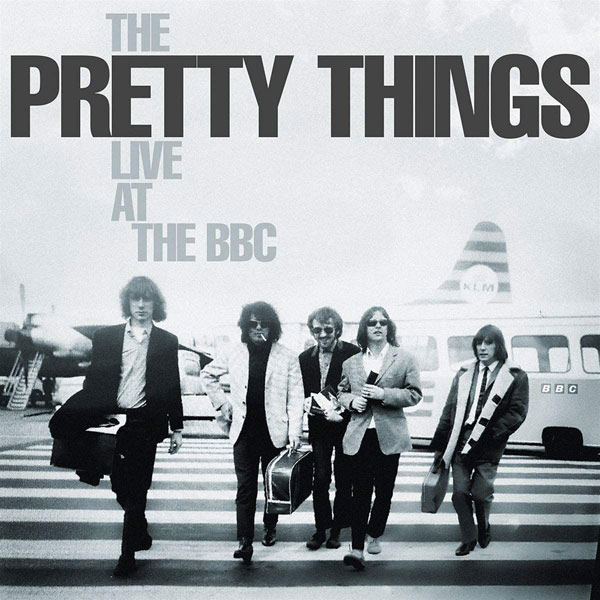 Live a the BBC The Pretty Things
/
6CD box set
Big Boss Man [Saturday Club, 10/64]
Interview: Brian Matthew [Saturday Club, 10/64]
Don't Bring Me Down [Saturday Club, 10/64]
Mama, Keep Your Big Mouth Shut [Saturday Club, 10/64]
Road Runner [Saturday Club, 10/64]
Big City [Saturday Club, 10/64]
Don't Bring Me Down [Beat Room, 24/12/64]
Mama, Keep Your Big Mouth Shut [Beat Room, 24/12/64]
Johnny B. Goode [Beat Room, 24/12/64]
We'll Be Together [Saturday Club, 9/2/65]
Interview: Brian Matthew [Saturday Club, 10/10/65]
 Sitting All Alone [Saturday Club, 10/10/65]
Big City [Saturday Club, 10/10/65]
Buzz The Jerk [Saturday Club, 10/10/65]
Rainin' In My Heart [Saturday Club, 10/10/65]
LSD [Saturday Club, 5/66]
Interview: Brian Matthew [Saturday Club, 5/66]
Midnight To Six Man [Saturday Club, 5/66]
Buzz The Jerk [Saturday Club, 5/66]
Midnight To Six Man [A Whole Scene Going, 12/1/66]
Turn My Head [Top Gear, 3/12/67]
 Introduction: Brian Matthew [Top Gear, 3/12/67]
Walking Through My Dreams [Top Gear, 3/12/67]
Defecting Grey [Top Gear, 3/12/67 – unabridged]
Talking About The Good Times [Top Gear, 3/12/67]
SF Sorrow Is Born [Top Gear, 7/11/68]
She Says Good Morning [Top Gear, 7/11/68]
Balloon Burning [Top Gear, 7/11/68]
Old Man Going [Top Gear, 7/11/68]

Total playing time: 71.31

Spring [Top Gear, 25/5/69]
Send You With Loving [Top Gear, 25/5/69 – unabridged]
Loneliest Person [Top Gear, 25/5/69]
Alexander [Top Gear, 25/5/69]
Marilyn [Top Gear, 25/5/69]
Blue Serge Blues [John Peel Sunday Concert, 14/6/70]
Introduction: John Peel [John Peel Sunday Concert, 14/6/70]
She's A Lover [John Peel Sunday Concert, 14/6/70]
Introduction: John Peel [John Peel Sunday Concert, 14/6/70
In The Square [John Peel Sunday Concert, 14/6/70]
The Letter [John Peel Sunday Concert, 14/6/70]
Rain [John Peel Sunday Concert, 14/6/70]
Introduction: John Peel [John Peel Sunday Concert, 14/6/70]
Sickle Clowns [John Peel Sunday Concert, 14/6/70]
Old Man Going [John Peel Sunday Concert, 14/6/70]
She's A Lover [Sounds of the 70s, 6/7/70]
Sickle Clowns [Sounds of the 70s, 6/7/70]
Trailer for Sounds of the 70s [Sounds of the 70s, 11/8/70]
Cries From The Midnight Circus [Sounds of the 70s, 11/9/70]
Sickle Clowns [Sounds of the 70s, 11/9/70]
Cries From The Midnight Circus [Sounds of the 70s, 11/9/70]

Total playing time: 67.41

Cold Stone [Top Gear, 15/5/71]
Stone-Hearted Mama [Top Gear, 15/5/71]
Summertime [Sounds of the 70s, 29/6/71]
Cries From The Midnight Circus [Sounds of the 70s, 29/6/71]
Slow Beginnings [Sounds of the 70s, 29/6/71]
Summertime [Radio Flashes, 14/8/71]
Slow Beginnings [Radio Flashes, 14/8/71]
Stone-Hearted Mama [Radio Flashes, 14/8/71]
Cold Stone [Radio Flashes, 14/8/71]
Circus Mind [Radio Flashes, 14/8/71]
Onion Soup [Top Gear, 25/7/72]
Love Is Good [Top Gear, 25/7/72]
Spider Woman [Top Gear, 15/8/72]
Rosalyn [Top Gear, 15/8/72]
All Night Sailor [Top Gear, 15/8/72]
Havana Bound [Sounds of the 70s, 30/10/72]
Religion's Dead [Sounds of the 70s, 30/10/72]

Total playing time: 78.20

Road Runner [Sounds of the 70s, 30/10/72]
Peter / Rip Off Train [Sounds of the 70s, 30/10/72]
Sweet Orphan Lady [Radio 1 Session 1972]
Love Is Good [Radio 1 Session 1972]
Religion's Dead [In Concert, 9/8/73] *
Havana Bound [In Concert, 9/8/73] *
Love Is Good [In Concert, 9/8/73] *
Onion Soup [In Concert, 9/8/73] *
Route 66 [In Concert, 9/8/73] *
Peter / Rip Off Train [Sounds of the 70s, 27/8/73] *
Atlanta [Sounds of the 70s, 27/8/73] *
Onion Soup / Another Bowl [Sounds of the 70s, 27/8/73] *
Route 66 [Sounds of the 70s, 27/8/73] *
Singapore Silk Torpedo [John Peel Show, 17/12/74]

Total playing time: 76.45 All tracks mono, except *stereo

Introduction: Alan Black *
Religion's Dead [In Concert, 9/8/73 – Alt Edit] *
Havana Bound [In Concert, 9/8/73 – Alt Edit] *
Love Is Good [In Concert, 9/8/73 – Alt Edit] *
Onion Soup [In Concert, 9/8/73 – Alt Edit] *
Route 66 [In Concert, 9/8/73 – Alt Edit] *
Old Man Going [In Concert, 12/74] *
Living Without You [In Concert, 12/74] *
Joey [In Concert, 12/74] *
Belfast Cowboys / Bruise In The Sky [In Concert, 12/74] *
It's Been So Long [In Concert, 12/74] *
Bridge Of God [In Concert, 12/74] *
Come Home Momma [In Concert, 12/74] *
Singapore Silk Torpedo [In Concert, 12/74] *
Not Only But Also [John Peel, 24/7/75] *

Total playing time: 74.50 All tracks mono, except *stereo

Big City [John Peel, 24/7/75]
Belfast Cowboys / Bruise In The Sky [John Peel, 24/7/75]
Introduction: Brian Matthew
Dream / Joey [John Peel, 24/7/75]
Interview: Mark Lamarr [Mark Lamarr Show Radio 2, 28/3/09] *
Come See Me [Mark Lamarr Show Radio 2, 28/3/09] *
The Beat Goes On [Mark Lamarr Show Radio 2, 28/3/09] *
Rosalyn [Mark Lamarr Show Radio 2, 28/3/09] *
SF Sorrow Is Born [Mark Lamarr Show Radio 2, 28/3/09] *
LSD / Old Man Going [Mark Lamarr Show Radio 2, 28/3/09] *
Can't Judge A Book By Looking At The Cover [Marc Riley, BBC 6
Music 17/7/18] *
Mr Evasion [Marc Riley, BBC 6 Music 17/7/18] *
Rosalyn [Marc Riley, BBC 6 Music 17/7/18] *
The Same Sun [Marc Riley, BBC 6 Music 17/7/18] *
She Says Good Morning [Marc Riley, BBC 6 Music 17/7/18] *
Defecting Grey [Top Gear, 3/12/67]
Send You With Loving [Top Gear, 25/5/69]
Cries From The Midnight Circus [Sounds of the 70s, 21/6/70]
Introduction: Dave Symonds [Sounds of the 70s, 6/7/70]
In The Square [Sounds of the 70s, 6/7/70]
The Letter [Sounds of the 70s, 6/7/70]
Rain [Sounds of the 70s, 6/7/70]

Total playing time: 72.20 All tracks mono, except *stereo
Tracklisting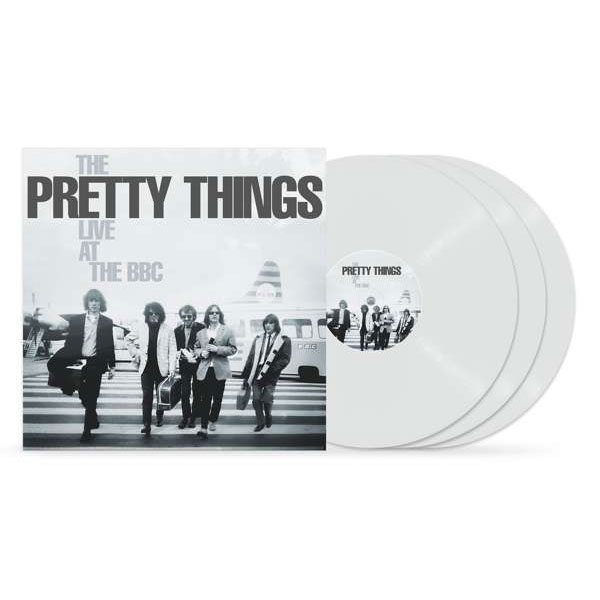 Live at the BBC The Pretty Things
/
3LP white vinyl
Side 1

Big Boss Man (Saturday Club, 10/64)
Don't Bring Me Down [Edit] (Saturday Club, 10/64)
Mama, Keep Your Big Mouth Shut (Saturday Club, 10/64)
Road Runner (Saturday Club, 10/64)
Big City (Saturday Club, 10/64)
Don't Bring Me Down (Beat Room, 24/12/64)
Mama, Keep Your Big Mouth Shut (Beat Room, 24/12/64)
Johnny B. Goode (Beat Room, 24/12/64)

Side 2

We'll Be Together (Saturday Club, 9/2/65)
Sitting All Alone (Saturday Club, 10/10/65)
Big City (Saturday Club, 10/10/65)
Buzz The Jerk (Saturday Club, 10/10/65)
Raining In My Heart (Saturday Club, 10/10/65)
LSD (Saturday Club, 5/66)
Midnight To Six Man (Saturday Club, 5/66)
Buzz The Jerk (Saturday Club, 5/66)
Rosalyn (Mark Lamarr, Radio 2 28/3/09)

Side 1

Turn My Head (Top Gear, 3/12/67)
Walking Through My Dreams (Top Gear, 3/12/67)
Defecting Grey (Top Gear, 3/12/67)
SF Sorrow Is Born (Top Gear, 17/11/68)
She Says Good Morning (Top Gear, 17/11/68)
Balloon Burning (Top Gear, 17/11/68)

Side 2

Old Man Going (Top Gear, 17/11/68)
The Loneliest Person (Top Gear, 25/5/69)
Spring (Top Gear, 25/5/69)
LSD / Old Man Going [Edit] (Mark Lamarr, Radio 2 28/3/09)
Mr Evasion (Marc Riley, BBC6 17/7/18)
She Says Good Morning (Marc Riley, BBC6 17/7/18)

Side 1

She's A Lover (Sounds of the 70s, 6/7/70)
Sickle Clowns (Sounds of the 70s, 6/7/70)
Cries From The Midnight Circus (Sounds of the 70s, 11/9/70)
Blue Serge Blues (John Peel Sunday Concert, 14/6/70)
 Summertime (Sounds of the 70s, 29/6/71)

Side 2

Cold Stone (Top Gear, 15/5/71)
Stone Hearted Mama (Top Gear, 15/5/71)
Spider Woman (Top Gear, 15/8/72)
Religion's Dead [Edit] (Sounds of the 70s, 30/10/72)
Circus Mind (Radio Flashes, 14/8/71)