 News
The Rolling Stones / Japanese 'paper sleeve' CDs available at a great price
High quality Japanese mini-LP CDs at bargain prices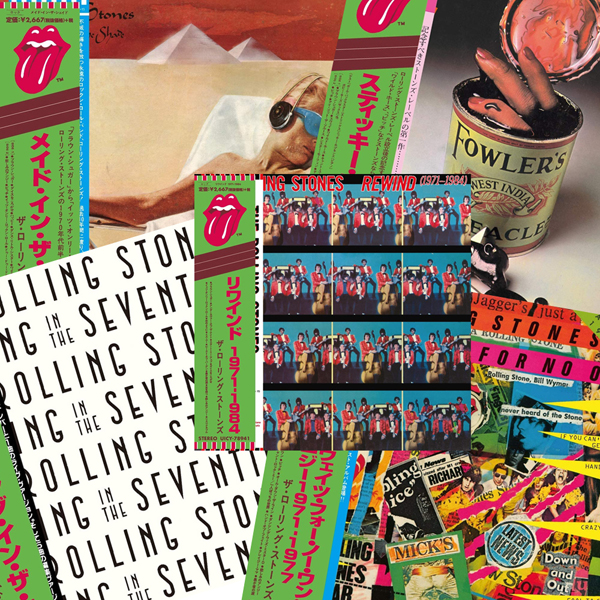 Universal Music Catalogue (UMC) are making available globally, some 'paper sleeve' (or vinyl replica) CD Rolling Stones reissues that have been exclusive to Japan, until now.

The five releases are made up of four compilations, originally issued in the 1970s and early eighties, and the Spanish version of 1971 studio album Sticky Fingers which has a very different (and quite literal) cover treatment.
These CDs were last issued in Japan in April last year, but for the first time are now released globally in early December. These are identical to what was released in 2019 and each CD comes with exquisite packaging, with the original vinyl design reproduced in miniature, OBI-strips, inner sleeves replicated and booklets with lyrics in English and Japanese. The CDs are protected with the usual Japanese 'rice paper' style sleeves and Sticky Fingers additionally includes a card insert of the front cover.
These are SHM-CDs (which stands for Super High Material) and, in theory, are higher quality than standard CDs although in reality it's a claim that should be taken with a pinch of salt. The important thing is that they are fully compatible with all standard CD players.
The compilations on offer here are Made in the Shade (1975), Time Waits For No One: Anthology 1971-1977 (issued in 1979), Sucking in the Seventies (1981) and Rewind (1984). The Stones were certainly not shy in coming forward with the various 'best of' collections! As well as the different artwork, the Spanish version of Sticky Fingers replaces 'Sister Morphine' with 'Let It Rock (live)'.
The audio is mainly from 2005 and 2009 remasters. These CDs are normally around the £20 mark in Japan before you pay for shipping and import duty, so the UK price of £12.99 is fantastic and this is a great opportunity to these acquire these brilliantly packaged CD reissues and some of these semi-forgotten 'Stones compilations
All five are released on 4 December 2020.
Sticky Fingers (Spanish Version) (1971)
1. Brown Sugar 3:48
2. Sway 3:50
3. Wild Horses 5:42
4. Can't You Hear Me Knocking 7:14
5. You Gotta Move 2:32
6. Bitch 3:38
7. I Got the Blues 3:54
8. Let It Rock (live)
9. Dead Flowers 4:03
10. Moonlight Mile 5.56
Made in the Shade (1975)
Brown Sugar 3:48
Tumbling Dice 3:45
Happy 3:04
Dance Little Sister 4:11
Wild Horses 5:42
Angie 4:33
Bitch 3:38
It's Only Rock'n Roll (But I Like It) 5:07
Doo Doo Doo Doo Doo (Heartbreaker) 3:26
Rip This Joint 2:22
Time Waits For No One: Anthology 1971-1977 (1979)
Time Waits for No One – 6:39 From It's Only Rock 'n' Roll
Bitch – 3:37 From Sticky Fingers
All Down the Line – 3:48 From Exile on Main St.
Dancing with Mr. D – 4:52 From Goats Head Soup
Angie – 4:33 From Goats Head Soup
Star Star – 4:26 From Goats Head Soup
If You Can't Rock Me / Get Off Of My Cloud – 4:56 From Love You Live
Hand of Fate – 4:28 From Black and Blue
Crazy Mama – 4:34 From Black and Blue
Fool to Cry – 5:04 From Black and Blue
Sucking in the Seventies (1981)
Shattered – 3:46 From Some Girls (1978)
Everything Is Turning to Gold – 4:06 B-side to "Shattered"
Hot Stuff – 3:30 Edited version from Black and Blue (1976)
Time Waits for No One – 4:25 Edited version from It's Only Rock 'n' Roll (1974)
Fool to Cry – 4:07 Edited version from Black and Blue (1976)
Mannish Boy – 4:38 Edited version from Love You Live (1977)
When the Whip Comes Down (Live version) – 4:35 Recorded live in Detroit 1978
If I Was a Dancer (Dance Pt. 2)  – 5:50 Previously unreleased, from the Emotional Rescue sessions (1980)
Crazy Mama – 4:06 Edited version from Black and Blue (1976)
Beast of Burden – 3:27 Edited version from Some Girls (1978)
Rewind (1984)
1 Brown Sugar
2. Undercover of the Night
3. Start Me Up
4. Tumbling Dice
5. It's Only Rock 'n' Roll (But I Like It)
6. She's So Cold
7. Miss You
8. Beast of Burden
9 Fool To Cry
10 Waiting on a Friend
11 Angie
12 Respectable