 News
The Songs of Bacharach & Costello
'Painted From Memory' remastered & expanded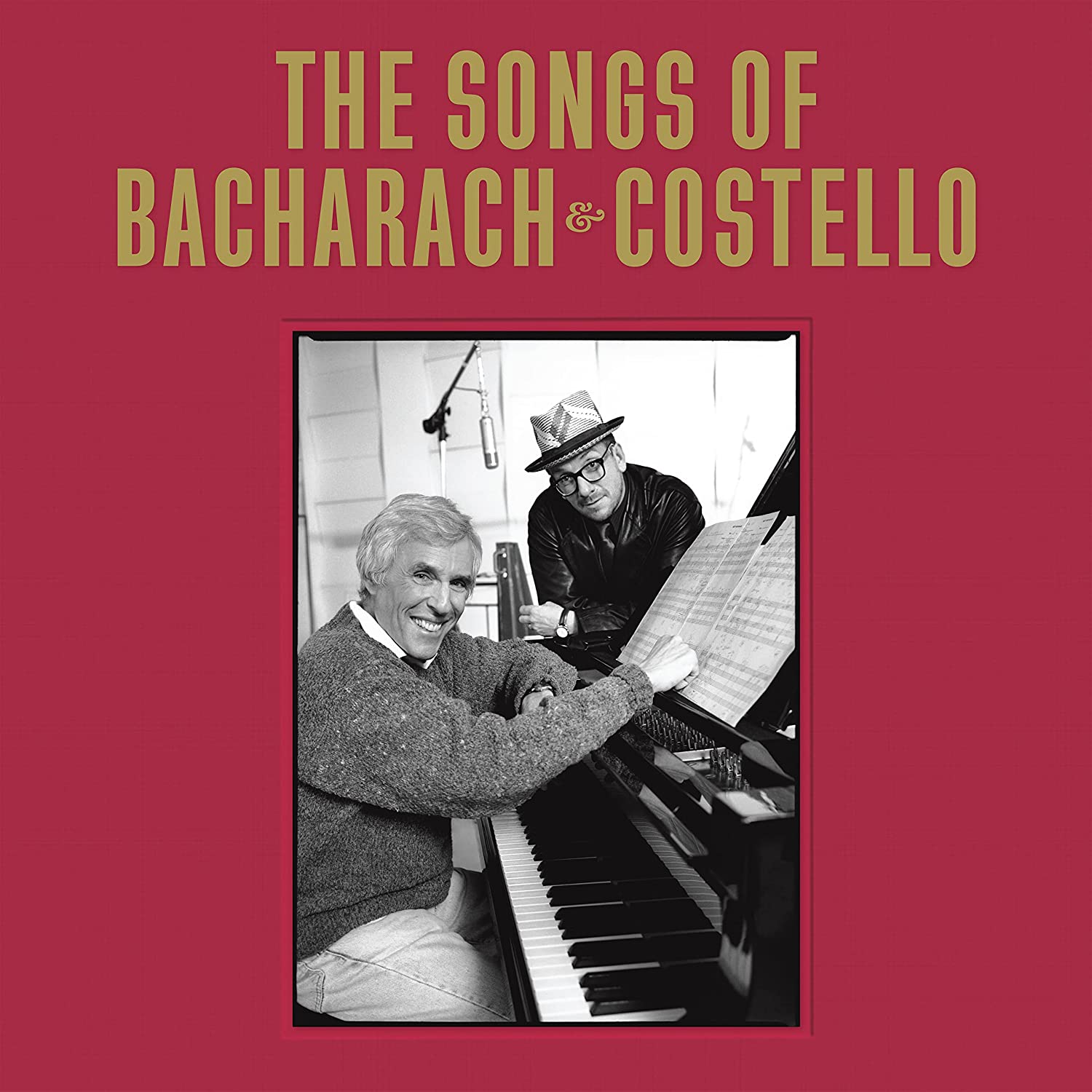 Super Deluxe Edition box no longer 'D2C' only
Elvis Costello has compiled a new release called The Songs of Bacharach & Costello that brings together all of the published songs that he has written with Burt Bacharach.
This release celebrates the three decade songwriting partnership between the pair and first and foremost it offers a 2023 remaster (by Bob Ludwig from the original tapes) of the acclaimed 1999 album Painted From Memory. This wasn't originally issued on vinyl back in the day, although a Mobile Fidelity reissue was put out in 2017.
The Songs of Bacharach & Costello also includes the entirety (on CD) of Taken From Life, including unreleased songs from the proposed Painted From Memory musical score and three newly recorded compositions.
Formats available include a pricey 4CD+2LP super deluxe edition (now widely available) which offers a 2LP vinyl set – of which three sides are the remastered Painted From Memory and the fourth and final side is 'Selections from Taken From Life' (6 tracks out of 16) – and 4CDs. The first two CDs are Painted From Memory and the full 'Taken From Life', while CD 3 and CD 4 offer rare live performances (with and without Bacharach). The super deluxe also offers a "detailed 10,000 word essay by Costello".
A 2LP vinyl package is available on its own, as is a 2CD set which comprises CD 1 and CD 2 from the super deluxe. There's no option to get the 4CDs by themselves.
The Songs of Bacharach & Costello is released on 3 March 2023, via Universal Music.
Compare prices and pre-order
Elvis Costello Burt Bacharach
The Songs of bacharach and Costello - 4CD+2LP box
Compare prices and pre-order
Burt Bacharach;Elvis Costello
The Songs of bacharach and Costello - 2LP vinyl
Compare prices and pre-order
Elvis Costello Burt Bacharach
The songs of bacharach and Costello - 2CD set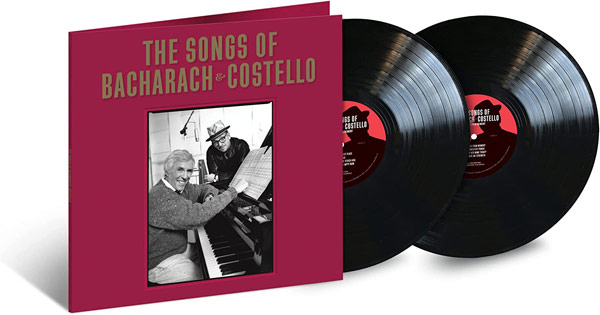 Tracklisting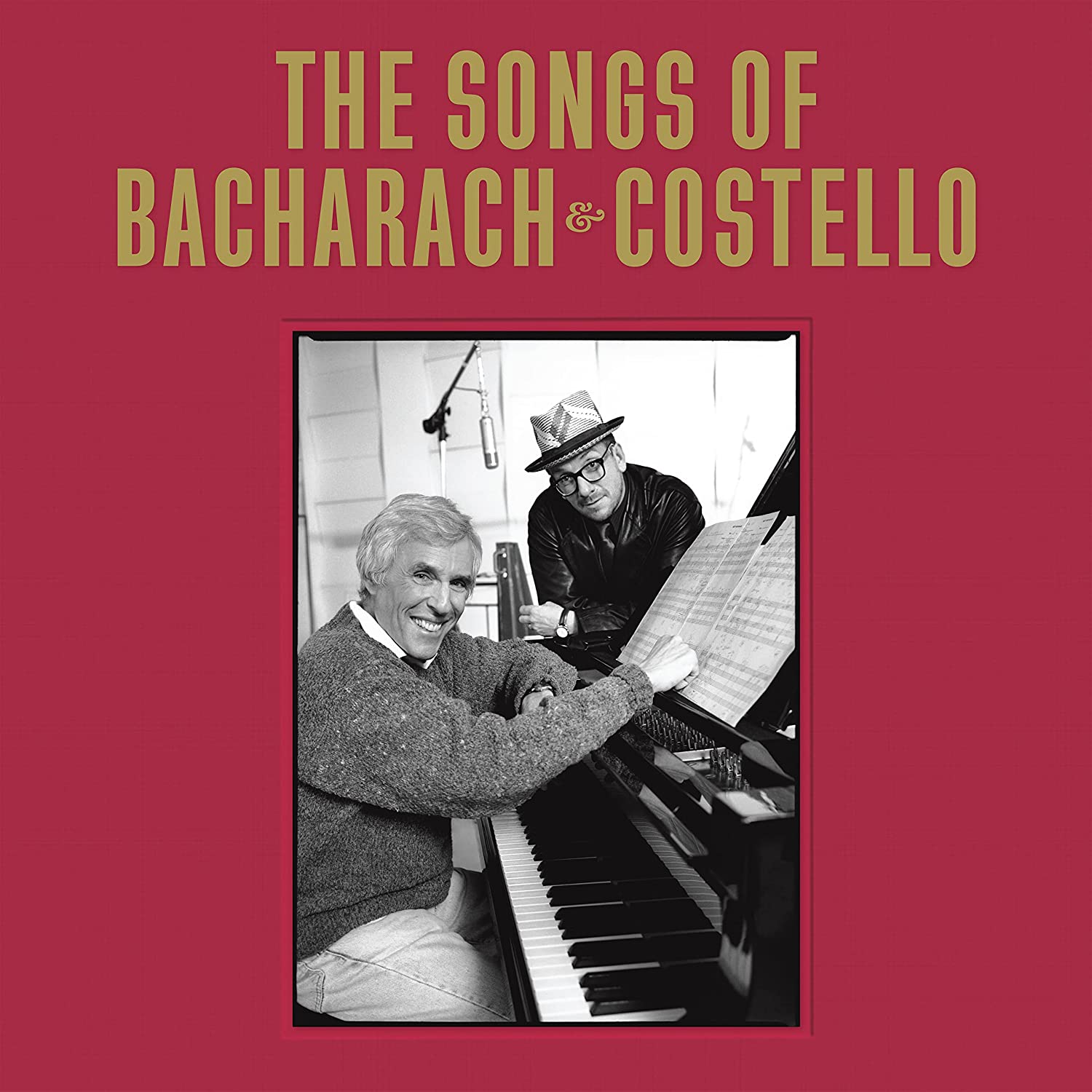 The Songs of Bacharach & Costello Burt Bacharach & Elvis Costello
/
LP 1

Side A – Painted From Memory

Elvis Costello & Burt Bacharach -In The Darkest Place 2023 Remaster
Elvis Costello & Burt Bacharach – Toledo 2023 Remaster
Elvis Costello & Burt Bacharach – I Still Have That Other Girl 2023 Remaster
Elvis Costello & Burt Bacharach – This House Is Empty Now 2023 Remaster

Side B – Painted From Memory

Elvis Costello & Burt Bacharach – Tears At The Birthday Party 2023 Remaster
Elvis Costello & Burt Bacharach – Such Unlikely Lovers 2023 Remaster
Elvis Costello & Burt Bacharach – My Thief 2023 Remaster
Elvis Costello & Burt Bacharach – The Long Division 2023 Remaster

LP 2

Side C – Painted From Memory

Elvis Costello & Burt Bacharach – Painted From Memory 2023 Remaster
Elvis Costello & Burt Bacharach – The Sweetest Punch 2023 Remaster
Elvis Costello & Burt Bacharach – What's Her Name Today? 2023 Remaster
Elvis Costello & Burt Bacharach – God Give Me Strength 2023 Remaster

Side D – Selections From Taken For Life

Elvis Costello – You Can Have Her
Audra Mae – Don't Look Now
Audra Mae – I Looked Away
Elvis Costello & The Imposters – Taken From Life
Audra Mae – What's Her Name Today?
Elvis Costello – Look Up Again

CD 1: Painted From Memory (2023 remaster)

Elvis Costello & Burt Bacharach – In The Darkest Place 2023 Remaster
Elvis Costello & Burt Bacharach – Toledo 2023 Remaster
Elvis Costello & Burt Bacharach – I Still Have That Other Girl 2023 Remaster
Elvis Costello & Burt Bacharach – This House Is Empty Now 2023 Remaster
Elvis Costello & Burt Bacharach – Tears At The Birthday Party 2023 Remaster
Elvis Costello & Burt Bacharach – Such Unlikely Lovers 2023 Remaster
Elvis Costello & Burt Bacharach – My Thief 2023 Remaster
Elvis Costello & Burt Bacharach – The Long Division 2023 Remaster
Elvis Costello & Burt Bacharach – Painted From Memory 2023 Remaster
Elvis Costello & Burt Bacharach – The Sweetest Punch 2023 Remaster
Elvis Costello & Burt Bacharach – What's Her Name Today? 2023 Remaster
Elvis Costello & Burt Bacharach – God Give Me Strength 2023 Remaster

CD 2: Taken From Life

Elvis Costello – You Can Have Her
Cassandra Wilson & Bill Frisell – Painted From Memory
Elvis Costello & The Imposters – Don't Look Now
Elvis Costello & The Imposters – Everyone's Playing House
Audra Mae – I Looked Away
Elvis Costello & The Imposters – Taken From Life
Don Byron & Bill Frisell – My Thief
Jenni Muldaur – Shameless
Elvis Costello & The Imposters – Photographs Can Lie
Audra Mae – In The Darkest Place
Elvis Costello & The Imposters – Why Won't Heaven Help Me?
Jenni Muldaur – Stripping Paper
Elvis Costello & Imposters – He's Given Me Things
Audra Mae – What's Her Name Today?
Elvis Costello – Look Up Again
Burt Bacharach – Lie Back & Think Of England

CD 3: It's a Lonely World (live)

Elvis Costello & Steve Nieve – Toledo Live In Tokyo, Japan, Nakano Sunplaza Hall – February 8, 1999
Elvis Costello & Steve Nieve – In The Darkest Place Live In Melbourne, Australia, Athenaeum Theatre – February 16, 1999
Elvis Costello & Steve Nieve – My Thief Live In Tokyo, Japan, Nakano Sunplaza Hall – February 8, 1999
Elvis Costello & Steve Nieve – I Still Have The Other Girl Live In Tokyo, Japan, Shibuya Hall – February 10, 1999
Elvis Costello & Steve Nieve – I'll Never Fall In Love Again Live In Toronto, Ontario, Massey Hall – June 16, 1999
Elvis Costello & Steve Nieve – God Give Me Strength Live In Toronto, Ontario, Massey Hall – June 16, 1999
Elvis Costello, Steve Nieve & The Swedish Radio Symphony Orchestra – Painted From Memory Live In Stockholm, Sweden, Berwaldhallen – January, 5, 1999
Elvis Costello, Steve Nieve & The Swedish Radio Symphony Orchestra – What's Her Name Today? Live In Stockholm, Sweden, Berwaldhallen – January, 5, 1999
Elvis Costello & Burt Bacharach – This House Is Empty Now Live In New York City, Late Night with Conan O'Brien – Nov. 27, 1998

CD 4: Costello Sings Bacharach & David

Elvis Costello & The Attractions – I Just Don't Know What To Do With Myself Live in Norwich, UK, University of East Anglia – October 17, 1977
Elvis Costello & Nick Lowe – Baby It's You
Elvis Costello – Please Stay
Elvis Costello & Burt Bacharach – I'll Never Fall In Love Again
Elvis Costello & Burt Bacharach – Make It Easy On Yourself Live in London, UK, Royal Festival Hall – October 29, 1998
Elvis Costello & Burt Bacharach – My Little Red Book Live in London, UK, Royal Festival Hall – October 29, 1998
Elvis Costello & Burt Bacharach – Anyone Who Had A Heart Live in London, UK, Royal Festival Hall – October 29, 1998
Elvis Costello & Burt Bacharach – I Just Don't Know What To Do With Myself Live In New York City, Sessions at West 54th – October 18, 1998

LP 1

Side A – Painted From Memory

Elvis Costello & Burt Bacharach -In The Darkest Place 2023 Remaster
Elvis Costello & Burt Bacharach – Toledo 2023 Remaster
Elvis Costello & Burt Bacharach – I Still Have That Other Girl 2023 Remaster
Elvis Costello & Burt Bacharach – This House Is Empty Now 2023 Remaster

Side B – Painted From Memory

Elvis Costello & Burt Bacharach – Tears At The Birthday Party 2023 Remaster
Elvis Costello & Burt Bacharach – Such Unlikely Lovers 2023 Remaster
Elvis Costello & Burt Bacharach – My Thief 2023 Remaster
Elvis Costello & Burt Bacharach – The Long Division 2023 Remaster

LP 2

Side C – Painted From Memory

Elvis Costello & Burt Bacharach – Painted From Memory 2023 Remaster
Elvis Costello & Burt Bacharach – The Sweetest Punch 2023 Remaster
Elvis Costello & Burt Bacharach – What's Her Name Today? 2023 Remaster
Elvis Costello & Burt Bacharach – God Give Me Strength 2023 Remaster

Side D – Selections From Taken For Life

Elvis Costello – You Can Have Her
Audra Mae – Don't Look Now
Audra Mae – I Looked Away
Elvis Costello & The Imposters – Taken From Life
Audra Mae – What's Her Name Today?
Elvis Costello – Look Up Again

CD 1: Painted From Memory (2023 remaster)

Elvis Costello & Burt Bacharach – In The Darkest Place 2023 Remaster
Elvis Costello & Burt Bacharach – Toledo 2023 Remaster
Elvis Costello & Burt Bacharach – I Still Have That Other Girl 2023 Remaster
Elvis Costello & Burt Bacharach – This House Is Empty Now 2023 Remaster
Elvis Costello & Burt Bacharach – Tears At The Birthday Party 2023 Remaster
Elvis Costello & Burt Bacharach – Such Unlikely Lovers 2023 Remaster
Elvis Costello & Burt Bacharach – My Thief 2023 Remaster
Elvis Costello & Burt Bacharach – The Long Division 2023 Remaster
Elvis Costello & Burt Bacharach – Painted From Memory 2023 Remaster
Elvis Costello & Burt Bacharach – The Sweetest Punch 2023 Remaster
Elvis Costello & Burt Bacharach – What's Her Name Today? 2023 Remaster
Elvis Costello & Burt Bacharach – God Give Me Strength 2023 Remaster

CD 2: Taken From Life

Elvis Costello – You Can Have Her
Cassandra Wilson & Bill Frisell – Painted From Memory
Elvis Costello & The Imposters – Don't Look Now
Elvis Costello & The Imposters – Everyone's Playing House
Audra Mae – I Looked Away
Elvis Costello & The Imposters – Taken From Life
Don Byron & Bill Frisell – My Thief
Jenni Muldaur – Shameless
Elvis Costello & The Imposters – Photographs Can Lie
Audra Mae – In The Darkest Place
Elvis Costello & The Imposters – Why Won't Heaven Help Me?
Jenni Muldaur – Stripping Paper
Elvis Costello & Imposters – He's Given Me Things
Audra Mae – What's Her Name Today?
Elvis Costello – Look Up Again
Burt Bacharach – Lie Back & Think Of England