 News
Tim Bowness / Late Night Laments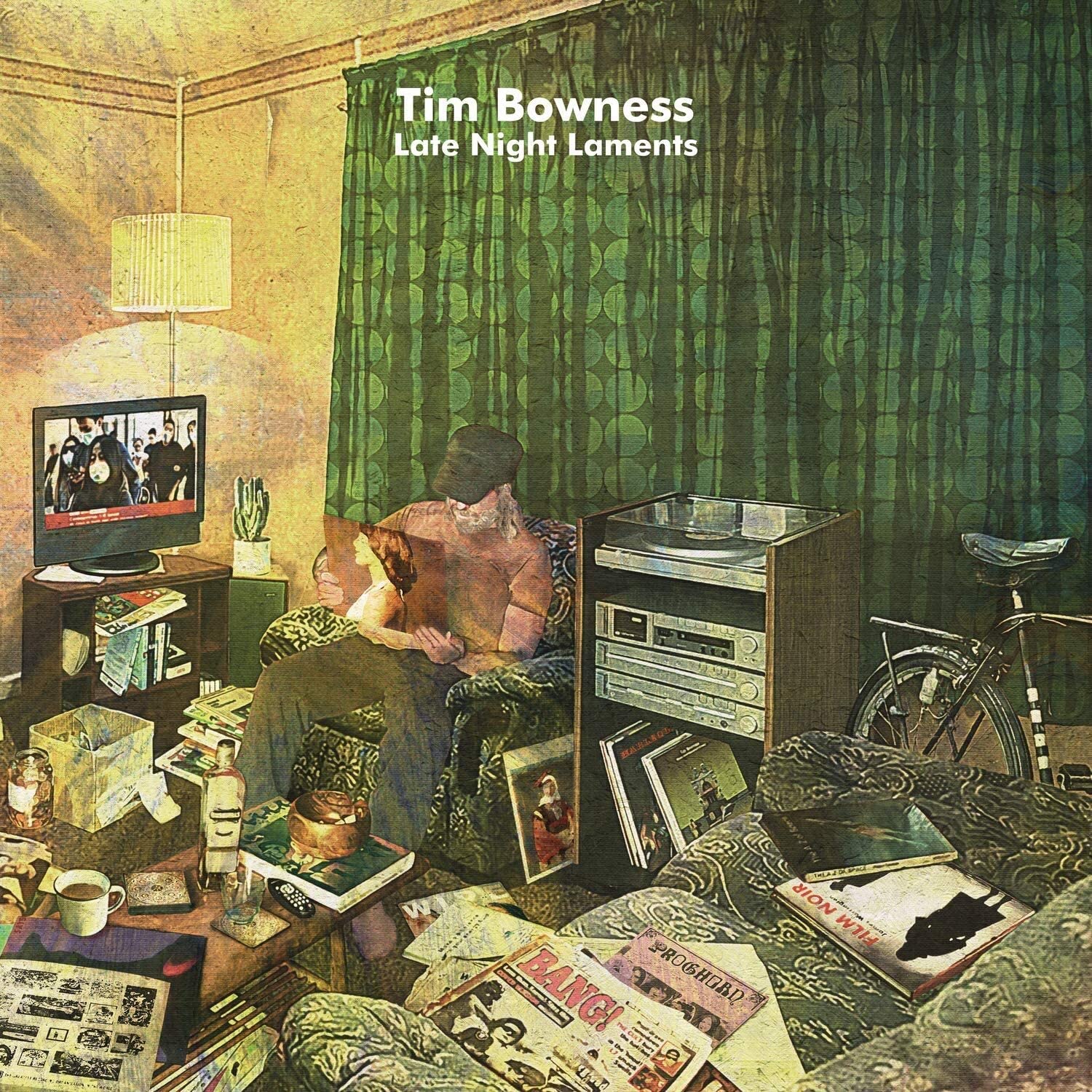 New album, due out at the end of the month
No-Man's Tim Bowness returns with a new solo album, Late Night Laments, at the end of this month.

Described as a "collection of lush, atmospheric songs with a wide lyrical scope" this is Tim's sixth solo album and follows hot on the heels of last year's Flowers at the Scene.
Expect electronic soundscapes, acoustic instrumentation and unexpected rhythms set to "dark lyrical themes" such as meditations on generational divides, ideologically motivated violence, social exclusion, and "a much-loved children's author's mental breakdown".
Late Night Laments is produced by Bowness and Brian Hulse, mixed by Steven Wilson and mastered by Calum Malcolm. It features performances by musicians such as Richard Barbieri, Colin Edwin, Kavus Torabi, Melanie Woods, Tom Atherton and Evan Carson.
With the usual brilliant artwork (courtesy of  Jarrod Gosling) the album is available as a 2CD set with an extra five tracks (Cheerleaders For The Damned) on the bonus disc. The vinyl comes with a CD of the album and a special limited one-off pressing on blue vinyl (with a signed art print) is available via Burning Shed.
Late Night Laments will be released on 28 August 2020.
Compare prices and pre-order
Tim Bowness
Late Night Laments - 2CD edition
Compare prices and pre-order
Tim Bowness
Late Night Laments - black vinyl LP + CD
Late Night Laments 2CD edition
1) Northern Rain (4.49)
2) I'm Better Now (3.52)
3) Darkline (3.57)
4) We Caught The Light (3.56)
5) The Hitman Who Missed (3.21)
6) Never A Place (4.41)
7) The Last Getaway (4.55)
8) Hidden Life (5.05)
9) One Last Call (4.15)
Cheerleaders For The Damned (extras)
1) The Other Side (4.11)
2) Beauty In Decay (3.43)
3) Beyond The Firing Line (4.19)
4) Cheerleader For The Damned (2.52)
5) War Games By The Sea (3.00)
Late Night Laments vinylLP
Side One
1) Northern Rain (4.49)
2) I'm Better Now (3.52)
3) Darkline (3.57)
4) We Caught The Light (3.56)
5) The Hitman Who Missed (3.21)
Side Two
1) Never A Place (4.41)
2) The Last Getaway (4.55)
3) Hidden Life (5.05)
4) One Last Call (4.15)
—————————————————
Produced by Tim Bowness and Brian Hulse
Mixed by Steven Wilson
Mastered by Calum Malcolm
Tim Bowness – vocals / backing vocals / synths 2, 9 / samples 2, 9 / ukuleles 4 / fx 2, 6
Brian Hulse – synths / keyboards / guitars / programmed drums / backing vocals 4
with
Tom Atherton – vibraphone 1, 4, 5, 6, 9
Richard Barbieri – synths and synth solos 3, 7
Evan Carson – drums and percussion 1, 4
Colin Edwin – double bass 4, 5, 9
Alistair Murphy – dianatron 5
Kavus Torabi – glissando guitar and guitar solo 2 / backing vocals 4
Melanie Woods – backing vocals 1, 2, 4