 News
Tom Petty and the Heartbreakers / Best of Everything 1976 – 2016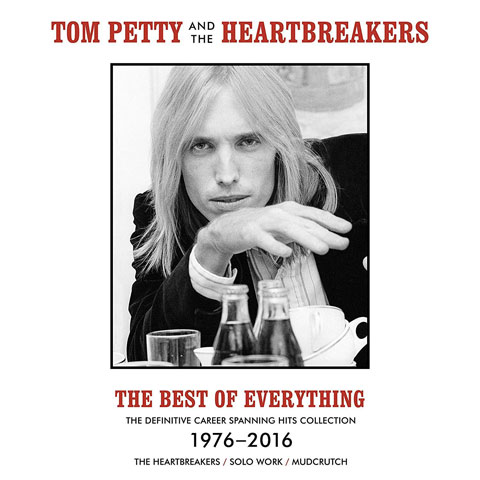 With the American Treasure box now out (at least on CD) news reaches SDE of another Tom Petty collection that's due next month. As the title suggests, The Best of Everything: The Definitive Career Spanning Hits Collection 1976-2016 is more focussed on 'hits' than rarities, although inevitably the record label has added a couple of unreleased tracks.

The Best Of Everything is a two-CD or 4LP package. It spans 40 years, includes 37 tracks (non-chronologically) and covers Tom Petty as a solo artist, with The Heartbreakers and also includes a couple of tracks from 2016's Mudcrutch 2.
The two unreleased offerings are an alternate version of 'The Best Of Everything' (which you can preview above) and the last song on the compilation 'For Real'.
Cameron Crowe has written an essay which will features in the booklet and The Best of Everything will be released on 16 November 2018.
Compare prices and pre-order
Tom Petty And The Heartbreakers
The Best Of Everything - 4LP vinyl box
Compare prices and pre-order
Tom Petty And The Heartbreakers
The Best Of Everything - 2CD edition
The Best of Everything 1976 – 2016 2CD edition
CD 1
1. Free Fallin' – Tom Petty
2. Mary Jane's Last Dance – Tom Petty and the Heartbreakers
3. You Wreck Me – Tom Petty
4. I Won't Back Down – Tom Petty
5. Saving Grace – Tom Petty
6. You Don't Know How It Feels – Tom Petty
7. Don't Do Me Like That – Tom Petty and the Heartbreakers
8. Listen To Her Heart – Tom Petty and the Heartbreakers
9. Breakdown – Tom Petty and the Heartbreakers
10. Walls (Circus) – Tom Petty and the Heartbreakers
11. The Waiting – Tom Petty and the Heartbreakers
12. Don't Come Around Here No More – Tom Petty and the Heartbreakers
13. Southern Accents – Tom Petty and the Heartbreakers
14. Angel Dream (No2) – Tom Petty and the Heartbreakers
15. Dreamville – Tom Petty and the Heartbreakers
16. I Should Have Known It – Tom Petty and the Heartbreakers
17. Refugee – Tom Petty and the Heartbreakers
18. American Girl – Tom Petty and the Heartbreakers
19. The Best Of Everything (Alternate Version) – Tom Petty and the Heartbreakers
CD 2
1. Wildflowers – Tom Petty
2. Learning To Fly – Tom Petty and the Heartbreakers
3. Here Comes My Girl – Tom Petty and the Heartbreakers
4. The Last DJ – Tom Petty and the Heartbreakers
5. I Need To Know – Tom Petty and the Heartbreakers
6. Scare Easy – Mudcrutch
7. You Got Lucky – Tom Petty and the Heartbreakers
8. Runnin' Down A Dream – Tom Petty
9. American Dream Plan B – Tom Petty and the Heartbreakers
10. Stop Draggin' My Heart Around (featuring Stevie Nicks) – Tom Petty and the Heartbreakers
11. Trailer – Mudcrutch
12. Into The Great Wide Open – Tom Petty and the Heartbreakers
13. Room At The Top – Tom Petty and the Heartbreakers
14. Square One – Tom Petty
15. Jammin' Me – Tom Petty and the Heartbreakers
16. Even The Losers – Tom Petty and the Heartbreakers
17. Hungry No More – Mudcrutch
18. I Forgive It All – Mudcrutch
19. For Real – Tom Petty and the Heartbreakers
The Best of Everything 1976 – 2016 4LP vinyl box
LP1
SIDE A
1. Free Fallin' – Tom Petty
2. Mary Jane's Last Dance – Tom Petty & The Heartbreakers
3. You Wreck Me – Tom Petty
4. I Won't Back Down – Tom Petty
5. Saving Grace – Tom Petty
LP1
SIDE B
1. You Don't Know How It Feels – Tom Petty
2. Don't Do Me Like That – Tom Petty & The Heartbreakers
3. Listen To Her Heart – Tom Petty & The Heartbreakers
4. Breakdown – Tom Petty & The Heartbreakers
5. Walls (Circus) – Tom Petty & The Heartbreakers
LP2
SIDE A
1. The Waiting – Tom Petty & The Heartbreakers
2. Don't Come Around Here No More – Tom Petty & The Heartbreakers
3. Southern Accents – Tom Petty & The Heartbreakers
4. Angel Dream (No. 2) – Tom Petty & The Heartbreakers
5. Dreamville – Tom Petty & The Heartbreakers
LP2
SIDE B
1. I Should Have Known It – Tom Petty & The Heartbreakers
2. Refugee – Tom Petty & The Heartbreakers
3. American Girl – Tom Petty & The Heartbreakers
4. The Best Of Everything (Alternate Version) – Tom Petty & The Heartbreakers*
LP3
SIDE A
1. Wildflowers – Tom Petty
2. Learning To Fly – Tom Petty & The Heartbreakers
3. Here Comes My Girl – Tom Petty & The Heartbreakers
4. The Last DJ – Tom Petty & The Heartbreakers
5.I Need To Know – Tom Petty & The Heartbreakers
LP3
SIDE B
1. Scare Easy – Mudcrutch
2. You Got Lucky – Tom Petty & The Heartbreakers
3. Runnin' Down A Dream – Tom Petty
4. American Dream Plan B – Tom Petty & The Heartbreakers
5. Stop Draggin' My Heart Around (featuring Stevie Nicks) – Tom Petty & The Heartbreakers
LP4
SIDE A
1. Trailer – Mudcrutch
2. Into The Great Wide Open – Tom Petty & The Heartbreakers
3. Room At The Top – Tom Petty & The Heartbreakers
4. Square One – Tom Petty
5. Jammin' Me – Tom Petty & The Heartbreakers
LP4
SIDE B
1. Even The Losers – Tom Petty & The Heartbreakers
2. Hungry No More – Mudcrutch
3. I Forgive It All – Mudcrutch
4. For Real – Tom Petty & The Heartbreakers*
*Previously Unreleased