 News
Two Tone: The Albums / 8CD box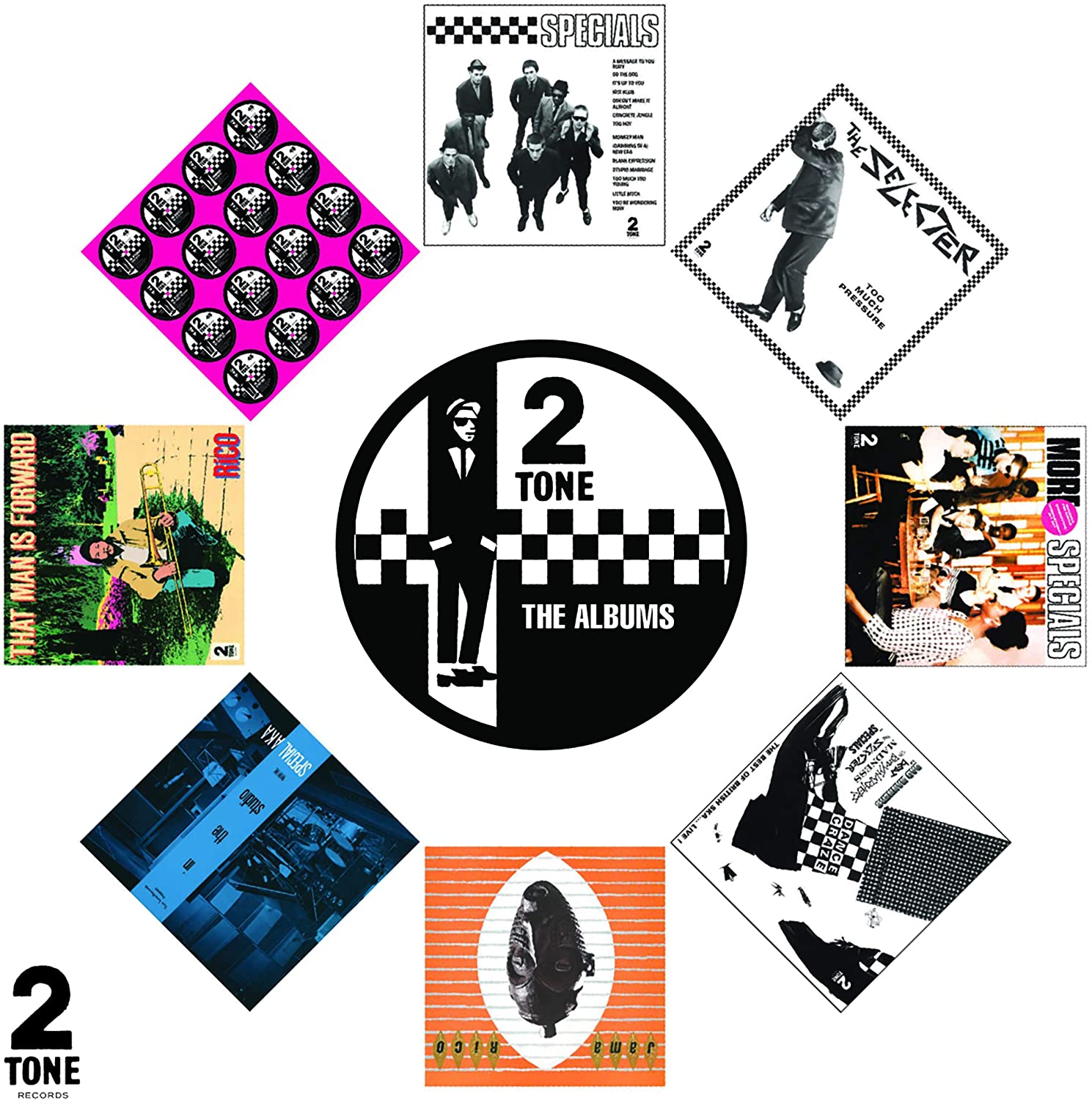 40th anniversary 8CD box set
Chrysalis Records will issue an Two Tone: The Albums, a new 8CD box set that marks the 40th anniversary of Specials found Jerry Dammers' label.

This box collects the first eight albums issued on the label, with offerings by The Specials, The Selecter and Rico, along with live concert album 'Dance Craze' and the 'This Are Two Tone' which collects a host of non-album singles and B-sides.
Artwork has been overseen by Jerry Dammers and this features new sleeve notes by Jason Weir and Peter Walsh.
Two Tone: The Albums will be issued on 4 September 2020.
Compare prices and pre-order
Various Artists
Two Tone: The Albums - 8CD box
CD1: The Specials 'Specials'
1. A Message To You Rudy
2. Do The Dog
3. It's Up To You
4. Nite Klub
5. Doesn't Make It Alright
6. Concrete Jungle
7. Too Hot
8. Monkey Man
9. (Dawning Of A) New Era
10. Blank Expression
11. Stupid Marriage
12. Too Much Too Young
13. Little Bitch
14. You're Wondering Now
CD2: The Selecter 'Too Much Pressure'
1. Three Minute Hero
2. Everyday
3. They Make Me Mad
4. Missing Words
5. Danger
6. Street Feeling
7. My Collie (Not A Dog)
8. Too Much Pressure
9. Murder
10. Out On The Streets
11. Carry Go Bring Come
12. Black And Blue
13. James Bond
CD3: The Specials 'More Specials'
1. Enjoy Yourself (It's Later Than You Think)
2. Man At C&A
3. Hey, Little Rich Girl
4. Do Nothing
5. Pearl's Café ^
6. Sock It To 'Em J.B.
7. Stereotypes Pt 1 / 8. Stereotypes Pt 2
9. Holiday Fortnight
10. I Can't Stand It
11. International Jet Set
12. Enjoy Yourself (Reprise)
CD4: Various Artists 'Dance Craze'
1. Concrete Jungle (Live) / The Specials
2. Mirror In The Bathroom (Live) / The Beat
3. Lip Up Fatty (Live) / Bad Manners
4. Razor Blade Alley (Live) / Madness
5. Three Minute Hero (Live) / The Selecter
6. Easy Life (Live) / The Bodysnatchers
7. Big Shot (Live) / The Beat
8. One Step Beyond (Live) / Madness
9. Ranking Full Stop (Live) / The Beat
10. Man At C&A (Live) / The Specials
11. Missing Words (Live) / The Selecter
12. Inner London Violence (Live) / Bad Manners
13. Night Boat To Cairo (Live) / Madness
14. Too Much Pressure (Live) / The Selecter
15. Nite Klub (Live) / The Specials
CD5: Rico 'That Man Is Forward'
1. Easy Snappin
2. Fiesta
3. Chang Kai Shek
4. Stay Out Late
5. Red Top
6. X
7. Ganja
8. That Man Is Forward
CD6: Rico 'Jama Rico'
1. Destroy Them
2. We Want Peace
3. Jam Rock
4. Some Day
5. Distant Drums
6. Love And Justice
7. Java
8. Do The Reload
9. Easter Island
CD7: Various Artists 'This Are Two Tone'
1. Gangsters / The Special AKA
2. Madness / Madness
3. On My Radio / The Selecter
4. The Tears of A Clown / The Beat
5. A Message To You Rudy / The Specials
6. Too Much Pressure / The Selecter
7. Too Experienced / The Bodysnatchers
8. Rankin Full Stop / The Beat
9. Too Much Too Young (Live) / The Selecter
10. The Selecter / The Selecter
11. Stereotype / The Specials
12. Mantovani / The Swinging Cats
13. Do Nothing / The Specials
14. Jungle Music / Rico & The Special AKA
15. The Boiler / Rhoda Dakar & The Special AKA
16. Ghost Town / The Specials
CD8: The Special AKA 'In The Studio'
1. Bright Lights
2. The Lonely Crowd
3. What I Like Most About You Is Your Girlfriend
4. Housebound
5. Night On The Tiles
6. Nelson Mandela
7. War Crimes (The Crime Is Still The Same)
8. Racist Friend
9. Alcohol
10. Break Down The Door