 News
U2's 'All That You Can't Leave Behind' is reissued for its 20th anniversary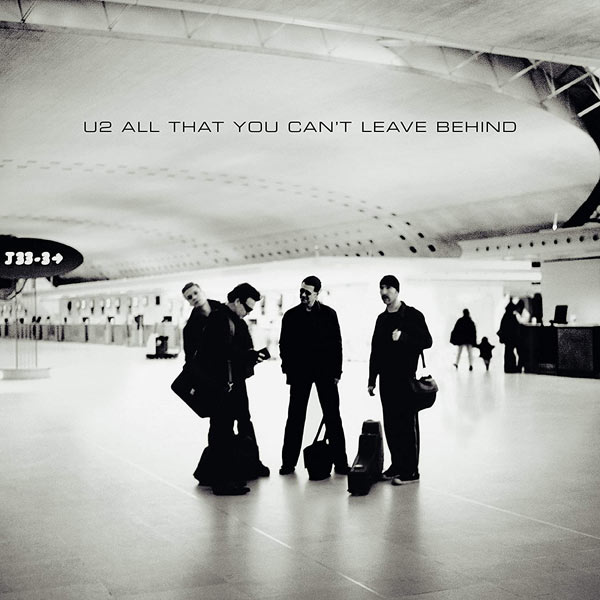 Remastered • Five-CD box • 11LP super deluxe 
U2's tenth studio album, All That You Can't Leave Behind, is being reissued next month to celebrate 20 years since the original release.

Released in 2000, the album features the UK number one single 'Beautiful Day' and three more top five hits ('Stuck in a Moment You Can't Get Out Of', 'Elevation' and 'Walk On').
For the reissue, the two major formats are a large format five-CD box set that features the album, B-sides and demos, two CDs of Elevation: Live in Boston and a disc of remixes. This box includes a book, Walk On: A Travelogue by Anton Corbijn, a large-format booklet and a poster. See image below.
Perhaps surprisingly, there is a vinyl super deluxe edition which contains exactly the same content as the CD set, so that's 11 vinyl records in total, even if the last five aren't exactly 'LPs' – more on that later.
All That You Can't Leave Behind on vinyl is now a 2LP set and features 'The Ground Beneath Her Feet' for the first time (it was CD only, originally). The second record is the B-sides and demos. Three LPs of Elevation: Live in Boston follow, which take you to six LPs. Then what constitutes one single remixes CD in the CD box becomes FIVE vinyl records in the super deluxe! Although these are 180g vinyl, let's be honest it's five 12-inch singles and all but one contain two tracks each. Four of the remixes are new and previously unreleased. Photo of the vinyl super deluxe is below. If features the same book etc and comes with a download code.
A two-CD version doesn't feature the B-sides and demos as disc two, as you might expect, but is a 'highlights' version of Elevation: Live in Boston. 13 tracks instead of the 19 tracks that feature on the two CDs in the box set. There is obviously also a standalone 2LP vinyl edition.
All the audio has been remastered and the All That You Can't Leave Behind reissue will be released on 30 October 2020.
All That You Can't Leave Behind 5CD box set
CD 1: The Album
Beautiful Day (04:07)
Stuck in a Moment You Can't Get Out Of (04:32)
Elevation (03:47)
Walk On (04:56)
Kite (04:26)
In A Little While (03:39)
Wild Honey (03:46)
Peace on Earth (04:48)
When I Look at the World (04:17)
New York (05:30)
Grace (05:31)
The Ground Beneath Her Feet (03:43)
CD 2: B-Sides and Demos:
Levitate (05:09)
Summer Rain (04:07)
Stateless (04:07)
Always (03:48)
Love You Like Mad (04:18)
Big Girls Are Best (03:36)
Don't Take Your Guns to Town (04:13)
Stuck in a Moment You Can't Get Out Of (Acoustic) (03:44)
Flower Child (04:55)
CDs 3 and 4: Live from Boston 2001
Elevation (Live from the Fleet Center, Boston, 2001) (05:09)
Beautiful Day (Live from the Fleet Center, Boston, 2001) (04:43)
Until the End of the World (Live from the Fleet Center, Boston, 2001) (05:15)
Stuck in a Moment You Can't Get Out Of (Live from the Fleet Center, Boston, 2001) (05:40)
Kite (Live from the Fleet Center, Boston, 2001) (05:25)
Gone (Live from the Fleet Center, Boston, 2001) (04:55)
New York (Live from the Fleet Center, Boston, 2001) (05:51)
I Will Follow (Live from the Fleet Center, Boston, 2001) (05:59)
Sunday Bloody Sunday (Live from the Fleet Center, Boston, 2001) (07:23)
In A Little While (Live from the Fleet Center, Boston, 2001) (06:54)
Desire (Live from the Fleet Center, Boston, 2001) (03:06)
Stay (Faraway, So Close!) (Live from the Fleet Center, Boston, 2001) (04:50)
Bad (Live from the Fleet Center, Boston, 2001) (06:22)
Where the Streets Have No Name (Live from the Fleet Center, Boston, 2001) (06:31)
Bullet the Blue Sky (Live from the Fleet Center, Boston, 2001) (06:18)
With or Without You (Live from the Fleet Center, Boston, 2001) (05:31)
The Fly (Live from the Fleet Center, Boston, 2001) (07:55)
Wake Up Dead Man (Live from the Fleet Center, Boston, 2001) (01:25)
Walk On (Live from the Fleet Center, Boston, 2001) (06:38)
CD 5: Remixes:
Elevation (Paul Van Dyk Remix) (07:56)
Elevation (Influx Remix) (04:03)
New York (Carnegie's Deli Remix) (07:05)
New York (Superman Kicks Ativan Remix) (07:31)
Beautiful Day (Quincey & Sonance Remix) (07:56)
Beautiful Day (The Perfecto Mix) (07:50)
In A Little While (Nightmares on Wax Remix) (05:15)
Walk On (Wyclef Jean Remix) (04:43)
When I Look at the World (Picante Remix) (05:14)
Elevation (Escalation Mix) (07:05)
Elevation (Quincey & Sonance Remix) (06:55)

All That You Can't Leave Behind 11-disc vinyl box set
LP 1
Beautiful Day
Stuck in a Moment
Elevation
Walk On
Kite
In A Little While
LP 2
Wild Honey
Peace on Earth
When I Look at the World
New York
Grace
The Ground Beneath Her Feet
LP 3 – B-sides and demos
Levitate
Summer Rain
Stateless
Always
Love You Like Mad
Big Girls are Best
Don't Take Your Guns to Town
Stuck in a Moment (Acoustic)
Flower Child
LP 4 Elevation: Live in Boston
Elevation
Beautiful Day
Until the End of the World
Stuck in a Moment
Kite
Gone
LP 5 Elevation: Live in Boston
New York
I Will Follow
Sunday Bloody Sunday
In A Little While
Desire
Stay

LP 6 Elevation: Live in Boston
Bad
Where the Streets Have No Name
Bullet the Blue Sky
With or Without You
The Fly
Wake Up Dead Man
Walk On
12-inch #1
Elevation (Paul Van Dyk Remix)
Elevation (Influx Remix)
12-inch #2
New York (Carnegie's Deli Mix)
New York (Superman Kicks Ativan Mix)
12-inch #3
Beautiful Day (Quincey and Sonance Remix)
Beautiful Day (The Perfecto Mix)
12-inch #4
In A Little While (Nightmares on Wax Remix)
Walk On (Wyclef Jean Remix)
When I Look at the World (Picante Remix)
12-inch #5
Elevation (Escalation Mix)
Elevation (Quincey and Sonance Remix)
CD 1: The Album
Beautiful Day (04:07)
Stuck in a Moment You Can't Get Out Of (04:32)
Elevation (03:47)
Walk On (04:56)
Kite (04:26)
In A Little While (03:39)
Wild Honey (03:46)
Peace on Earth (04:48)
When I Look at the World (04:17)
New York (05:30)
Grace (05:31)
The Ground Beneath Her Feet (03:43)
CD 2: Elevation: Live (highlights)
Elevation (Live from the Fleet Center, Boston, 2001) (05:09)
Beautiful Day (Live from the Fleet Center, Boston, 2001) (04:46)*
Stuck in a Moment You Can't Get Out Of (Live from the Fleet Center, Boston, 2001) (04:47)*
Kite (Live from the Fleet Center, Boston, 2001) (05:22)*
I Will Follow (Live from the Fleet Center, Boston, 2001) (05:09)*
Sunday Bloody Sunday (Live from the Fleet Center, Boston, 2001) (08:05)*
Desire (Live from the Fleet Center, Boston, 2001) (03:06)
Stay (Faraway, So Close!) (Live from the Fleet Center, Boston, 2001) (04:50)
Bad (Live from the Fleet Center, Boston, 2001) (06:22)
Where the Streets Have No Name (Live from the Fleet Center, Boston, 2001) (06:06)*
With or Without You (Live from the Fleet Center, Boston, 2001) (05:28)*
The Fly (Live from the Fleet Center, Boston, 2001) (07:22)*
Walk On (Live from the Fleet Center, Boston, 2001) (06:37)*