 News
U2 / No Line On The Horizon 10th anniversary 2LP vinyl reissue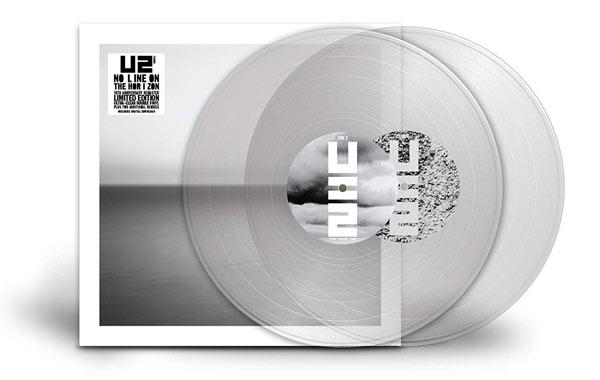 Remastered • Black and Clear vinyl options • Bonus tracks
U2 continue their vinyl reissue programme with a 2LP expanded edition of their 2009 album No Line On The Horizon.

The album was produced by Brian Eno, Daniel Lanois and Steve Lillywhite and features the singles 'Get On Your Boots,' 'Magnificent' and 'I'll Go Crazy If I Don't Go Crazy Tonight.'
For this vinyl reissue No Line On The Horizon has been remastered and comes with two bonus tracks: 'Magnificent (Wonderland Remix)' (by Pete Tong and Paul Rogers) and 'I'll Go Crazy if I Don't Go Crazy Tonight' (Redanka's 'Kick the Darkness' Vocal Version).
This packaging replicates the original so you get the gatefold sleeve, 16 page booklet, printed inner sleeves and the heavyweight outer plastic sleeve. It's available as 2LP black vinyl or 2LP 'Ultra-Clear' vinyl and both come with download codes.
No Line On The Horizon is reissued on 2LP vinyl on 22 February 2019.
Compare prices and pre-order
U2
No Line On The Horizon - 2LP ultra-clear vinyl
Compare prices and pre-order
U2
No Line On The Horizon - 2LP black vinyl
Side 1
1.     No Line On The Horizon
2.     Magnificent
3.     Moment Of Surrender
Side 2
1.     Unknown Caller
2.     I'll Go Crazy If I Don't Go Crazy Tonight
3.     Get On Your Boots
4.     Stand Up Comedy
Side 3
1.     FEZ-Being Born
2.     White As Snow
3.     Breathe
4.     Cedars Of Lebanon
Side 4
1.     Magnificent (Wonderland Remix)
2.     I'll Go Crazy if I Don't Go Crazy Tonight (Redanka's 'Kick the Darkness' Vocal Version)