 News
Underworld / Drift Series 1 box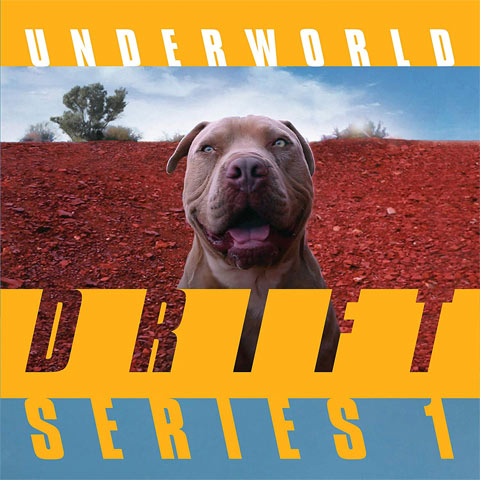 Underworld's 'Drift' project kicked off a year ago with Rick Smith and Karl Hyde aiming to create and publish music and film episodically for 52 weeks. The idea was to capture"one year inside the minds of Underworld". The fruits of that labour are now being issued as a seven-disc box set and a special highlight 'sampler' editions.

In the last year, five self-contained episodes were released (respectively in November, January, March, May and August) and collectively they form Drift Series 1 which is now issued box set features seven CDs, a blu-ray and an 80-page colour book.
The blu-ray features a series of films that take you from "Shibuya Crossing to the Moroccan desert to rural Essex via the inside of supercomputer". The book documents the entire Drift 'journey' from start to finish in interviews with Rick Smith, Karl Hyde along with pictures, poems, commentary and lyrics.
If that's all too much, then single CD and double LP 'Sampler' editions are also available (the CD sampler is disc seven in the box).
All versions of Drift Series 1 are released on 22 November 2019 (previously 1 November).
Compare prices and pre-order
Underworld
Drift Series 1 - 7CD+bluray box set
Compare prices and pre-order
Underworld
Drift Series 1 Sampler Edition - 2LP vinyl
Compare prices and pre-order
Underworld
Drift Series 1 Sampler Edition - CD version
CD1 – Ep 1 DUST
Another Silent Way
Dexters Chalk
Low Between Zebras
Universe Of Can When Back
Brilliant Yes That Would Be
Another Silent Way / Drift Poem / Better Than Diamonds (previously unreleased)
One True Piano Need Hand (previously unreleased)
CD2 – Ep 2 ATOM
Appleshine
Molehill
Threat Of Rain
Brussels
Soniamode (Aditya Game)
Appleshiner (previously unreleased)
Roof Off (previously unreleased)
CD3 – Ep 3 HEART
Dune
Custard Speedtalk
This Must Be Drum Street
Pinetum
Poet Cat
Do Breakers Trip (previously unreleased)
Seven Music Drone (previously unreleased)
CD4 – Ep 4 SPACE
Listen To Their No
Schiphol Test
Hundred Weight Hammer
Doris
Altitude Dub
Border Country
Big Bear (previously unreleased)
CD5 – Ep 5 GAME
Toluca Stars
Mile Bush Pride
Imagine A Box
Tree And Two Chairs
Give Me The Room
S T A R
Doscientos (previously unreleased)
Two Arrows (previously unreleased)
A Moth At The Door (previously unreleased)
CD6 – Underworld and The Necks
Appleshine Continuum
A Very Silent Way
Altitude Dub Continuum (previously unreleased)
CD7 – DRIFT Series 1 Sampler
Appleshine
This Must Be Drum Street
Listen To Their No
Border Country
Mile Bush Pride
Schiphol Test
Brilliant Yes That Would Be
S T A R (Rebel Tech)
Imagine A Box
Custard Speedtalk
Blu-ray – DRIFT Series 1 – The Films
Drift Trailer
Another Silent Way
Dexter's Chalk
Low Between Zebras
Universe Of Can When Back
A Very Silent Way
Appleshine
Molehill
Threat Of Rain
Brussels
Soniamode (Aditya Game Version)
Appleshine Continuum
Dune
Custard Speedtalk
This Must Be Drum Street
Pinetum
Poet Cat
Listen To Their No
Schiphol Test
Hundred Weight Hammer
Doris
Altitude Dub
Border Country
Toluca Stars
Mile Bush Pride
Imagine A Box
Tree And Two Chairs
Give Me The Room
S T A R
Brilliant Yes That Would Be