 News
Universal Music blame 'hand-packing' issue for Soft Cell DVD problems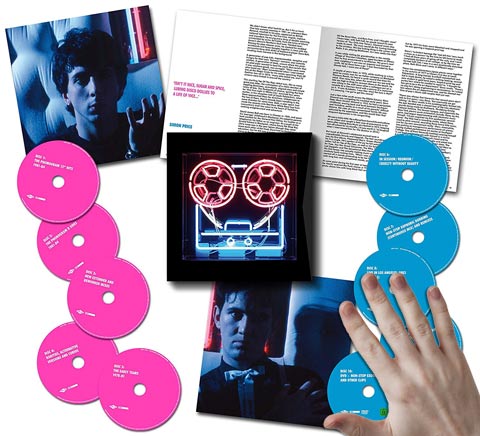 Universal Music have issued a statement to Soft Cell fans who are having playback issues with the DVD from their Keychains and Snowstorms box set.

SDE highlighted this issue on Tuesday, and since that time over 100 fans have left comments, confirming that they are experiencing issues like 'juddering' playback, or even no playback at all.
In a post today on the Soft Cell website the label say:
"Universal Music are sorry to inform you that owing to a hand-packing issue, some of the DVD discs featured in the Soft Cell Keychains & Snowstorms Boxset have been damaged causing playing issues, such as freezing and juddering."
We would like to make you aware that due to this issue we are currently pressing additional copies of the DVD for anyone who has been affected. If you have experienced problems with your DVD and would like a replacement disc, please contact infoumc@umusic.com with proof of purchase (a scan, screen grab or photo of the receipt will do) and your address and it will be sent out to you."
As explanations go, "hand-packing issue" is vague and I'd be interested in SDE readers' thoughts as to what this might mean.
Universal also address the "small number of fans" who have had problems with the spine in the booklet. They say:
"Again, if this is an issue, please contact the above e-mail address with a photo of the damaged spine and proof of purchase and we will send out a replacement booklet. Please do not contact the retailer you bought your box set from as Universal are dealing with it directly, and kindly please do not post any further issues on social media. Please note that re-pressings of the box set will include a new packing solution to prevent this happening again, so if you have not ordered your box set yet, please order with confidence."
Soft Cell's representatives have added their own thoughts and thank fans for their understanding but also make a point of encouraging them to "move on please". This is their statement:
"Thank you for your understanding on this matter. It's as frustrating for us as it is for those affected, but we are very glad that Universal have solved the problem so quickly. We trust this minor hiccough does not affect your enjoyment of the box set, so let's all move on please – we'd love to hear what you think about 'Keychains & Snowstorms'.
Thanks again to so many of you for your ongoing support, and we'll see you at the O2 in a couple of weeks!"
Keychains and Snowstorms is out now.
Compare prices and pre-order
Soft Cell
Keychains and Snowstorms 9CD+DVD box set
Disc 1 : The Phonogram 12″ Hits 1981-1984
Tainted Love/Where Did Our Love Go 8.57
Bedsitter 7.52
Say Hello, Wave Goodbye 8.56
Torch 8.29
What 6.10
Where The Heart Is 9.46
Numbers 9.49
Soul Inside 11.12
Down In The Subway 7.50
Disc 2 : The Phonogram B Sides 1981-1984
Tainted Dub/Where Did Our Love Go? 8.51
Facility Girls (12″ Version) 7.17
Fun City 7.33
Insecure Me (12″ Version) 8.16
So (12″ Version) 8.44
It's A Mug's Game (12″ Version) 8.11
Barriers (12″ Version) 7.10
You Only Live Twice (12″ Version) 6.58
Her Imagination 5.20
007 Theme 3.27
Disease & Desire 4.04
Born To Lose 2.55
Disc 3 : New Extended & Reworked Mixes
Say Hello, Wave Goodbye (Dave Ball Lateral Mix) 7.08
Youth (Dave Ball Wasted On The Young Mix) 5.41
Secret Life (Extended Mix) 5.17
Chips On My Shoulder (Extended Mix) 6.14
Facility Girls (2018 Mix) 7.43
Heat (Alternative Version) 6.04
Kitchen Sink Drama (Extended Mix)
The Art Of Falling Apart (Extended Mix) 8.47
Martin (Hallowe'en Mix) 6.14
Barriers (Dave Ball Broken Down Angels Mix) 7.09
Meet Murder, My Angel (Extended Mix) 6.00
Slave To This (Life Of Existence Mix)
Disc 4 : Rarities, Alternative Versions and Curios
The Girl With The Patent Leather Face (Original Version) 4.57
A Man Could Get Lost (Daniel Miller Vocal Edit)
Memorabilia (Non-Stop Ecstatic Dancing Version) 5.21
Forever The Same (Unreleased Extended Version) 10.58
Heat (US 7″ Version) 4.01
Loving You, Hating Me (Special USA Mix) 7.45
Martin 10.13
Hendrix Medley (Hey Joe, Purple Haze, Voodoo Chile) 10.22
Numbers (7″ DJ Version) 4.26
Down In The Subway (7″ Remix Version) 4.21
L'Esqualita (7″ Version) 4.22
Soul Inside (Demo) 5.21
So (Dave Ball Demo Outtake) 3.16
Disc 5 : The Early Years 1978-81
Memorabilia (Original Daniel Miller Mix)
Persuasion (Original Daniel Miller Mix)
Metro MRX (Flexipop Version)
A Man Could Get Lost (Daniel Miller Demo)
The Girl With The Patent Leather Face (Demo)
Tainted Love (Demo)
Bedsitter (Demo)
Potential (From Mutant Moments EP)
L.O.V.E Feelings (From Mutant Moments EP)
Metro MRX (From Mutant Moments EP)
Frustration (From Mutant Moments EP)
Red Tape, Sticky Tape (Demo – Previously Unreleased)
Martin (Original 1980 Demo)
Paranoid (Black Sabbath Cover)
Science Fiction Stories (Demo)
Bleak Is My Favourite Cliché (Demo)
Cleaning Fanatic (Demo)
Mix (Demo)
A Man Could Get Lost (Original Version)
Walking Make Up Counter (Live at Leeds Polytechnic, December 1979)
Occupational Hazard (Live at Leeds Polytechnic, December 1979)
Persuasion (Live at Leeds Polytechnic, December 1979)
Dave's Theme (Previously Unreleased Demo)
Disc 6 : In Session / Reunion / Cruelty Without Beauty
Entertain Me (Richard Skinner Radio 1 Session)
Seedy Films (Richard Skinner Radio 1 Session)
Chips On My Shoulder (Richard Skinner BBC Radio 1 Session)
Youth (BBC Whistle Test)
Sex Dwarf (BBC Whistle Test)
Soul Inside (David Jensen BBC Radio 1 Session)
Where Was Your Heart (When You Needed It Most) (David Jensen BBC Radio 1 Session)
God Shaped Hole (Remix)
Divided Soul (Hooker Mix)
Somebody, Somewhere, Sometime
Monoculture – Dave Ball Extended Mix
The Night
Darker Times
Last Chance
Together Alone
Caligula Syndrome
Desperate
Disc 7 : Non-Stop Euphoric Dubbing (Continuous Mix) & Remixes
Barriers (Dave Ball Broken Down Angels Dub)
Numbers (Extended Dub)
Youth (Dave Ball Wasted On The Youth Dub)
Where The Heart Is (Marcus Lancaster Dub)
Seedy Films (Richard X Dub)
L.O.V.E Feelings (Demo)
L'Esqualita (Dub)
Loving You, Hating Me (Dub)
Baby Doll (Dub)
Facility Girls (2018 Mix Dub)
Little Rough Rhinestone (Solvent Dub Mix)
Say Hello, Wave Goodbye (Dave Ball Lateral Dub)
Bedsitter (Erasure Remix)
Where The Heart Is (The Grid Remix : 2018 Re-Edit)
So (The Grid Remix)
Disc 8 : Live in Los Angeles, 83 Part 1
Mr Self Destruct
Soul Inside
Forever The Same
Insecure Me
L'Esqualita
Loving You, Hating Me
Torch
Youth
Disease & Desire
Where Was Your Heart
Baby Doll
Martin
The Art Of Falling Apart
Disc 9 : Live In Los Angeles, 83 (Part 2) plus other live recordings
Hey Joe/Purple Haze
Memorablilia
Heat
Ghost Rider (with Clint Ruin)
Say Hello, Wave Goodbye
Live at Hammersmith Palais, 84 (Fan Recording)
Numbers (Live) 5.29
It's A Mug's Game (Live) 8.12
The Best Way To Kill (Live) 5.20
Down In The Subway (Live) 4.01
UK Tour, Live in 2003
Barriers (Live) 5.29
Tainted Love Where Did Our Love Go? (Live) 9.00
Sex Dwarf (Live) 6.17
Surrender (To A Stranger) (Live) 4.22
Disc 10 : DVD (NTSC all regions):
THE NON-STOP EXOTIC VIDEO SHOW
Entertain Me + Bedsitter + Frustration + Torch + Seedy Films + Secret Life + Tainted Love + Youth + Memorabilia + Sex Dwarf + What + Say Hello, Wave Goodbye
ADDITIONAL PROMO VIDEOS
Where The Heart Is + Soul Inside + Down In The Subway + Monoculture
OXFORD ROAD SHOW PERFORMANCES (BBC) 
(Two Appearances)
Chips On My Shoulder + Say Hello, Wave Goodbye + Bedsitter + Heat + Numbers
OLD GREY WHISTLE TEST PERFORMANCES (BBC) 
Youth + Sex Dwarf
TOP OF THE POPS PERFORMANCES (BBC) 
Tainted Love + Bedsitter + Torch + What + Where The Heart Is + Soul Inside + The Night (TOTP2 2003) + Torch (TOTP2 2002) + Tainted Love (Top Of The Pops Reunion 2001)
THE TUBE PERFORMANCES (CH4)
Where The Heart Is + The Art Of Falling Apart + Martin
THE SWITCH PERFORMANCES (CH4) 
Soul Inside + Ghost Rider (with Clint Ruin)
SUPERSONIC CHRISTMAS SPECIAL 1983 (ITV) 
Down In The Subway
LIVE AT THE AMNESIA CLUB, LEEDS 28/5/81
LOVE Feelings + Frustration + Metro MRX + Seedy Films + The Girl With The Patent Leather Face + Chips On My Shoulder + Tainted Love + Bedsitter + A Man Could Get Lost + Memorabilia