 News
XTC's Dukes of Stratosphear vinyl LP and CD+blu-ray reissues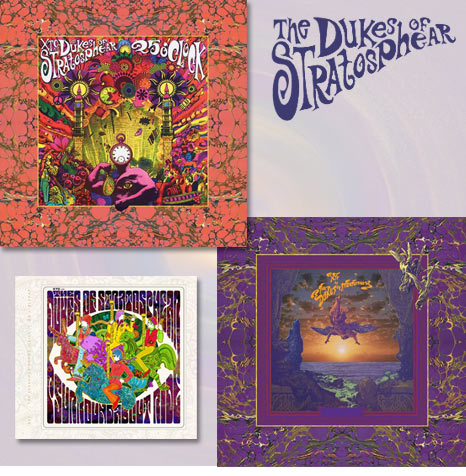 XTC's alter egos The Dukes of Stratosphear feature in the latest in the band's acclaimed 'Surround Sound Series' with a new set called 'Psurroundabout Ride' which features the complete recordings newly mixed in stereo and surround sound by Steven Wilson. Individual vinyl reissues of both albums are also released.

The Dukes were modelled after psychedelic pop groups from the 1960s and released two albums, 1985's 25 O'Clock (really a 'mini-album') and Psonic Psunspot from 1987.
Each musician got into the spirit of the concept and adopted a pseudonym: "Sir John Johns" (Partridge) "Lord Cornelius Plum" (Dave), "The Red Curtain" (Colin Moulding) and "E.I.E.I. Owen" (Ian). Both albums were produced by John Leckie.
Both 25 O'Clock and Psonic Psunspot are newly reissued on 200g vinyl, cut at Loud Mastering by Jason Mitchell.
Even more exciting than that is the CD+Blu-ray set Psurroundabout Ride which follows the style of previous XTC surround sets. The CD features 19 songs, 18 of them newly mixed to stereo via Steven Wilson. The blu-ray features 'the complete recordings' of The Dukes in hi-res stereo (new and old mixes) and in 5.1 surround sound (by Steven Wilson, of course). Additionally you get instrumental mixes of everything and 'complete demos'.
All three physical releases are available via the SDE shop, including a specially-priced bundle. These are released on 25 October 2019. You can order via this link or the buttons below.
Compare prices and pre-order
XTC as The Dukes Of Stratosphear
Psurroundabout Ride (CD + BluRay)
XTC as The Dukes – From Psychedelic Pswindon – the complete recordings in stereo and 5.1 Psurround Psound
25 o'Clock and Psonic Psunspot newly mixed in stereo by Steven Wilson, with mixes approved by Andy Partridge (CD & Blu-Ray)
Both albums + 2 extra tracks  also newly mixed in 5.1 surround by Steven Wilson on Blu-Ray (with a final song up-mixed to surround using the Penteo audio system)
All 19 songs appear in their original mixes in hi-res stereo (Blu-Ray)
18 songs appear in their new mixes in hi-res stereo (Blu-Ray)]
Complete demos from both albums & instrumental versions of album songs also feature in hi-res stereo on the Blu-Ray
25 O'Clock
Side One:
25 o'Clock
Bike Ride to the Moon
My Love Explodes
Side Two:
What in the World?
Your Gold Dress
The Mole from the Ministry
Psonic Psunspot
Side One:
Vanishing Girl
Have you seen Jackie?
Little Lighthouse
You're a Good Man Albert Brown
Collideascope
Side Two:
You're my Drug
Shiny Cage
Brainiac's Daughter
The Affiliated
Pale and Precious