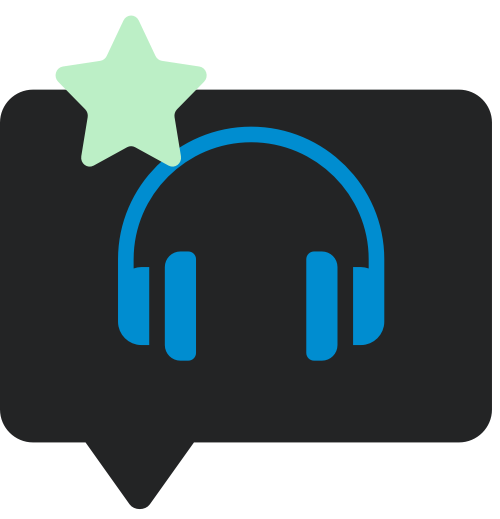 Reviews
Review: The Beach Boys / Sail on Sailor 1972
Alexis Petridis reviews the recent box set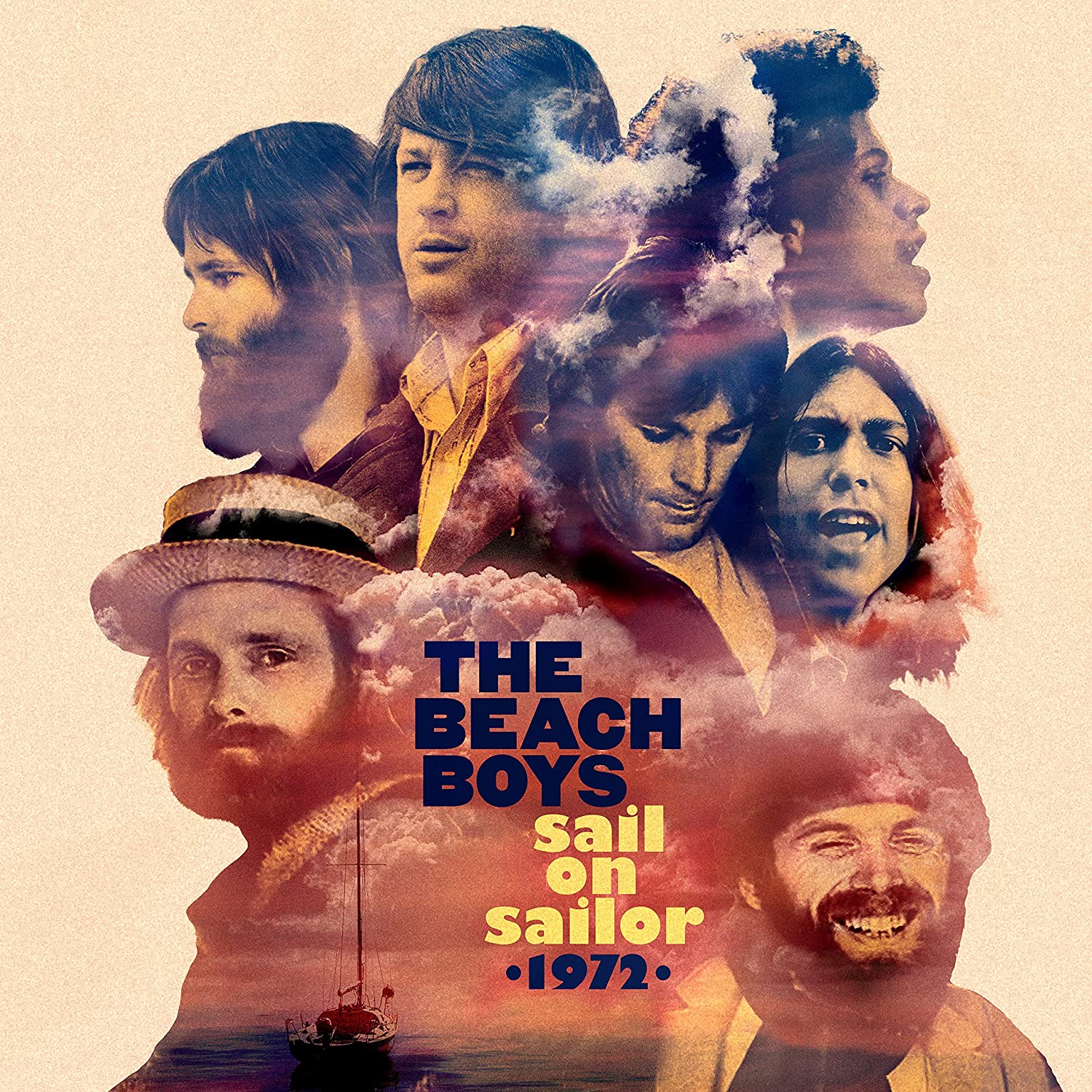 Before becoming "a heritage act", The Beach Boys made two albums in 1972 – Carl and the Passions – 'So Tough' and Holland – which form the basis of the recent Sail on Sailor box set. Alexis Petridis takes a listen…
Part of the six CD/five LP Sail On Sailor box set is comprised of a live recording of The Beach Boys performing at Carnegie Hall on 23 November 1972: depending on your format, their two-part set sprawls over two CDs or five sides of vinyl. It's a great show. The version of 'Heroes And Villains' bears testimony to how punchy and potent this particular line-up of the band – without Brian Wilson or Bruce Johnston, but with newly-recruited guitarist Blondie Chaplin and drummer Ricky Fataar – was onstage. But there are problems. An introductory announcement, cautions fans against calling out for requests of old material during the main body of the show. It's a message reiterated later by Mike Love, who suggests the gig isn't for "those who came to hear 'Barbara Ann'". It doesn't work. "Shut up before I get pissed off!" snaps Love at the crowd later in the set. "I asked you nicely… Seriously, don't be a bunch of punks! Shut up!"
It says something about the difficult position the Beach Boys found themselves in during the early 70s. Their singles had stopped making the US Top 20 in 1968. Their last Top 10 album had been Pet Sounds, back in 1966. They had gone down a storm as the Grateful Dead's special guests at a 1971 New York gig, but it doesn't seem to have occurred to the Beach Boys that they were a hit with the Deadheads for more-or-less the same reason that rock and roll revivalists Sha-Na-Na did such good business at Woodstock, or audiences flocked to see George Lucas' American Graffiti: because their hits evoked a sunnier, more innocent and more straightforward pop era, the bit of the 60s before LSD, Altamont and the Kent State massacre. Instead, they took it as a sign that the world was ready for a new, counterculture-friendly Beach Boys 2.0, complete with songs about ecology, unemployment and protest.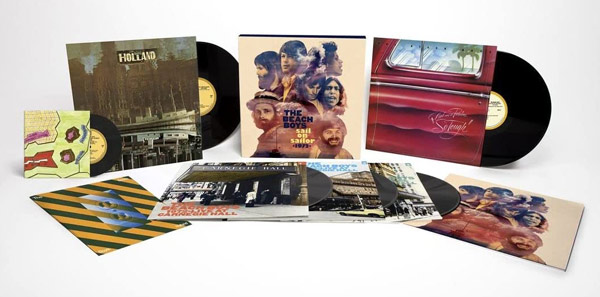 Whether they were or not is a moot point. The subsequent album Surf's Up – already given the deluxe box-set treatment, along with 1970's Sunflower, on the five CD set Feel Flows – was their best-selling in years, although it's tempting to suggest that had more to do with the presence of its title track (a refugee from 1967's abandoned Smile), Carl Wilson's superb 'Feel Flows' and 'Long Promised Road' and Brian Wilson's extraordinary ''Til I Die' than any of the tracks dealing in what The Beach Boys thought the hippies wanted to hear.
If Surf's Up is slightly overrated, then its 1972 successor Carl And The Passions: So Tough, the first of two albums anthologised on Sail On Sailor, might be slightly underrated, although that's a statement that shouldn't be confused with a ringing endorsement. No one who listens to the newly remastered version that opens Sail On Sailor is likely to claim that its first side is anything other than patchy and confused – still gamely banging the countercultural drum, there's a clodhopping Mike Love-penned paean to transcendental meditation called 'He Come Down', while 'Marcella', Brian Wilson's lust-struck ode to a Sunset Strip masseuse, is unwittingly creepy – but its second half is better than the album's lowly reputation suggests. It's entirely comprised of ballads: Fataar and Chaplin's country-fied 'Hold On Dear Brother', Dennis Wilson's wracked 'Make It Good' and 'Cuddle Up' and 'All This Is That', which proves that Mike Love could write a genuinely beautiful song about Transcendental Meditation if he really tried. In a sense, it feels like an older, sadder relation of the similarly ballad-packed second side of 1965's The Beach Boys Today! – same slow-motion tempos, equally lush arrangements, but none of the innocence. It's the sound of a band irreparably damaged by the intervening years, which had variously involved LSD-induced breakdowns, declining fortunes and the baleful spectre of Charles Manson.
The extra tracks suggest both that Carl And The Passions' eight tracks were the best they could come up with at the time – largely comprised of alternate mixes and acapella takes, there are no hitherto-unheard masterpieces lurking among them – and that The Beach Boys themselves realised that, despite its highlights, what they could come up with didn't match the standards they'd set themselves. A radio ad announces the album was initially released as a double LP, bundled with a re-issue of Pet Sounds as an inducement to buy. Good business sense, but a little humiliating: as at the Carnegie Hall gig, they couldn't outrun their past.
Things picked up considerably the following year. The wisdom of relocating to Holland was questionable at best – Dennis Wilson hated it and swiftly decamped to the Canary Islands; that it took three attempts to get Brian Wilson on a plane to Amsterdam tells its own story about his precarious mental state – but the musical results were harder to quibble with. The album's sound was far more coherent than any of their recent efforts, lunging towards what would now be called Americana. Brian Wilson roused himself from his topor long enough to come up with 'Sail On Sailor', arguably the last song he wrote that could be called a masterpiece without recourse to special pleading. Evidently homesick, Mike Love and Al Jardine wrote the charming 'California Saga'. Dennis contributed the eerie 'Steamboat' and 'Only With You', another gorgeous ballad tinged with darkness. Carl Wilson's 'The Trader' is just fantastic, the bitter, sarcastically-drawn saga of a British settler's appalling treatment of Native Americans: "he cleared humanity from his way/ he civilised all he saw".
Sail on Sailor is arguably the last song Brian Wilson wrote that could be called a masterpiece without recourse to special pleading

Alexis Petridis
That said, it wasn't entirely plain sailing. The world could probably have struggled on somehow without 'California Saga's lengthy spoken word interlude; Brian Wilson's other contribution, 'Funky Pretty', is no great shakes and, depending on your perspective, the "fairytale" relegated to an accompanying 7" single, 'Mount Vernon And Fairway', is either a fine example of Brian Wilson writing in charmingly naïve mode, a fascinating insight into his damaged psyche or completely excruciating: possibly, it's all three.
But the sense The Beach Boys were more inspired is underlined by the outtakes that appear here. There's a genuine lost classic: Dennis Wilson's 'Carry Me Home', relegated to the cutting room floor after his bandmates baulked at releasing a song depicting a solider slowly dying in Vietnam. Fataar and Chaplin's 'Hard Time' and 'Oh Sweet Something' are both fabulous slices of 70s West Coast rock – doomed, one suspects, by the fact that neither sounds remotely like The Beach Boys. There are a handful of unfinished, instrumental country-ish tracks that point towards a direction The Beach Boys might fruitfully have pursued into the mid-70s.
The Sail on Sailor box is beautifully done – nice packaging; learned sleeve notes; the mastering a notable improvement on that of Feels Flows – but it feels like a full stop.

Alexis Petridis
But The Beach Boys didn't pursue a new direction, nor did they ever make an album remotely as good as Holland again. Perhaps the band's internal problems were too big to surmount. A recording of a songwriting session for Sail On Sailor included on CD 5 opens with Brian Wilson talking with his co-writer Van Dyke Parks. "Hypnotise me and tell me that I ain't crazy," he pleads. "I'm insane". It's both heartbreaking to hear and evidence that the high points of Holland, and indeed Carl And The Passions, amount to some impressive papering over some terrible cracks. Or perhaps Holland's muted commercial performance – 36 in the US charts – followed by the triple platinum sales of the following year's oldies compilation Endless Summer caused them to bow to the kind of requests that had so infuriated Mike Love onstage in 1972. Whatever the reason, The Beach Boys effectively became a heritage act: when they next made a new album, 1976's 15 Big Ones, everything from its old-fashioned, circa '64 title to its preponderance of rock and roll and doo-wop covers spoke of harking back to the past. Occasionally something fitfully flickered – if you like Brian Wilson in the aforementioned charmingly naïve mode, you'll adore 1977's Beach Boys Love You, and thereafter the odd song shone – but increasingly their albums seemed shoddy and inconsequential, excuses to tour their 60s hits. The Sail On Sailor box is beautifully done – nice packaging; learned sleeve notes; the mastering a noticeable improvement on that of Feel Flows – but it feels like a full stop. You struggle to imagine Universal bothering with a follow-up that extends the super-deluxe approach to anything The Beach Boys subsequently released.
Sail on Sailor 1972 was reviewed by Alexis Petridis for SDE. It's out now.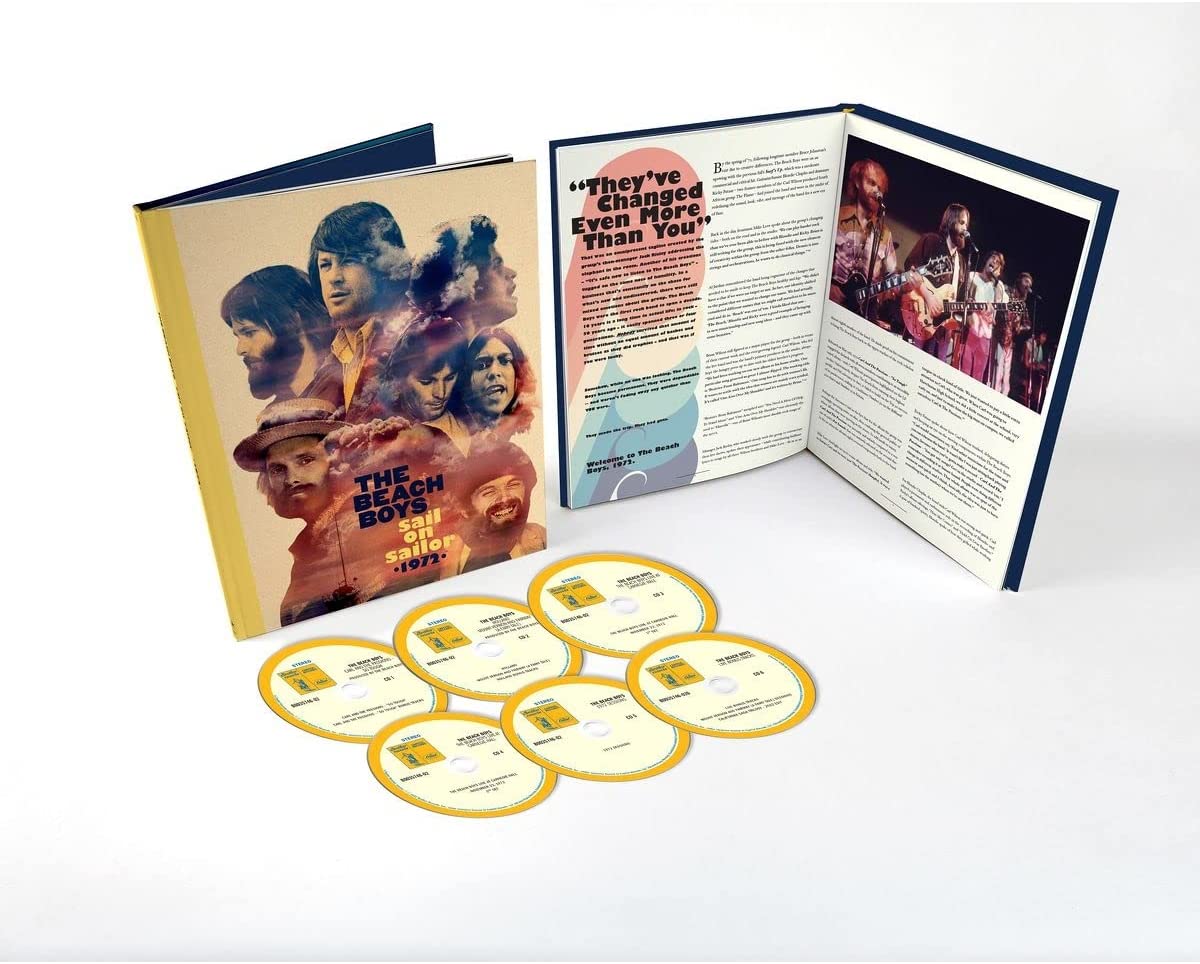 The Beach Boys / Sail on Sailor 1972 6CD set 6CD deluxe
This is £118 in the UK so £43 is a superb price in Germany for this Beach Boys 6CD deluxe set. Read the SDE review of this box set.
Compare prices and pre-order
The Beach Boys
Sail On Sailor 1972 - 6CD box set
Compare prices and pre-order
The Beach Boys
Sail On Sailor 1972 - 2CD deluxe
Compare prices and pre-order
The Beach Boys
Sail On Sailor 1972 - 5LP + seven-inch box
Compare prices and pre-order
The Beach Boys
Sail On Sailor 1972 - 2LP + seven-inch
Tracklisting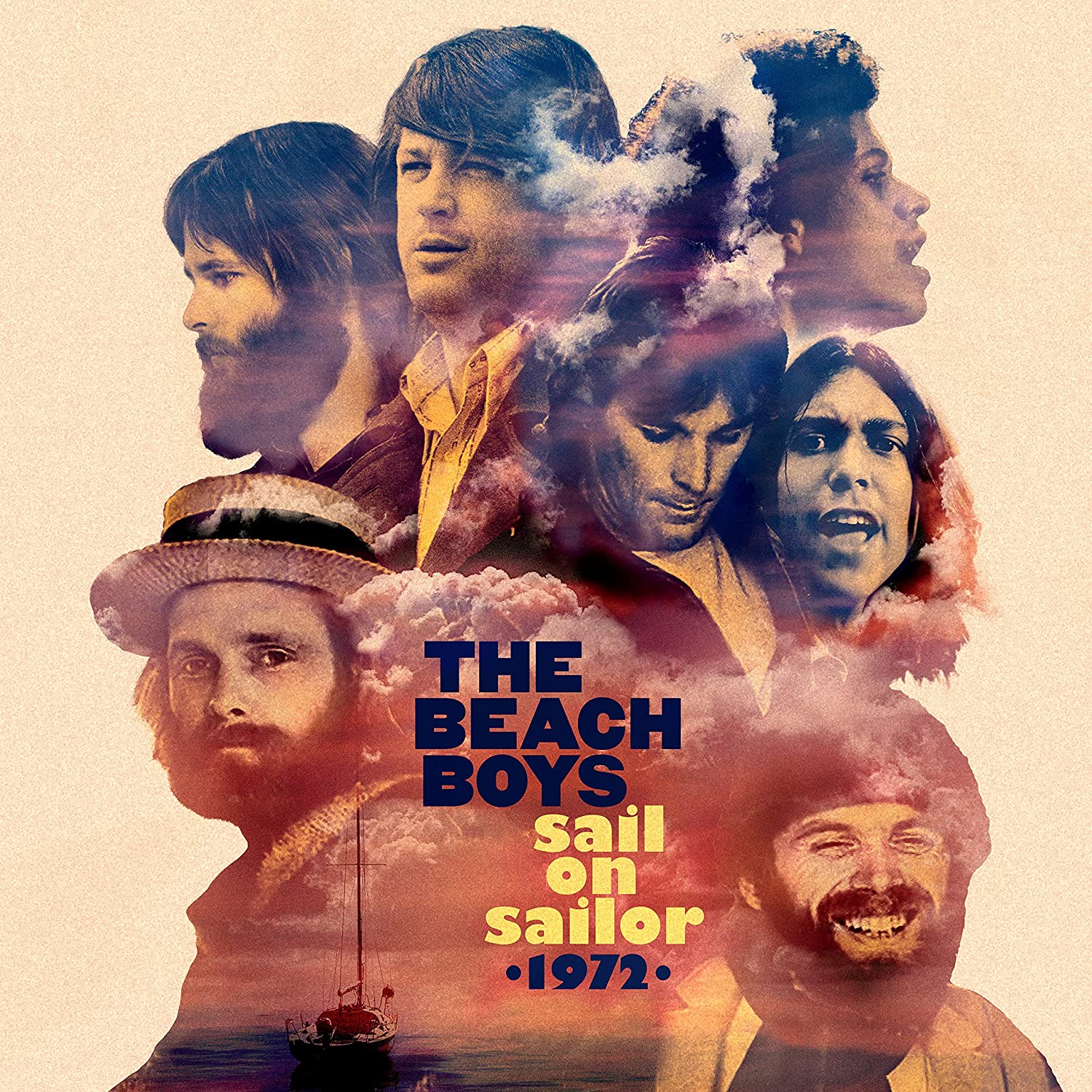 Sail on Sailor: 1972 The Beach Boys
/
CD 1

Carl and the Passions – "So Tough"

You Need A Mess Of Help To Stand Alone
Here She Comes
He Come Down
Marcella
Hold On Dear Brother
Make It Good
All This Is That
Cuddle Up

Bonus tracks (Previously Unreleased)

The Road Not Taken (demo – previously unreleased)
All This Is That (a Cappella mix – previously unreleased)
He Come Down (2022 mix – previously unreleased)
You Need A Mess Of Help To Stand Alone (track and backing vocals)
Marcella (a Cappella mix – previously unreleased)
Make It Good (alternate mix with Intro – previously unreleased)
Cuddle Up (alternate mix – previously unreleased)
Carl and the Passions /Pet Sounds Promo (1972)

CD 2

HOLLAND

Sail On Sailor
Steamboat
California Saga –

Big Sur

California Saga – The Beaks Of Eagles
California Saga –

California

The Trader
Leaving This Town
Only With You
Funky Pretty

MOUNT VERNON AND FAIRWAY (A FAIRYTALE) 
By 

Brian Wilson 


(Please listen in the dark)

Mount Vernon And Fairway Theme
I'm The Pied Piper – Instrumental
Better Get Back In Bed
Magic Transistor Radio
I'm The Pied Piper
Radio

King Dom

Holland

bonus tracks (Previously Unreleased)

We Got Love (2022 mix – previously unreleased)
Hard Time (previously unreleased)
Carry Me Home (previously unreleased)
California Saga – The Beaks Of Eagles (1973 single mix – previously unreleased)
California Saga –

California

 (1973 single mix)
Sail On Sailor (track – previously unreleased 2022 mix)
Holland Promo 1 (1973)

CD 3

THE BEACH BOYS LIVE AT CARNEGIE HALL (Previously Unreleased)


November 23, 1972

1st Set

Concert Intro:

Jack Rieley

Sloop John B
You Need A Mess Of Help To Stand Alone
Leaving This Town
Darlin'
Only With You
Heroes and Villains
Long Promised Road
Don't Worry, Baby
Student Demonstration Time
I Get Around

CD 4

THE BEACH BOYS LIVE AT CARNEGIE HALL (Previously Unreleased)


November 23, 1972

2nd Set

Intro to 2nd Set:

Jack Rieley

Marcella
California Saga –

California

Help Me, Rhonda
Let The Wind Blow
Medley: Wonderful / Don't Worry, Bill
God Only Knows
Do It Again
Wouldn't It Be Nice
Wild Honey
Good Vibrations
California Girls
Surfin'

USA

Fun Fun Fun
Jumpin'

Jack Flash

CD 5

1972 SESSIONS (Previously Unreleased)

You Need A Mess Of Help To Stand Alone (a Capella mix – previously unreleased)
Marcella (track and backing vocals – previously unreleased)
Here She Comes (session excerpt – previously unreleased)
Here She Comes (2022 mix – previously unreleased)
He Come Down (a Cappella section – previously unreleased)
Hold On Dear Brother (track and backing vocals – previously unreleased)
Steamboat (track and backing vocals – previously unreleased)
California Saga –

California

 (track and backing vocals – previously unreleased)
The Trader (track and backing vocals – previously unreleased)
The Trader (second section a Cappella – previously unreleased)
Only With You (alternate mix – previously unreleased)
Funky Pretty (track and backing vocals – previously unreleased)
Sail On Sailor (songwriting session – previously unreleased)
Sail On Sailor (a Cappella mix – previously unreleased)
Out In The Country (version 1) (previously unreleased)
Out In The Country (version 2) (previously unreleased)
Oh Sweet Something (previously unreleased)
Spark in the Dark (previously unreleased track)
Rooftop Harry (previously unreleased track)
Body Talk (Grease Job)  (previously unreleased track)
Holland Promo 2 (1973)

CD 6

LIVE BONUS TRACKS

We Got Love (Live 1973 – previously unreleased)
California Saga –

Big Sur

 (Live 1973 – previously unreleased)
Funky Pretty (Live 1973 – previously unreleased)
The Trader (Live 1975 – previously unreleased)
Sail On Sailor (Live 1975 – previously unreleased)
All This Is That (Live 1993 – previously unreleased)

MOUNT VERNON AND FAIRWAY (A FAIRYTALE) SESSIONS (Previously Unreleased)

Fairy Tale Music

 (2022 mix – previously unreleased)
Pa Let Her Go Out (Better Get Back In Bed alternate version with intro – previously unreleased)
I'm The Pied Piper (a Cappella section – previously unreleased)
Radio

King Dom

 (a Cappella section – previously unreleased)
I'm The Pied Piper (alternate take spoken section – previously unreleased)
Medley: Mount Vernon and Fairway Theme / A Casual Look (session excerpt – previously unreleased)

1972 BONUS TRACKS (Previously Unreleased)

Little Child (Daddy Dear) (

Holland

 home recording)
Susie Cincinnati (

Holland

 home recording)
Medley: Gimme Some Lovin' / I Need Your Love

CALIFORNIA

 SAGA TRILOGY

California Saga –

Big Sur

California Saga – The Beaks of Eagles (2022 edit – previously unreleased)
California Saga –

California

Carry Me Home (track and backing vocals – previously unreleased)
All This Is That (a Capella alternate verse – previously unreleased)

LP1 – CARL AND THE PASSIONS – "SO TOUGH"

Side A

You Need A Mess Of Help To Stand Alone
Here She Comes
He Come Down
Marcella

Side B

Hold On Dear Brother
Make It Good
All This Is That
Cuddle Up

LP 2 – HOLLAND

Side A

Sail On Sailor
Steamboat
California Saga – Big Sur
California Saga – The Beaks Of Eagles
California Saga – California

Side B

The Trader
Leaving This Town
Only With You
Funky Pretty

7" EP – MOUNT VERNON AND FAIRWAY (A FAIRYTALE)

Side A

Mount Vernon And Fairway Theme
I'm The Pied Piper – Instrumental
Better Get Back In Bed
Magic Transistor Radio

Side B

 I'm The Pied Piper
Radio King Dom

LP 3 – THE BEACH BOYS LIVE AT CARNEGIE HALL

 (Previously Unreleased) November 23, 1972

1st Set

Side A

Concert Intro: Jack Rieley
Sloop John B
You Need A Mess Of Help To Stand Alone
Leaving This Town
Darlin'
Only With You

Side B

Heroes and Villains
Long Promised Road
Don't Worry, Baby
Student Demonstration Time
I Get Around

LP 4 – THE BEACH BOYS LIVE AT CARNEGIE HALL

2nd set

Side A

Intro to 2nd Set: Jack Rieley
Marcella
California Saga – California
Help Me, Rhonda
Let The Wind Blow

Side B

Medley: Wonderful / Don't Worry, Bill
God Only Knows
Do It Again
Wouldn't It Be Nice
Wild Honey

LP 5 – CARNEGIE HALL & BONUS TRACKS

Side A

Good Vibrations
California Girls
Surfin' USA
Fun Fun Fun
Jumpin' Jack Flash

Side B: Sail On Sailor Bonus Tracks

We Got Love (previously unreleased 2022 mix)
Hard Time (previously unreleased)
Carry Me Home (previously unreleased)
Fairy Tale Music (previously unreleased 2022 mix)

CD 1

CARL AND THE PASSIONS – SO TOUGH

You Need A Mess of Help to Stand Alone
Here She Comes
He Come Down
Marcella
Hold On Dear Brother
Make It Good
All This Is That
Cuddle Up

CARL AND THE PASSIONS – SO TOUGH BONUS TRACKS

The Road Not Taken (Demo – previously unreleased)
All This Is That (a Cappella mix – previously unreleased)
He Come Down (2022 mix – previously unreleased)
You Need A Mess of Help to Stand Alone (track and backing vocals)
Marcella (a Cappella mix – previously unreleased)
Make It Good (alternate mix with intro – previously unreleased)
Cuddle Up (alternate mix – previously unreleased)
Carl and the Passions / Pet Sounds Promo (1972) (previously unreleased)

LIVE BONUS TRACKS (Previously Unreleased)

Intro to 2nd Set: Jack Rieley – Carnegie Hall
You Need A Mess Of Help To Stand Alone – Carnegie Hall
Marcella – Carnegie Hall
Only With You – Carnegie Hall
Big Sur – Live 1973
Funky Pretty – Live 1973

CD 2

HOLLAND

Sail On Sailor
Steamboat
California Saga – Big Sur
California Saga – The Beaks of Eagles
California Saga – California
The Trader
Leaving This Town
Only With You
Funky Pretty

MOUNT VERNON AND FAIRWAY (A FAIRY TALE)

Mount Vernon and Fairway Theme
I'm The Pied Piper – Instrumental
Better Get Back In Bed
Magic Transistor Radio
I'm The Pied Piper
Radio King Dom

HOLLAND BONUS TRACKS (Previously Unreleased)

We Got Love (2022 Mix – previously unreleased)
Hard Time (previously unreleased)
Carry Me Home (previously unreleased)
California Saga – The Beaks of Eagles (1973 single mix – previously unreleased)
California Saga – California (1973 single mix – previously unreleased)
Sail On Sailor (track – previously unreleased 2022 mix)
Holland Promo 1 (1973 – previously unreleased)
Sail On Sailor (Live 1975 – previously unreleased)

LP 1: CARL AND THE PASSIONS – "SO TOUGH"

Side A

You Need A Mess Of Help To Stand Alone
Here She Comes
He Come Down
Marcella

Side B

Hold On Dear Brother
Make It Good
All This Is That
Cuddle Up

LP 2: HOLLAND

Side A

Sail On Sailor
Steamboat
California Saga – Big Sur
California Saga – The Beaks Of Eagles
California Saga – California

Side B

The Trader
Leaving This Town
Only With You
Funky Pretty

7″ EP: MOUNT VERNON AND FAIRWAY (A FAIRYTALE)

Side A

Mount Vernon And Fairway Theme
I'm The Pied Piper – Instrumental
Better Get Back In Bed
Magic Transistor Radio

Side B

 I'm The Pied Piper
Radio King Dom