Remember to Remember: Robert Palmer
Alan Robinson writes for SDE on the late, great Robert Palmer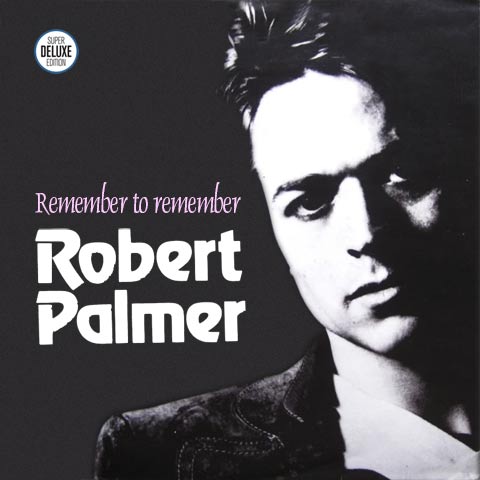 Blimey. Has it really been fifteen years since Robert Palmer passed away? Indeed so. He died on September 26th 2003 in a Paris hotel, succumbing to a heart attack at the savagely young age of only fifty-four. He seems to have largely faded from view with each year that passes; yet he enjoyed a lengthy and rewarding musical career, and for a while, managed to skilfully negotiate that difficult tightrope walk between critical acclaim and commercial success.

Yorkshire-born Robert Palmer's career began in the mid-sixties, playing in groups such as The Mandrakes when he was still at school in Scarborough. His first band of real note was the Alan Bown Set, whom he joined as replacement for vocalist Jess Roden. In 1970, he enlisted in the musically ambitious Dada, a twelve-piece Jazz-Rock fusion combo that also featured Elkie Brooks and Peter Gage. They would only last a year, before Brooks, Gage and Palmer would convene the rather more conventionally hard rocking Vinegar Joe. After recording three albums for Island Records, the band split, but Chris Blackwell, the label owner, clearly liked the cut of Palmer's jib, and signed him to a solo deal – Island would remain Palmer's recorded home for ten years, recording eight studio albums for the imprint. Blackwell was sufficiently old school to allow Palmer time to evolve a style and grow artistically over successive releases, rather than looking for instant hits. Debuting in 1974 with Sneaking Sally Through The Alley, recorded with the New Orleans masters of funk The Meters and Allen Toussaint, and featuring Lowell George of Little Feat (who co-produced the album with Palmer), the album was a great critical success whilst selling modestly, but each successive release built on his fan base incrementally.
Palmer was an artist who always had a certain sartorial style, and it follows that his album covers should be commensurately elegantly-tailored. The cover of his second album, Pressure Drop, featured a naked model standing at a window, with her long hair tapering down her back – whilst the smartly-suited Palmer held a TV remote control in his hand – the album title being featured on the TV screen. It portrayed Palmer as a kind of international playboy roué, even if it was done rather tongue-in-cheek
Robert Palmer seemed to show little regard for what was musically 'trendy'; one of his album titles was Some People Can Do What They Like, and that could act as a theme for his career. He changed musical style as often as most people change their underwear, and yet he always sounded like no-one other than himself. He rejoiced in contradictions; a down-to-earth Yorkshireman togged up in suave, exquisitely cut designer suits, recording in exotic locales like Compass Point in Nassau, and all the while smiling to himself when he considered his luck. One thing's for sure, though – he was never cavalier about his music. It was fun, but it was serious fun, and he never lost an enquiring mind and a desire to push his musical parameters.
Palmer always seemed to be a geezer at home in his own skin, and he invested his music with a playfulness and a genuine love of life. With every album, he took a different approach, and was clearly an individual who liked exploring new music and mixing up the genres with real abandon. On his 1980 album, Clues, he covered songs by Gary Numan ('I Dream of Wires') and The Beatles. He didn't care; it was all music to him, and all up for grabs. If he could bring something to it, put his own thumbprint on it, he'd give it his all. Spooling forward, he was one of the first mainstream rockers to embrace The Great American Songbook with 1992's Ridin' High, years before Rod Stewart or Robbie Williams thought it was a smart career move.
Palmer always enjoyed a good old rocking musical workout, though. His brief hook-up in The Power Station in 1985 with John and Andy Taylor of Duran Duran allowed him to flex his vocal muscles with a particularly lubricious take on the T Rex chestnut, 'Get It On'.
Of course, Robert Palmer will always be synonymous with that video – I am referring to 'Addicted To Love', his 1985 US number one / UK top five hit single. It was directed by the British photographer Terence Donovan, and featured Palmer straight-facedly performing the song, fronting a band of identically-dressed, identically made-up (and very beautiful) female models (as Malcolm McLaren later commented "Terry Donovan knew how to dress a woman"). The video was as controversial as it was popular, exciting the opprobrium of feminist commentators as well as being an MTV ever-present. Palmer seemed to revel in the fuss that was kicked up; it didn't do sales of the parent album, Riptide, any harm at all, and the promo video is rightfully regarded as a classic. He reprised the idea for 'I Didn't Mean To Turn You On' and 'Simply Irresistible', and Shania Twain turned the tables in her video promo for 'Man (I Feel Like A Woman)'.
Like any successful artist, Palmer was as susceptible to the vagaries of pop's ever-shifting landscape. The 1990s saw some indifferent album releases, such as Honey (1994) and Rhythm and Blues (1999), good, rather than great. His final album, 2003's Drive, was one of the most raw of his career, yet for all his description of it being a "gut-buckety kinda thing", he still took the eclectic approach, covering songs by artists as varied as ZZ Top, Redbone, and Little Willie John. It was a gem, and if anyone was resting on their considerable musical laurels, it wasn't RP. However, his untimely death robbed the world of music of one its most charming and engaging of characters, and had he lived, I have no doubts that Palmer would have again achieved success, and confounded those who may have had him labelled as a spent force, or 'that bloke in the video with the foxy chicks'.
RIP RP – you were one of the very best.
Alan Robinson
---
SDE recommended listening:
Compare prices and pre-order
Palmer Robert
Collected - 3CD set
Compare prices and pre-order
Robert Palmer
5 Classic Albums - 5CD set