 News
Robert Palmer / Collected 3CD set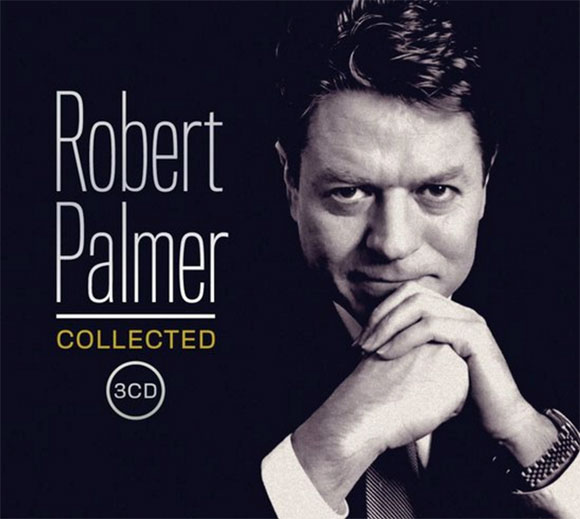 Not your usual lazy Robert Palmer compilation…
Remember that Level 42 Collected compilation we told you about a few weeks back, well, as some of you pointed out, Universal Netherlands are also preparing  a similar three-CD set for that much-missed Yorkshireman Robert Palmer, and it looks surprisingly good…

Robert Palmer: Collected, broadly speaking, devotes its first disc to Palmer's Island Years, the second to his tenure at EMI and, perhaps most interestingly, has a third disc of relative rarities including b-sides, twelve-inch remixes and two tracks from rhythm and blues group Vinegar Joe – the band Robert was in with Elkie Brooks in the early 1970s. As far as I can remember I don't recall any previous Palmer compilation including Vinegar Joe tracks, but Collected gets even more interesting by going back even further to 1969 for, Gypsy Girl, Robert's debut with The Alan Bown Set. He contributed vocals to the song after Jess Roden had left.
The third disc also features Milk Cow's Calf Blues, Palmer's contribution to the 2001 Robert Johnson tribute album Hellhound on My Trail, and Life in Detail, a relative obscurity from the soundtrack of the film Pretty Woman.
Although the world doesn't really need another Robert Palmer compilation, this one at least makes an effort to be interesting and at 34 years, spans the widest period of time. It includes tracks from all his solo studio album and has this gem of a third disc which does break new ground with some of the selections.
Robert Palmer: Collected is released on 19 August 2016. It's effectively an import outside The Netherlands, so prices will reflect that.
Compare prices and pre-order
Disk 1
Get outside
Sneakin' sally through the alley
Give me an inch
Which of us is the fool
Man smart, woman smarter
Every kinda people
Best of both worlds
What's it take?
Bad case of loving you (doctor, doctor)
Jealous
Can we still be friends?
Johnny and mary
Looking for clues
Not a second time
Some guys have all the luck
You are in my system
You can have it (take my heart)
Pride
Discipline of love
Riptide
Disc 2
Addicted to love
Hyperactive
I didn't mean to turn you on
Simply irresistible
She makes my day
Early in the morning
Tell me i'm not dreaming
Change his ways
It could happen to you
You're amazing
Mercy mercy me / i want you
Dreams to remember
Happiness
Witchcraft
Girl u want
Know by now
You blow me away
Respect yourself
True love
Dr. zhivago's train
Disc 3 
Gypsy girl the alan bown
Never met a dog (that took to me) (vinegar joe)
See the world (through my eyes) (vinegar joe)
Parade of the obliterators
Pride (remix)
You can have it (take my heart) (12″ version)
You are in my system (remix)
Some like it hot (the power station)
Get it on (bang a gong) (the power station)
Simply irresistible (e.t. remix)
Mercy mercy me / i want you (12″ remix)
Sweet lies (from "sweet lies" soundtrack)
Life in detail (from "pretty woman" soundtrack)
I'll be your baby tonight ft. ub40
Every kinda people (1992 remix)
Milk cow's calf blues (tribute to robert johnson)