Saturday Deluxe / 5 May 2018
Guns N' Roses – SDE box set analysis
Let's talk about Guns N' Roses…. The reissue of Appetite For Destruction has been announced and the big talking point is the massive Locked N' Loaded set that costs £850.
But before we get into that, I think the marketing of this reissue has been interesting. Once an announcement is 'out there' the record label loses control of the 'message' and there is all sorts of confusion.

So to be clear, only the massive set that comes in a wooden cabinet is called the Locked N' Loaded edition. Despite how some retailers are labelling the various editions, there is only one Locked N' Loaded set.
Also, while the audio content is undoubtedly impressive, some of the claims are a little misleading. The official site talks of the super deluxe edition and Locked N' Loaded edition having 4CDs with 73 tracks, with "49 tracks previously unreleased". That's not actually true, there are 51 tracks on the four CDs and 27 of those audio tracks are unreleased.

How the official Guns N' Roses site describes the contents
The 'missing' 22 tracks are on the blu-ray disc, so the claim is true over five discs, but not four. Or is it?
On the blu-ray, the 12 album tracks counted towards the 'previously unreleased' tally, because they've never been issued in 5.1 surround sound before. Same goes for the five bonus audio tracks on the same disc. It is not common to refer to the individual songs from a new 5.1 mix of an album as 'previously unreleased' tracks, but I guess, technically, they could argue the case.
The five videos are definitely stretching the definitions to breaking point, however. It's So Easy is new, so that's fine, but the four very well known promos (Welcome To The Jungle, Sweet Child O' Mine, Paradise City and Patience) are also part of these "49 Tracks Previously Unreleased". Really? The reason is because the video has a 5.1 mix soundtrack, which is new. However, they've already counted the 5.1 mixes of those four tracks as previously unreleased in the audio-only section of the blu-ray, so does putting a familiar video to the surround mix really create another previously unreleased track? Not really, I would argue. And anyway, since when has a video been called a 'track'?
Nitpicking? I don't think so. 27 unreleased tracks on a reissue of a 12-track album is superb, but massaging the figures to make this sound even more impressive is both confusing and unnecessary.
Locked N' Loaded – tat-fest, or superb celebration?
Record companies seem to be convinced that when it comes to big, expensive box sets – and perhaps this is particularly true of 'metal' bands – that fans want all sorts of 'stuff' in them, such as posters, patches, replica flyers, guitar picks, ticket stubs, lithographs (posh posters), buttons, slipmats, rosettes, plastic bags… and so on. The question is DO WE? Despite the Pink Floyd marbles fiasco of 2011, this kind of content continues to pad out box sets, seemingly with no other task other than creating the perception of 'value'. Perhaps they can get away with it for a £75 box set if the core content is good enough – how we laughed at the marbles, scarves and coasters in The Dark Side Of The Moon – but Appetite For Destruction 'Locked N' Loaded' is $1000!
Okay, it looks like some effort has gone into the wooden cabinet and handmade cross, and the volume of content in Locked N' Loaded is truly astonishing (the planning and manufacturing of such a set must have been a logistical nightmare), but for the money being asked once you put aside the vinyl and CDs we are still getting 'faux' this and 'replica' that. You are paying £850 and the band aren't even signing it. How about some content of genuine quality? Something that will last. REAL leather-bound book packaging with debossed or embossed logo. A personalised and signed-by-the-band certificate or print for each purchaser. The entire contents of the four CDs of audio replicated on the blu-ray audio along with the 5.1 mixes and videos.
These are just suggestions, because we are seeing the prices of box sets rising, and with the odd exception, I'm not noting the quality of the product rising. And you could argue that labels have fallen into a pattern of just bunging in the same old tat that often wouldn't be out of place on the shelves of a pound shop. I remember, there was a Rolling Stones Some Girls set a few years ago that included a lipstick USB stick. Nothing on it, but it was a lipstick USB stick! Really?
As alluded to back in February, perhaps labels have given up trying to persuade the discerning physical music buyer to spend a lot of money on box sets because those fans will spend a fortune on VIP tickets to gigs (an 'experience'), but not physical music box sets (a tangible product). As a result, they are really going for it – and I don't mean this unkindly – with deep-pocketed undiscerning fans who will buy anything at virtually any price. Of course this represents a TINY fraction of the fanbase of a given artist, but if the fanbase is big enough, you might just sell 10,000 copies of a thousand dollar box set which creates many millions of dollars worth of income for the reissue project.
It feels to me that we need fresh ideas and some new creativity when it comes to enhancing and adding value to expensive physical music box sets. There will always be a demand for signed items, coloured vinyl and truly limited packages, but please, let's dump the checklist of posters, flyers, badges, marbles, coasters, scarves, postcards, patches etc. and think about a new generation of box sets that offer true quality, with a less-is-more mindset.
Nothing, I feel, has come close to Imogen Heap's Sparks box set. That was £200 and early pre-orderers got to go to a big party at Imogen's house (!) and the box was unbelievable in terms of audio and video content and contained a book where Heap had handmade her own paper!
Appetite For Destruction will be reissued on 29 June 2018
Compare prices and pre-order
Guns N Roses
Appetite For Destruction - 4CD+blu-ray super deluxe
Compare prices and pre-order
Guns N' Roses
Appetite For Destruction - 2LP vinyl remaster
Compare prices and pre-order
Guns N' Roses
Appetite For Destruction - 2CD deluxe edition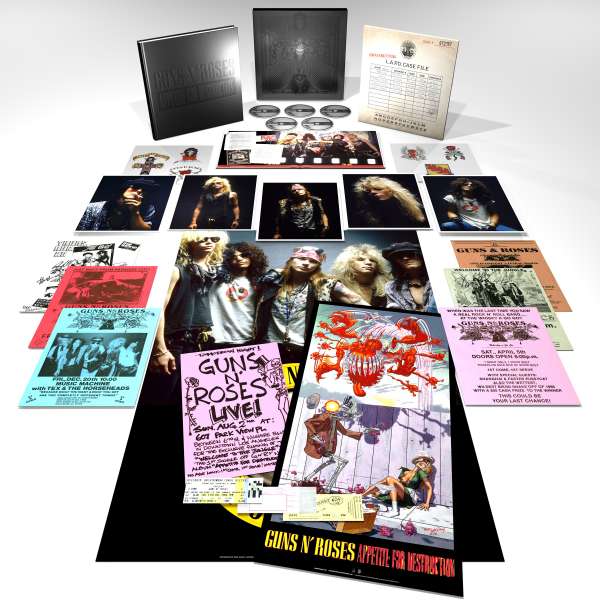 Appetite For Destruction 4CD+blu-ray+book Super Deluxe Edition
CD 1 – APPETITE FOR DESTRUCTION: REMASTERED
Welcome To The Jungle
It's So Easy
Nightrain
Out Ta Get Me
Mr. Brownstone
Paradise City
My Michelle
Think About You
Sweet Child O' Mine
You're Crazy
Anything Goes
Rocket Queen
Produced by Mike Clink
Mixed by Steve Thompson and Michael Barbiero
CD2 – B-SIDES N' EPS: REMASTERED
Reckless Life
Nice Boys
Move To The City (Live)
Mama Kin
Shadow Of Your Love (Live)
You're Crazy (Acoustic Version)
Patience
Used To Love Her
You're Crazy
It's So Easy (Live)
Knockin' On Heaven's Door (Live)
Whole Lotta Rosie (Live)
CD 3 – 1986 SOUND CITY SESSION
All Previously Unreleased
Welcome To The Jungle (1986 Sound City Session)
Nightrain (1986 Sound City Session)
Out Ta Get Me (1986 Sound City Session)
Paradise City (1986 Sound City Session)
My Michelle (1986 Sound City Session)
Think About You (1986 Sound City Session)
You're Crazy (1986 Sound City Session)
Anything Goes (1986 Sound City Session)
Rocket Queen (1986 Sound City Session)
Shadow Of Your Love (1986 Sound City Session)
Heartbreak Hotel (1986 Sound City Session)
Jumpin' Jack Flash (1986 Sound City Session)
CD 4 – 1986 SOUND CITY SESSION N' MORE
All Previously Unreleased
Shadow Of Your Love
Move To The City (1986 Sound City Session)
Ain't Goin' Down No More (Instrumental Version – 1986 Sound City Session)
The Plague (1986 Sound City Session)
Nice Boys (1986 Sound City Session)
Back Off Bitch (1986 Sound City Session)
Reckless Life (1986 Sound City Session)
Mama Kin (1986 Sound City Session)
New Work Tune (1986 Sound City Session)
November Rain (Piano Version – 1986 Sound City Session))
Move To The City (Acoustic Version – 1986 Sound City Session)
You're Crazy (Acoustic Version – 1986 Sound City Session)
November Rain (Acoustic Version – 1986 Sound City Session)
Jumpin' Jack Flash (Acoustic Version – 1986 Sound City Session)
Move To The City (1988 Acoustic Version)
DISC 5 – BLU-RAY AUDIO
96kHz 24-bit 5.1 Surround Sound & Remastered Stereo
5.1 Surround Sound mixed by *Elliot Scheiner and **Frank Filipetti
All Previously Unreleased
APPETITE FOR DESTRUCTION*
Welcome To The Jungle
It's So Easy
Nightrain
Out Ta Get Me
Mr. Brownstone
Paradise City
My Michelle
Think About You
Sweet Child O' Mine
You're Crazy
Anything Goes
Rocket Queen
Produced by Mike Clink
Stereo mixed by Steve Thompson and Michael Barbiero
BONUS TRACKS
Shadow Of Your Love**
Patience*
Used To Love Her**
You're Crazy**
Move To The City (1988 Acoustic Version)**
MUSIC VIDEOS*
Welcome To The Jungle
Sweet Child O'Mine
Paradise City
Patience
It's So Easy – BRAND NEW VIDEO FROM 1989
---
Appetite For Destruction / 2LP vinyl remastered
LP 1 – SIDE G:
Welcome To The Jungle
It's So Easy
Nightrain
Out Ta Get Me
LP 1 – SIDE N:
Mr. Brownstone
Paradise City
My Michelle
Think About You
LP 2 – SIDE R:
Sweet Child O' Mine
You're Crazy
Anything Goes
Rocket Queen
LP 2 – LAST SIDE: Hologroove Hologram
Produced Mike Clink
Mixed by Steve Thompson and Michael Barbiero
---
Appetite for Destruction / 2CD deluxe edition
CD 1 – APPETITE FOR DESTRUCTION: REMASTERED
Welcome To The Jungle
It's So Easy
Nightrain
Out Ta Get Me
Mr. Brownstone
Paradise City
My Michelle
Think About You
Sweet Child O' Mine
You're Crazy
Anything Goes
Rocket Queen
Produced by Mike Clink
Mixed by Steve Thompson and Michael Barbiero
CD 2 – B-SIDES, EPS N' MORE
Reckless Life
Nice Boys
Move To The City (Live)
Mama Kin
Shadow Of Your Love (Live)
Welcome To The Jungle (1986 Sound City Session)*
Nightrain (1986 Sound City Session)*
Out Ta Get Me (1986 Sound City Session)*
Paradise City (1986 Sound City Session)*
My Michelle (1986 Sound City Session)*
Shadow Of Your Love*
It's So Easy (Live)
Knockin' On Heaven's Door (Live)
Whole Lotta Rosie (Live)
You're Crazy (Acoustic Version)
Patience
Used To Love Her
Move To The City (1988 Acoustic Version)*
* Previously Unreleased
---
Appetite For Destruction Locked N' Loaded box set
Full Contents
Embossed Faux Leather and Wood Cabinet
Handmade 3D Cross
Super deluxe edition: 96 page handbound book with unreleased photos from Axl Rose's personal archive
4 CD's in total with 73 total tracks featuring 49 unreleased tracks
1 blu ray audio disc with new 5.1 surround sound mixes
Seven 12″ 180 Gram LPS
Original Album expanded into two LPs
First ever album remaster from analogue tapes
Limited Edition foil slipcase
4th side hologroove hologram
1 LP B-Sides  N' EPs and Live Like a Suicide EP
3LP Sound City Session and 25 unreleased songs from the 1986 session
2 unreleased tracks from Mike Clink Sessions
7 7″ singles on yellow vinyl
12 New illustration lithos visualizing each song from Appetite for Destruction
Turntable Mat
6 Replica Gig Flyers
Welcome to the Jungle Video Invite Flyer
Microfiber Cleaning Cloth
6 Iron-On Stitched Logo Patches
5 Metal Guitar Picks
3 Replica Ticket Stubs
5 metal Band Skull Lapel Pins
2-Inch Collectable Coin
5 buttons
7″ adapter
5 Metal Band Skull Rings
USB Stick
5 Never-Before Seen Band Member Photo Lithos
6 Temporary Band Member Tattoos
Robert Williams Painting Litho
Two Wall Posters
Custom bandana With Silver Metallica Ink
Replica 85'/86′ Concert Banner Featuring Numbered Certificate of Authenticity
4 CDs

73 Total Tracks – 49 Tracks Previously Unreleased
First Ever Album Remaster from Original Analog Tapes
12 Tracks from B-sides N' EPs Newly Remastered from Original Analog Tapes
25 Unreleased Recordings from 1986 Sound City Session
2 Unreleased Recordings from Mike Clink Sessions:

"Shadow Of Your Love" – from December 1986 Mike Clink tryout session
"Move To The City (1988 Acoustic Version)" – from GN'R LIES sessions

1 Blu-ray Audio Disc

New 96kHz 24-bit 5.1 Surround Sound Mixes from Original Analog Multi-tracks
Original Album Mixed by Elliot Scheiner
5 Bonus Tracks Mixed by Elliot Scheiner & Frank Filipetti
All songs feature brand new animations
4 Original Music Videos in 5.1
Unreleased 1989 "It's So Easy" Video in 5.1

Seven 180-gram Audiophile 12-inch LPs

All Vinyl Cut from 192kHz 24-bit Remastered High-Resolution Audio
Original Album Expanded to 2-LPs for Maximum Audiophile Playback

Limited Edition Foil Art Slipcase
Side 4 Extra Bonus: Hologroove Hologram of GN'R Logo

LIVE LIKE A SUICIDE EP (1-LP) with Extra Track "Shadow Of Your Love"
B-SIDES N' EPS (1-LP)
1986 SOUND CITY SESSION N' MORE (3-LPs)

6 Replica 7-inch Singles + New 7-inch for "Shadow Of Your Love" on Yellow Vinyl

"It's So Easy" b/w "Mr. Brownstone"
"Welcome To The Jungle" b/w "Whole Lotta Rosie (Live)"
"Sweet Child O' Mine" b/w "Out Ta Get Me"
"Paradise City" b/w "Used To Love Her"
"Patience" b/w "Rocket Queen"
"Nightrain" b/w "Reckless Life"
"Shadow Of Your Love" b/w "Move To The City (1988 Acoustic Version)"

32GB Metal Cross USB Stick with High-Resolution Audio Formats from All 4 CDs

192kHz 24-bit AIFF Files
96kHz 24-bit AIFF Files
44.1kHz 16-bit AIFF Files