Hear an early instrumental mix of Tears For Fears' Sowing the Seeds of Love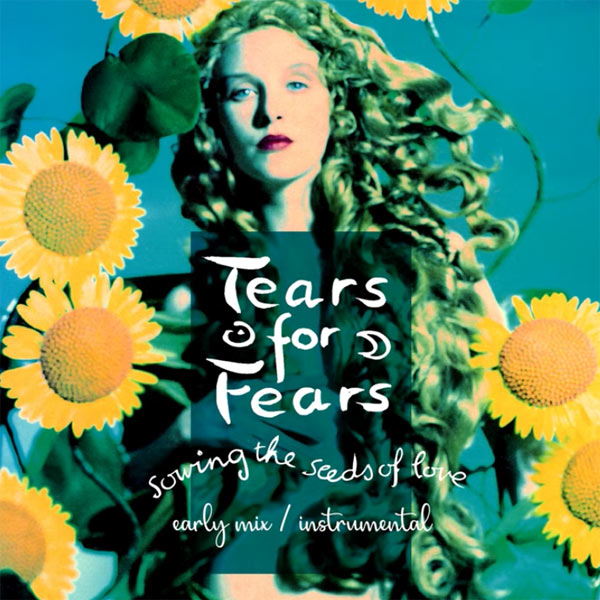 Another bonus track to whet your appetite
With just over a month until Tears For Fears' The Seeds of Love box set is finally released, here's an opportunity to listen to one of the many bonus tracks: an early instrumental mix of the lead single 'Sowing the Seeds of Love'.

Unlike its follow-up, 'Woman in Chains', no instrumental of 'Sowing the Seeds of Love' was ever issued, so here's a rare chance to examine the layers, take a good listen to Chris Hughes' drums and that solo organ courtesy of Ian Stanley!
Although this instrumental is fairly well developed and the structure and most of the components are in place, it is still an 'early mix' so there's little guitar and certain synth sounds that will have you running to the original to check if they are they're in the finished article!
This version of 'Sowing the Seeds of Love' is exclusive to box set (it's on CD 3: "The Moon: Radio Edits and Early Mixes") and along with the other formats, that will be released on 9 October 2020.
SDE had a great deal of involvement in this set and as such we are selling the box set – and the black vinyl edition – over on the SDE shop. Use this link to pre-order or alternatively make use of the buy buttons below. SDE stock allocations are guaranteed – if you pre-order we will supply!

The Seeds of Love – 4CD+blu-ray box set
CD 1 – ORIGINAL ALBUM
NEW REMASTER BY ANDREW WALTER AT ABBEY ROAD
01. Woman In Chains: 6:31
02. Badman's Song: 8:32
03. Sowing The Seeds Of Love: 6:19
04. Advice For The Young At Heart: 4:50
05. Standing On The Corner Of The Third World: 5:33
06. Swords And Knives: 6:12
07. Year Of The Knife: 7:08
08. Famous Last Words: 4:26
CD 2 – THE SUN
45's AND B-SIDES
01. Sowing The Seeds Of Love – 7″ Version: 5:43
02. Tears Roll Down: 3:16
03. Woman In Chains – 7" Version: 5:28
04. Always In The Past: 4:38
05. My Life In The Suicide Ranks: 4:32
06. Woman In Chains – Instrumental: 6:30
07. Advice For The Young At Heart – 7" Version: 4:49
08. Johnny Panic And The Bible Of Dreams Instrumental: 4:18
09. Music For Tables: 3:32
10. Johnny Panic And The Bible Of Dreams Mix One: 6:22
11. Johnny Panic And The Bible Of Dreams Mix Two: 5:55
12. Sowing The Seeds Of Love – US Radio Edit: 4:04
13. Woman In Chains – US Radio Edit 1: 4:42
14. Advice For The Young At Heart – Italian Radio Edit: 3:40
15. Year Of The Knife – Canadian Single Version: 5:40
16. Johnny Panic And The Bible Of Dreams: 4:17
CD 3 – THE MOON
RADIO EDITS AND EARLY MIXES
01. Year Of The Knife – Overture: 1:47
02. Year Of The Knife – Early Mix – Instrumental: 8:50
03. Sowing The Seeds Of Love – Alternate Mix: 7:22
04. Tears Roll Down – Alternate Mix: 4:07
05. Year Of The Knife – Steve Chase 7″ Remix: 4.29
06. Badman's Song – Early Mix: 7:56
07. Advice For The Young At Heart – Instrumental: 4:56
08. Year Of The Knife – The Mix: 06:55
09. Johnny Panic And The Bible Of Dreams – Mix One Edit: 3:43
10. Sowing The Seeds Of Love – Early Mix – Instrumental: 5.55
11. Woman In Chains – US Radio Edit 2: 4:19
12. Year Of The Knife – Canadian Single Version – Instrumental: 5:40
13. Famous Last Words – French Radio Edit: 3:07
14. Woman In Chains – Reprise: 6:39
CD 4 – THE WIND
DEMOS, DIVERSIONS AND JAMS
01. Rhythm Of Life – Demo: 5:12
02. Advice For The Young At Heart – Demo: 4:52
03. Swords And Knives – Demo: 3:51
04. Famous Last Words – Demo: 4:12
05. Sowing The Seeds Of Love – Demo – Instrumental: 6:06
06. Badman's Song – Langer / Winstanley Version – Instrumental: 7:30
07. Woman In Chains – Townhouse Jam: 7:06
08. Broken – Townhouse Jam: 1:37 Tears For Fears
09. Rhythm Of Life – Townhouse Jam: 3:09
10. Badman's Song – Townhouse Jam: 8:17
11. Badman's Song – Reprise – Townhouse Jam: 2:50
12. Standing On The Corner Of The Third World – Townhouse Jam: 9:09
BLU RAY – THE RAIN
STEVEN WILSON 5.1 MIX, ORIGINAL ALBUM MIX & NEW REMASTER
Steven Wilson 5.1 MIX
01. Woman In Chains: 6:30
02. Badman's Song: 8:32
03. Sowing The Seeds Of Love: 6:19
04. Advice For The Young At Heart: 4:55
05. Standing On The Corner Of The Third World: 5:33
06. Swords And Knives: 6:20
07. Year Of The Knife: 6:55
08. Famous Last Words: 4:11
Original Album Mix (Bob Ludwig 1989 mastering)
01. Woman In Chains: 6:31 (Original album master)
02. Badman's Song: 8:32 (Original album master)
03. Sowing The Seeds Of Love: 6:19 (Original album master)
04. Advice For The Young At Heart: 4:50 (Original album master)
05. Standing On The Corner Of The Third World: 5:33 (Original album master)
06. Swords And Knives: 6:12 (Original album master)
07. Year Of The Knife: 7:08 (Original album master)
08. Famous Last Words: 4:26 (Original album master)
New remaster (by Andrew Walter at Abbey Road)
01. Woman In Chains: 6:30 (New remaster)
02. Badman's Song: 8:32 (New remaster)
03. Sowing The Seeds Of Love: 6:19 (New remaster)
04. Advice For The Young At Heart: 4:55 (New remaster)
05. Standing On The Corner Of The Third World: 5:33 (New remaster)
06. Swords And Knives: 6:20 (New remaster)
07. Year Of The Knife: 6:55 (New remaster)
08. Famous Last Words: 4:11 (New remaster)
The Seeds of Love vinyl LP remaster (same tracks on picture disc)
Side 1
01. Woman In Chains: 6:31
02. Badman's Song: 8:32
03. Sowing The Seeds Of Love: 6:19
04. Advice For The Young At Heart: 4:50
Side 2
01. Standing On The Corner Of The Third World: 5:33
02. Swords And Knives: 6:12
03. Year Of The Knife: 7:08
04. Famous Last Words: 4:26
The Seeds of Love 2CD deluxe
CD 1 – ORIGINAL ALBUM
NEW REMASTER BY ANDREW WALTER AT ABBEY ROAD
01. Woman In Chains: 6:31
02. Badman's Song: 8:32
03. Sowing The Seeds Of Love: 6:19
04. Advice For The Young At Heart: 4:50
05. Standing On The Corner Of The Third World: 5:33
06. Swords And Knives: 6:12
07. Year Of The Knife: 7:08
08. Famous Last Words: 4:26
CD 2 – THE SUN
45's AND B-SIDES
01. Sowing The Seeds Of Love – 7" Version: 5:43
02. Tears Roll Down: 3:16
03. Woman In Chains – 7" Version: 5:28
04. Always In The Past: 4:38
05. My Life In The Suicide Ranks: 4:32
06. Woman In Chains – Instrumental: 6:30
07. Advice For The Young At Heart – 7" Version: 4:49
08. Johnny Panic And The Bible Of Dreams Instrumental: 4:18
09. Music For Tables: 3:32
10. Johnny Panic And The Bible Of Dreams Mix One: 6:22
11. Johnny Panic And The Bible Of Dreams Mix Two: 5:55
12. Sowing The Seeds Of Love – US Radio Edit: 4:04
13. Woman In Chains – US Radio Edit 1: 4:42
14. Advice For The Young At Heart – Italian Radio Edit: 3:40
15. Year Of The Knife – Canadian Single Version: 5:40
16. Johnny Panic And The Bible Of Dreams: 4:17
The Seeds of Love single CD remaster
NEW REMASTER BY ANDREW WALTER AT ABBEY ROAD
01. Woman In Chains: 6:31
02. Badman's Song: 8:32
03. Sowing The Seeds Of Love: 6:19
04. Advice For The Young At Heart: 4:50
05. Standing On The Corner Of The Third World: 5:33
06. Swords And Knives: 6:12
07. Year Of The Knife: 7:08
08. Famous Last Words: 4:26