 News
Ace of Base / All That She Wants: The Classic Albums 4LP coloured vinyl box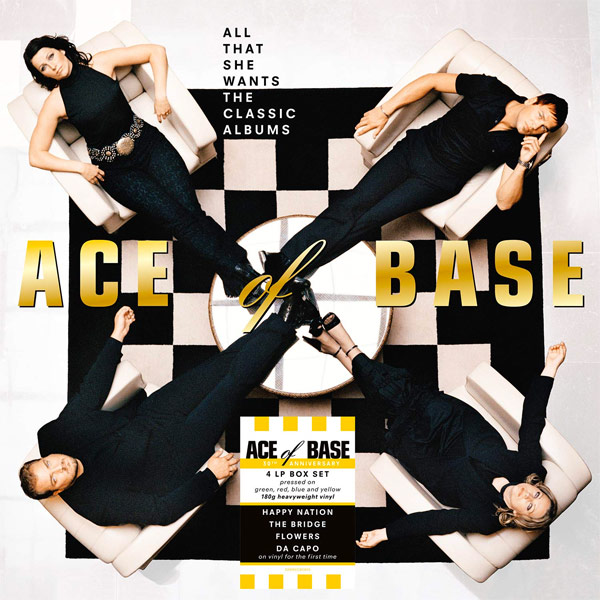 Mega selling Swedish pop group Ace of Base's first four studio albums are reissued in a new coloured vinyl box set called All That She Wants: The Classic Albums.

The albums in question are Happy Nation (from 1993 – later reissued as The Sign), The Bridge (1995), Flowers (1998) and Da Capo (2002). These are pressed on 180g coloured vinyl; green, red, blue and yellow, respectively.
The records all feature original artwork and printed inner sleeves and are housed in a rigid board outer slip case. This box marks the vinyl debut of Da Capo.
Ace Of Base's debut has sold more than 20m copies worldwide and features the international number one 'All That She Wants' as well as 'The Sign'. The group's success inevitably tailed off with each subsequent long-player, but they still enjoyed six further UK top 40 hits from the other three albums gathered within this new box.
All That She Wants: The Classic Albums will be released on 26 June 2020 via Demon Records (previously 3 April 2020, then 15 May!).
Compare prices and pre-order
Ace Of Base
Ace Of Base - All That She Wants - heavyweight Colour Vinyl
LP 1 – Happy Nation
1. All That She Wants
2. Don't Turn Around
3. Young And Proud
4. The Sign
5. Living in Danger
6. Voulez-Vous Danser
7. Happy Nation
8. Hear Me Calling
9. Waiting For Magic [Total Remix 7″]
10. Fashion Party
11. Wheel of Fortune
12. Dancer In A Daydream
13. My Mind [Mindless Mix]
14. All That She Wants [Bhangra version]
LP 2 – The Bridge
1. Beautiful Life
2. Never Gonna Say I'm Sorry
3. Lucky Love
4. Edge Of Heaven
5. Strange Ways
6. Ravine
7. Perfect World
8. Angel Eyes
9. Whispers In Blindness
10. My Déjà Vu
11. Wave Wet Sand
12. Que Sera
13. Just 'N' Image
14. Experience Pearls
15. Blooming 18
LP 3 – Flowers
1. Life Is A Flower
2. Always Have, Always Will
3. Cruel Summer
4. Travel To Romantis
5. Adventures In Paradise
6. Dr. Sun
7. Cecilia
8. He Decides
9. I Pray
10. Tokyo Girl
11. Don't Go Away
12. Captain Nemo
13. Donnie
14. Everytime It Rains
LP 4 – Da Capo
1. Unspeakable
2. Beautiful Morning
3. Remember The Words
4. Da Capo
5. World Down Under
6. Ordinary Day
7. Wonderful Life
8. Show Me Love
9. What's The Name Of The Game
10. Change With The Light
11. Hey Darling
12. The Juvenile