 News
Aretha Franklin / A Portrait of the Queen 1970-1974
5CD or 6LP box set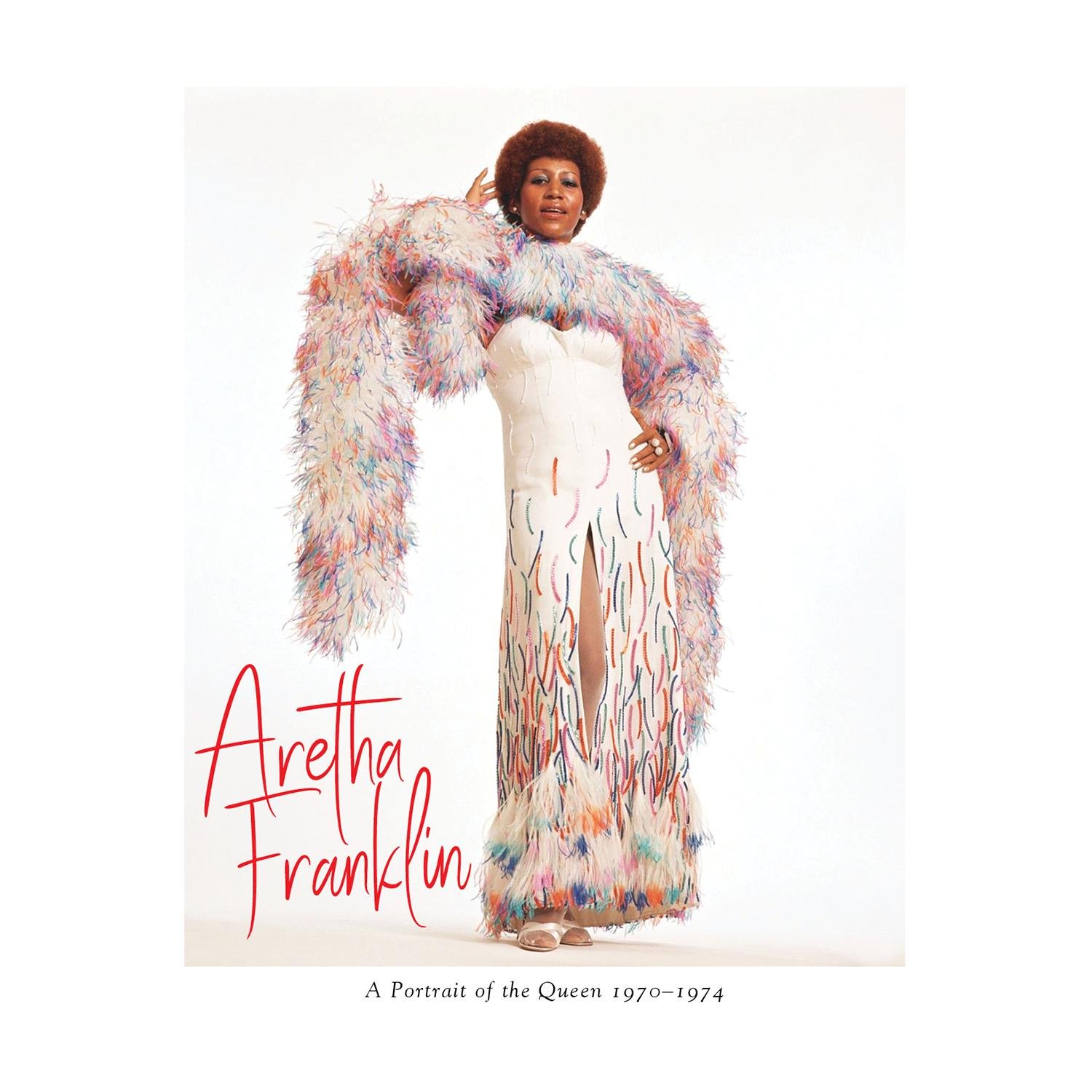 Aretha Franklin's first five studio albums of the 1970s are collected in a new box set called A Portrait of the Queen 1970-1974.
The albums in question are This Girl's In Love With You (1970), Spirit in the Dark (1970), Young Gifted and Black (1972), Hey Now Hey (The Other Side of the Sky) (1973) and Let Me In Your Life (1974). They have all been remastered from the analog master tapes by Chris Bellman at Bernie Grundman Mastering.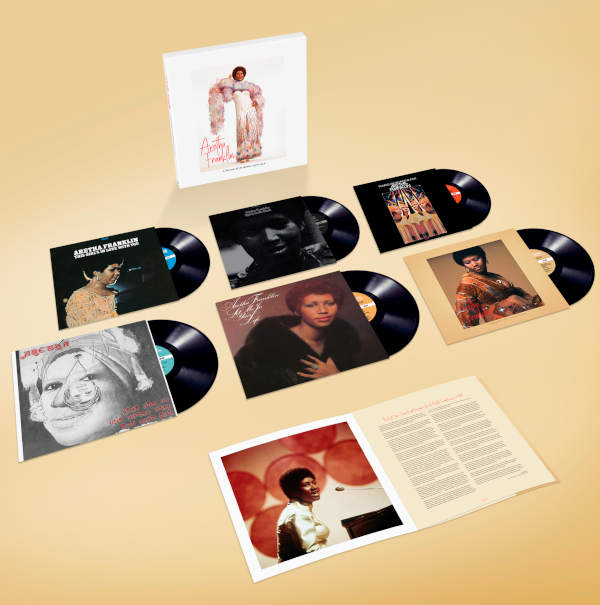 These were all were produced by Tom Dowd, Arif Mardin and Jerry Wexler, except for Hey Now Hey (The Other Side of the Sky) which saw Aretha work with Quincy Jones. This Girl's in Love With You saw the first commercial release of The Beatles' 'Let It Be', which is remarkable (Paul McCartney apparently sent her a demo and Franklin's album was issued on 15 January 1970, almost two months before The Beatles' version).
A Portrait of the Queen is available as a 6LP set or a 5CD box. The vinyl version has a bonus disc of "session alternates, outtakes & demos" not included in the CD box which is a low blow. Both come with booklets featuring sleeve notes by Gail Mitchell and David Nathan
A Portrait of the Queen 1970-1974 will be released on 1 December 2023, via BMG.
Compare prices and pre-order
Franklin,Aretha
A Portrait of the Queen - 5CD box set
Compare prices and pre-order
Franklin,Aretha
A Portrait of the Queen - 6LP vinyl box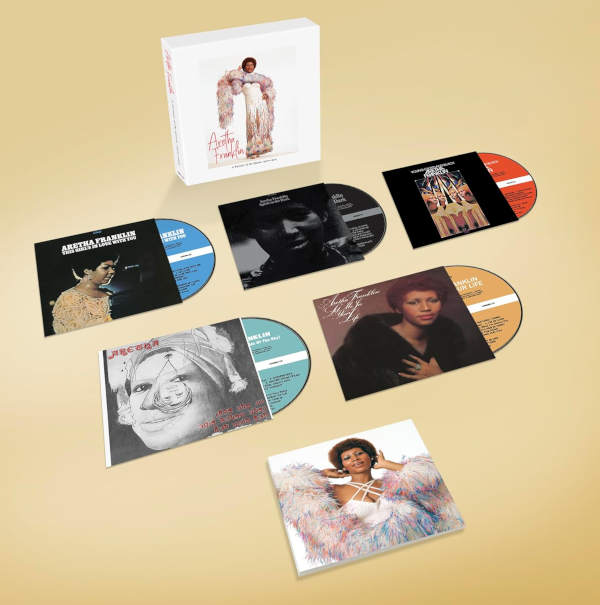 Tracklisting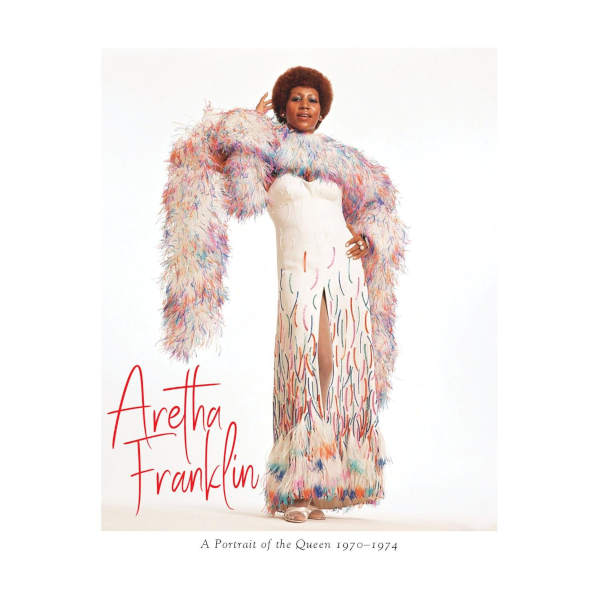 A Portrait of the Queen 1970-1974 Aretha Franklin
/
LP 1: THIS GIRL'S IN LOVE WITH YOU

 SIDE A

Son Of A Preacher Man
Share Your Love With Me
Dark End Of The Street
Let It Be
Eleanor Rigby

SIDE B

This Girl's In Love With You
It Ain't Fair
The Weight
Call Me
Sit Down And Cry

LP2: SPIRIT IN THE DARK

SIDE C

Don't Play That Song
The Thrill Is Gone (From Yesterday's Kiss)
Pullin'
You And Me
Honest I Do
Spirit In The Dark

SIDE D

When The Battle Is Over
One Way Ticket
Try Matty's
That's All I Want From You
Oh No Not My Baby
Why I Sing The Blues

LP 3: YOUNG GIFTED AND BLACK

SIDE E

Oh Me Oh My (I'm A Fool For You Baby)
Day Dreaming
Rock Steady
Young Gifted
And Black
All The King's Horses
A Brand New Me

SIDE F

April Fools
I've Been Loving You
Too Long
First Snow In Kokomo
The Long And Winding Road
Didn't I (Blow Your Mind This
Time)
Border Song (Holy Moses)

LP 4: HEY NOW HEY (THE OTHER SIDE OF THE SKY)

SIDE G

Hey Now Hey (The Other Side Of The Sky)
Somewhere
So Swell When You're Well
Angel
Sister From Texas

SIDE H

Mister Spain
That's The Way I Feel About Cha
Moody's Mood
Just Right Tonight

LP 5: LET ME IN YOUR LIFE

SIDE I

Let Me In Your Life
Every Natural Thing
Ain't Nothing Like The Real Thing
I'm In
Love
Until You Come Back To Me (That's What I'm Gonna Do)
The Masquerade Is Over

SIDE J

With Pen In Hand
Oh Baby
Eight Days On The Road
If You Don't Think
A Song For You

LP 6: BONUS TRACKS

SIDE K

Pledging My Love/The Clock
You're Taking Up Another Man's Place
Are You Leaving Me
You're All I Need To Get By (Take 2)
Spanish Harlem (Aretha 3, rough mix, reel 12150)

SIDE L

Lean On Me
Sweetest Smile And The Funkiest Style
Do You Know
At Last
Master Of Eyes (The Deepness Of Your Eyes)
Til It's Over
Tracklisting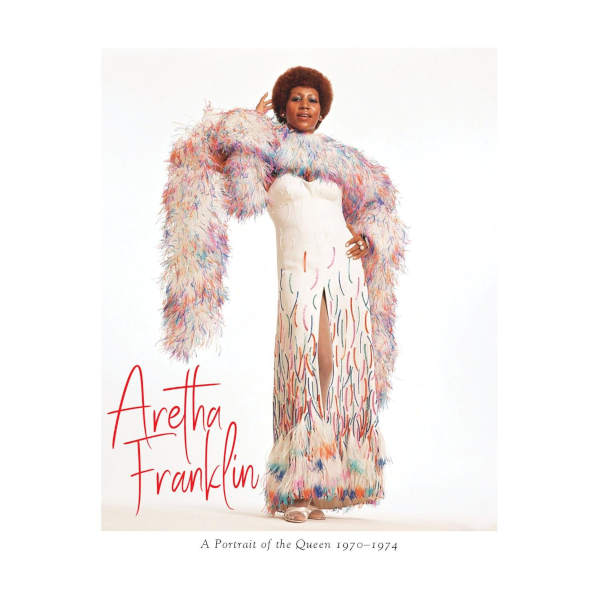 A Portrait of the Queen 1970-1974 Aretha Franklin
/
CD 1: THIS GIRL'S IN LOVE WITH YOU

Son Of A Preacher Man
Share Your Love With Me
Dark End Of The Street
Let It Be
Eleanor Rigby
This Girl's In Love With You
It Ain't Fair
The Weight
Call Me
Sit Down And Cry

CD 2: SPIRIT IN THE DARK

Don't Play That Song
The Thrill Is Gone (From Yesterday's Kiss)
Pullin'
You And Me
Honest I Do
Spirit In The Dark
When The Battle Is Over
One Way Ticket
Try Matty's
That's All I Want From You
Oh No Not My Baby
Why I Sing The Blues

CD 3: YOUNG GIFTED AND BLACK

Oh Me Oh My (I'm A Fool For You Baby)
Day Dreaming
Rock Steady
Young Gifted
And Black
All The King's Horses
A Brand New Me
April Fools
I've Been Loving You
Too Long
First Snow In Kokomo
The Long And Winding Road
Didn't I (Blow Your Mind This
Time)
Border Song (Holy Moses)

CD 4: HEY NOW HEY (THE OTHER SIDE OF THE SKY)

Hey Now Hey (The Other Side Of The Sky)
Somewhere
So Swell When You're Well
Angel
Sister From Texas
Mister Spain
That's The Way I Feel About Cha
Moody's Mood
Just Right Tonight

CD 5: LET ME IN YOUR LIFE

Let Me In Your Life
Every Natural Thing
Ain't Nothing Like The Real Thing
I'm In
Love
Until You Come Back To Me (That's What I'm Gonna Do)
The Masquerade Is Over
With Pen In Hand
Oh Baby
Eight Days On The Road
If You Don't Think
A Song For You