 News
Aretha Franklin / The Atlantic Singles Collection 1967-1970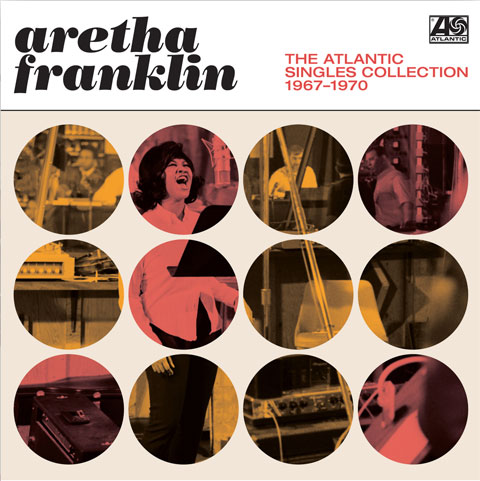 Two-CD & 2LP vinyl sets
This September, Atlantic and Rhino Records will release The Atlantic Singles Collection 1967-1970, a new Aretha Franklin set that spotlights those three years at Atlantic that produced so many international hit singles.

This collection features 34 singles – arranged chronologically – across two-CDs with the two-LP vinyl version shortened to 25 tracks. These songs originally appeared on six studio albums (I Never Loved A Man The Way I Love You (1967), Aretha Arrives (1967), Lady Soul (1968), Aretha Now (1968), Soul '69 (1969), This Girl's In Love With You (1970), and Spirits In The Dark (1970)). There is one exception; Franklin's cover of Elton John's Border Song, which although released as a single in 1970 didn't appear on an album until 1972 (Young, Gifted and Black).
The Atlantic Singles Collection 1967-1970 will be released on 28 September 2018.
Compare prices and pre-order
Aretha Franklin
The Atlantic Singles - 2CD edition
Compare prices and pre-order
Aretha Franklin
The Atlantic Singles - 2LP vinyl
The Atlantic Singles Collection 1967-1970 2CD set
Disc One
1.    "I Never Loved A Man (The Way I Love You)"
2.    "Do Right Woman, Do Right Man"
3.    "Respect"
4.    "Dr. Feelgood"
5.    "Baby I Love You"
6.    "Going Down Slow"
7.    "A Natural Woman (You Make Me Feel Like)"
8.    "Baby, Baby, Baby"
9.    "Chain Of Fools"
10.  "Prove It"
11.  "(Sweet Sweet Baby) Since You've Been Gone"
12.  "Ain't No Way"
13.  "Think"
14.  "You Send Me"
15.  "The House That Jack Built"
16.  "I Say A Little Prayer"
17.  "See Saw"
18.  "My Song"
Disc Two
1.    "The Weight"
2.    "Tracks Of My Tears"
3.    "I Can't See Myself Leaving You"
4.    "Gentle On My Mind"
5.    "Share Your Love With Me"
6.    "Pledging My Love / The Clock"
7.    "Eleanor Rigby"
8.    "It Ain't Fair"
9.    "Call Me"
10.  "Son Of A Preacher Man"
11.  "Spirit In The Dark" – With The Dixie Flyers
12.  "The Thrill Is Gone" – With The Dixie Flyers
13.  "Don't Play That Song" – With The Dixie Flyers
14.  "Let It Be" – With The Dixie Flyers
15.  "Border Song (Holy Moses)"
16.  "You And Me" – With The Dixie Flyers
The Atlantic Singles Collection 1967-1970 2LP vinyl
Side One
1.    "I Never Loved A Man (The Way I Love You)"
2.    "Do Right Woman, Do Right Man"
3.    "Respect"
4.    "Baby I Love You"
5.    "A Natural Woman (You Make Me Feel Like)"
6.    "Chain Of Fools"
Side Two
1.    "(Sweet Sweet Baby) Since You've Been Gone"
2.    "Ain't No Way"
3.    "Think"
4.    "You Send Me"
5.    "The House That Jack Built"
6.    "I Say A Little Prayer"
Side Three
1.    "See Saw"
2.    "My Song"
3.    "The Weight"
4.    "Tracks Of My Tears"
5.    "I Can't See Myself Leaving You"
6.    "Gentle On My Mind"
7.    "Share Your Love With Me"
Side Four
1.    "Eleanor Rigby"
2.    "Call Me"
3.    "Son Of A Preacher Man"
4.    "Spirit In The Dark" – With The Dixie Flyers
5.    "Don't Play That Song" – With The Dixie Flyers
6.    "Border Song (Holy Moses)"