 News
Arthur Baker Presents… Dance Masters: Arthur Baker
Features previously unreleased Pet Shop Boys remix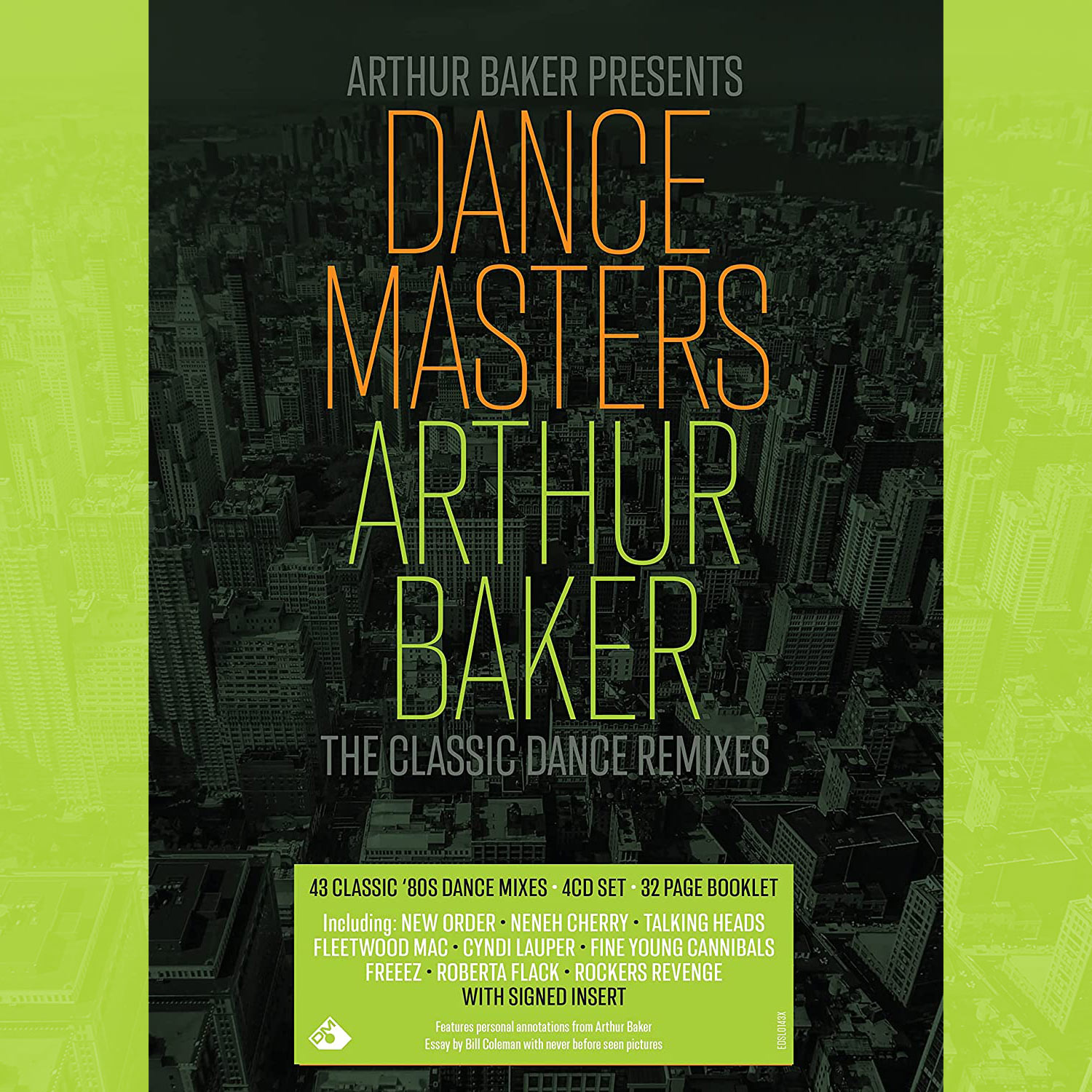 Four CDs of Arthur Baker remixes • 6LP vinyl set • 2LP vinyl • Limited quantity of both CDs and vinyl SIGNED by Arthur Baker
Almost two years since the first instalment of Arthur Baker's DANCE MASTERS series launched with a deep dive on the remixing exploits of a certain Mr Shep Pettibone, the second instalment sees the record producer, DJ and remixer shine the spotlight on himself!
Arthur Baker Presents DANCE MASTERS: Arthur Baker – The Classic Dance Remixes to give this release its full title offers 43 tracks via a 4CD deluxe book edition, 500 of which are signed and available via Amazon in the UK.
It includes a wide array of selections from the likes Fine Young Cannibals, Hall & Oates, Bob Dylan, Living in a Box, Fleetwood Mac, Carly Simon, Robbie Nevil, Neneh Cherry's, Jeffrey Osborne, Rockers Revenge and Afrika Bambaataa & Soulsonic Force.
One the most interesting inclusions is the Arthur Baker Club Vocal Remix of the Pet Shop Boys 1986 single 'Surburbia'. Their fourth and final 45 from their debut album Please, this remix has never been commercially released only appearing on a promo 12-inch in America! Full track listings are below.
Arthur Baker says: "I've always felt like I was on a mission to make music from the time I heard Motown, Philly and Sly and the Family Stone. My mission started as a hobby and still feels like one now. You've got to keep on pushing and hustling. It can be a drag sometimes but if you really love what you're doing, it's worth the work. I still really love what I do."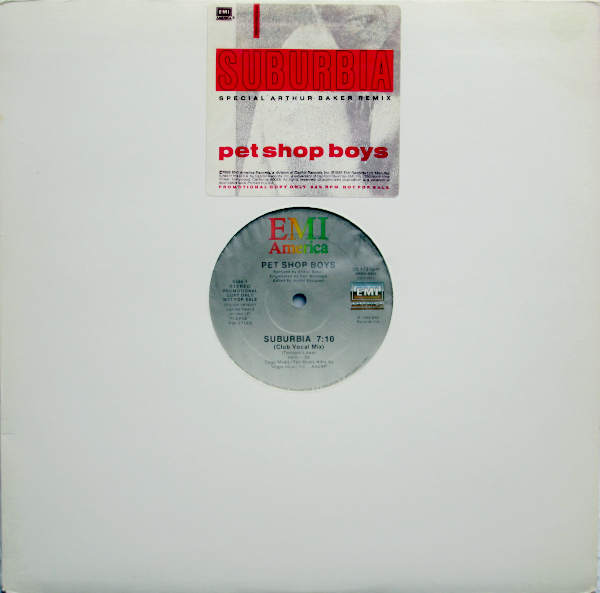 As well as the 4CD edition, there's 1000 copies of a 6LP vinyl box set (35 remixes) and all come with a signed insert and booklet. A 2LP version reduced the track count to 14.
These editions come complete with in-depth sleeve notes by Bill Coleman, track-by-track notes by Arthur Baker himself, and previously unseen session photos from Arthur's personal archives. All tracks remastered by Nick Robbins at Sound Mastering.
Arthur Baker Presents DANCE MASTERS: Arthur Baker – The Classic Dance Remixes will be released on 21 July 2023 (was 7 July) via Demon Music.
Compare prices and pre-order
Various Artists
Dance Masters Arthur Baker - 4CD set signed edition
Compare prices and pre-order
Various Artists
Dance Masters Arthur Baker - 6LP vinyl box signed edition
Compare prices and pre-order
Various Artists
Dance Masters Arthur Baker - 2LP vinyl
Compare prices and pre-order
Various Artists
Dance Masters Arthur Baker - 4CD set standard edition
Tracklisting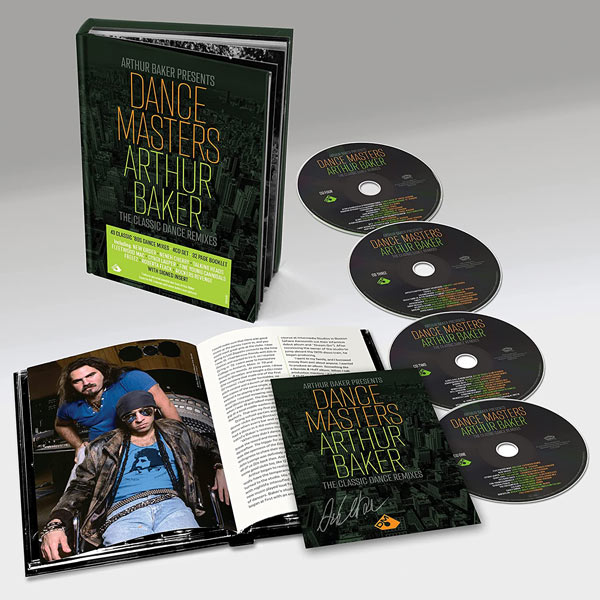 Dance Masters: Arthur Baker Various Artists
/
CD 1

FLEETWOOD MAC – BIG LOVE (EXTENDED REMIX)
NEW ORDER – CONFUSION (12" VERSION)
CYNDI LAUPER – GIRLS JUST WANT TO HAVE FUN (EXTENDED VERSION)
DARYL HALL – DREAMTIME (EXTENDED REMIX VERSION)
PET SHOP BOYS – SUBURBIA (CLUB VOCAL MIX)
FINE YOUNG CANNIBALS – EVER FALLEN IN LOVE? (CLUB SENSELESS)
GENERAL PUBLIC – NEVER YOU DONE THAT (SPECIAL DANCE MIX)
THE COLOURFIELD – RUNNING AWAY( LONG VERSION)
THE CARS – HELLO AGAIN (REMIX)
CARLY SIMON – MY NEW BOYFIREND (REMIX)
BOB DYLAN – WHEN THE NIGHT COMES FALLING FROM THE SKY (FULL LENGTH VERSION)

CD 2

DARYL HALL & JOHN OATES – OUT OF TOUCH (CLUB VERSION)
JENNIFER HOLLIDAY – NO FRILLS LOVE (EXTENDED DANCE REMIX)
ROBBIE NEVIL – C'EST LA VIE (EXTENDED VERSION)
LIVING IN A BOX – LIVING IN A BOX (DANCE MIX)
NENEH CHERRY – BUFFALO STANCE (1/2 WAY 2 HOUSE MIX)
WILL DOWNING – A LOVE SUPREME (JAZZ IN THE HOUSE REMIX)
JEFFREY OSBORNE – SOWETO (REMIXED VERSION)
JERMAINE STEWART – JODY (DANCE VERSION)
ROBERTA FLACK – UH-UH OOH-OOH LOOK OUT (HERE IT COMES) (ARTHUR BAKER'S DANCE MIX)
AL JARREAU – I MUST HAVE BEEN A FOOL (REMIX)
ARTHUR BAKER & THE BACKBEAT DISCIPLES Featuring AL GREEN – THE MESSAGE IS LOVE (CUPID MIX)

CD 3

ARTISTS UNITED AGAINST APARTHEID – SUN CITY (LAST REMIX)
FREEEZ – I.O.U. (MEGA-MIX)
TALKING HEADS – BLIND (EXTENDED MIX)
WALLY JUMP JR. & THE CRIMINAL ELEMENT – TURN ME LOOSE (12" VERSION)
TINA B – HONEY TO A BEE (VOCAL/EXTENDED VERSION)
ARTHUR BAKER – BREAKER'S REVENGE (EXTENDED VOCAL VERSION)
CINDY MIZELLE – THIS COULD BE THE NIGHT (VOCAL/EXTENDED VERSION)
ATLANTIC STARR – ONE LOVER AT A TIME (EXTENDED VERSION)
BOXCAR – FREEMASON (YOU BROKE THE PROMISE) (SHAKEDOWN MIX)
GYPSY KINGS – BAMBOLEO LATIN (EXTENDED VERSION)

CD 4

AFRIKA BAMBAATAA & SOULSONIC FORCE – PLANET ROCK (12" VOCAL VERSION)
ROCKERS REVENGE Featuring DONNIE CALVIN – WALKING ON SUNSHINE (12" VERSION)
TOUCHDOWN – EASE YOUR MIND (U.S. REMIX)
SECOND IMAGE – STAR (U.S. REMIX)
JUNIE MORRISON – TEASE ME (LONG VERSION)
CENTRAL LINE – SURPRISE, SURPRISE (12" VERSION)
GLORY – CAN YOU GUESS WHAT GROOVE THIS IS (SHORT VERSION)
AFRIKA BAMBAATAA & THE JAZZY 5 WITH THE KRYPTIC KREW – JAZZY SENSATION (12" BRONX VERSION)
RITZ – I WANNA GET WITH YOU (12" VERSION)
LARRY WEDGEWORTH AND CLIQUE – NO MORE GAMES (SHORT VERSION)
NORTHEND – CAN'T PUT NO PRICE ON LOVE (LONG VERSION)

LP 1

SIDE A

DARYL HALL & JOHN OATES OUT OF TOUCH CLUB VERSION
ROBBIE NEVIL C'EST LA VIE EXTENDED VERSION
LIVING IN A BOX LIVING IN A BOX DANCE MIX

 SIDE B

FLEETWOOD MAC BIG LOVE EXTENDED REMIX
ARTISTS UNITED AGAINST APARTHEID SUN CITY LAST REMIX
THE CARS HELLO AGAIN REMIX

LP 2

SIDE C

FINE YOUNG CANNIBALS EVER FALLEN IN LOVE? CLUB SENSELESS
THE COLOURFIELD RUNNING AWAY ARTHUR BAKER REMIX
DEBORAH HARRY SWEET AND LOW SWING LOW MIX

 SIDE D

DARYL HALL DREAMTIME EXTENDED REMIX VERSION
CARLY SIMON MY NEW BOYFIREND REMIX
BOB DYLAN WHEN THE NIGHT COMES FALLING FROM THE SKY FULL LENGTH VERSION

LP 3

SIDE E

NENEH CHERRY BUFFALO STANCE 1/2 WAY 2 HOUSE MIX
WALLY JUMP JR. & THE CRIMINAL ELEMENT TURN ME LOOSE
ARTHUR BAKER & THE BACKBEAT DISCIPLES Featuring AL GREEN THE MESSAGE IS LOVE CUPID MIX

 SIDE F

ROBERTA FLACK UH-UH OOH-OOH LOOK OUT (HERE IT COMES] ARTHUR BAKER'S DANCE MIX
WILL DOWNING A LOVE SUPREME JAZZ IN THE HOUSE REMIX
AL JARREAU I MUST HAVE BEEN A FOOL REMIX

LP 4

SIDE G

JEFFREY OSBORNE SOWETO REMIXED VERSION
JERMAINE STEWART JODY DANCE VERSION
ATLANTIC STARR ONE LOVER AT A TIME EXTENDED VERSION

SIDE H

JUNIE MORRISON TEASE ME LONG VERSION
JENNIFER HOLLIDAY NO FRILLS LOVE EXTENDED DANCE REMIX
CINDY MIZELLE THIS COULD BE THE NIGHT 12″ VOCAL/EXTENDED VERSION

LP 5

SIDE I

TOUCHDOWN EASE YOUR MIND
SECOND IMAGE STAR U.S. REMIX
CENTRAL LINE SURPRISE, SURPRISE 12″ VERSION

 SIDE J

AFRIKA BAMBAATAA & THE JAZZY 5 WITH THE KRYPTIC KREW JAZZY SENSATION 12″ BRONX VERSION
GLORY CAN YOU GUESS WHAT GROOVE THIS IS SHORT VERSION
RITZ I WANNA GET WITH YOU

LP 6

SIDE K

AFRIKA BAMBAATAA & SOULSONIC FORCE PLANET ROCK 12″ VOCAL VERSION
TINA B HONEY TO A BEE VOCAL/EXTENDED VERSION
ARTHUR BAKER BREAKER'S REVENGE 12″ EXTENDED VOCAL VERSION

SIDE L

ROCKERS REVENGE Featuring DONNIE CALVIN WALKING ON SUNSHINE 12″ VERSION
FREEEZ I.0.U. MEGA-MIX

LP 1

SIDE A

DARYL HALL & JOHN OATES OUT OF TOUCH CLUB VERSION
ROBBIE NEVIL C'EST LA VIE EXTENDED VERSION LIVING IN A BOX LIVING IN A BOX DANCE MIX
THE COLOURFIELD RUNNING AWAY ARTHUR BAKER REMIX

 SIDE B

FLEETWOOD MAG BIG LOVE EXTENDED REMIX
ARTISTS UNITED AGAINST APARTHEID SUN CITY LAST REMIX
FINE YOUNG CANNIBALS EVER FALLEN IN LOVE CLUB SENSELESS

LP 2

 SIDE C

NENEH CHERRY BUFFALO STANCE 1/2 WAY 2 HOUSE REMIX
ARTHUR BAKER & THE BACKBEAT DISCIPLES Featuring AL GREEN THE MESSAGE IS LOVE CUPID MIX
WILL DOWNING A LOVE SUPREME JAZZ IN THE HOUSE REMIX
JEFFREY OSBORNE SOWETO REMIXED VERSION

SIDE D

AFRIKA BAMBAATAA & SOULSONIC FORCE PLANET ROCK 12″ VOCAL VERSION
ROCKERS REVENGE Featuring DONNIE CALVIN WALKING ON SUNSHINE
FREEEZ I.0.U. MEGA-MIX